About Us
Our GarageExperts® Franchise Empowers Entrepreneurs
GarageExperts® is the dominant leader in the garage renovation and commercial epoxy and polyaspartic flooring industry which is part of the $538 billion home improvement market. For over 15 years, we have been helping residential, commercial, and industrial customers transform their spaces with epoxy and polyaspartic floor coatings, custom-built cabinets, and slatwall organizational systems. The home improvement and commercial market is expected to be a $620 billion industry by the year 2025, leading to endless possibilities for our garage organization and two-component commercial floor coating company.
Now is the time to take a chance and bet on yourself, so take the first step toward becoming a GarageExperts® franchise owner today!
A Fast-Growing Segment, Multiple Revenue Streams
Consumers are always looking for ways to increase storage space in their homes to reduce their need to rent a storage unit. Since garages hold so many possibilities, consumers are looking for creative solutions to transform their space. As a result, home organization products are experiencing rapid growth rates as consumers look to maximize the space in these areas, enhance their look, and increase usability. Our GarageExperts® franchise offers transformative solutions that homeowners love. We work closely with our customers to understand their needs to customize the perfect solution that we can deliver quickly and efficiently.
In addition to our residential solutions, GarageExperts® also offers commercial and industrial services. We can help improve the look and extend the life of concrete floors inside and out. We offer the flexibility these customers need with customizable floor colors and designs that can fit any brand standard or guidelines. Our durable, easy-to-clean coatings require minimal maintenance, making it the ideal commercial and industrial flooring solution. Gone are the days of applying wax every month to keep a shiny floor—our polyaspartic topcoats will shine for years!
By servicing homeowners as well as commercial and industrial customers, our franchise owners have multiple revenue streams and additional opportunities to grow their businesses to become the dominant player in their market.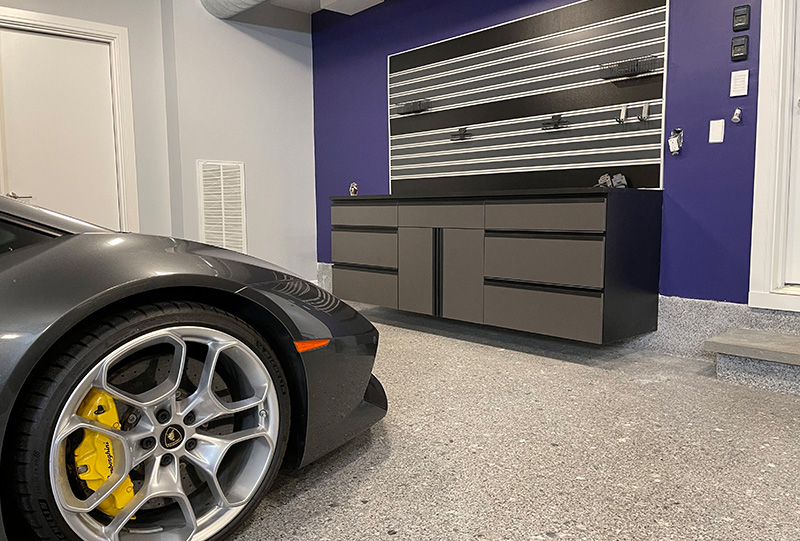 Small Business Ownership, National Support
GarageExperts® is a turn-key franchise opportunity that is designed to have owners making money in as little as 30 days. Here are four reasons why our franchise is a smart choice for entrepreneurs and business professionals looking to break free from the corporate world:
A proven innovative business model that offers profitability in the first year with low overhead, no inventory stocking requirements, marketing, and proprietary products.
A strong community of passionate, driven entrepreneurs that provide an unrivaled support system.
A vertically integrated structure that reduces costs, resulting in low fixed royalties so you're not paying more as your business grows.
End-to-end mobile tools built to help you run your business more efficiently while you're in the field.
Since 2008, GarageExperts® has been the leading lifetime warranty, epoxy and polyaspartic floor coating, cabinet, and organization company. Collectively, we have applied over 40 million square feet of floor coatings and have the experience and knowledge that our customers seek in a home improvement partner. Best of all, we back our products with a lifetime warranty, setting us apart from our competitors and giving franchisees a leg up in their markets.
Hear from Our Owners

Learn about what it is like to be a GarageExperts® franchisee from our current owners.

Franchisee Testimonials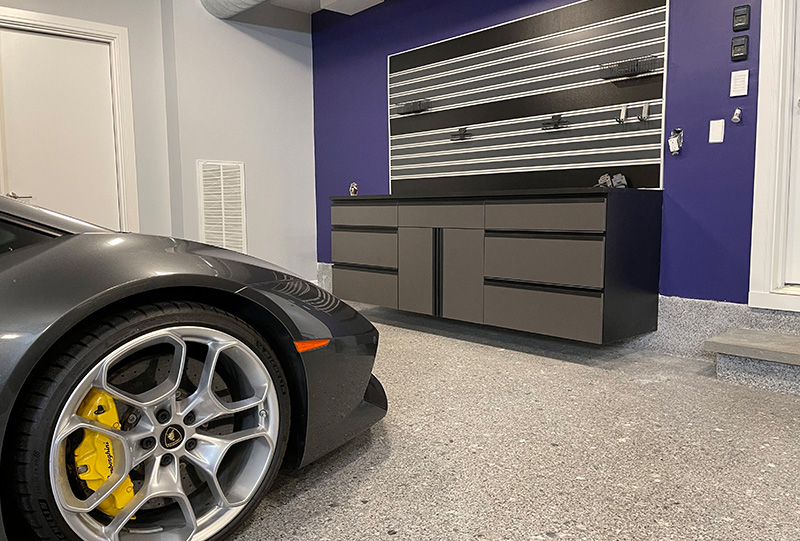 Create Your Defining Moment
Some of the most rewarding moments in life are the result of challenging decisions. At GarageExperts®, we like to refer to these choices as "Defining Moments." Choosing to become your own boss and own your business is a defining moment. When you take the step to become a GarageExperts® franchise owner, you will feel empowered and inspired by our team, our services, and the customers you interact with daily. As a business owner, your level of effort and commitment will drive the growth of your business.
When you join the GarageExperts® team, you are joining an expansive network of passionate entrepreneurs who are excited to help each other with their shared experiences and knowledge. You will have the freedom to set your own schedule, hire your team, and make decisions that will impact the lives of your employees, customers, and local community. Our GarageExperts® franchise is a fulfilling and rewarding experience where you can see firsthand your finished products and the satisfaction they bring your customers.