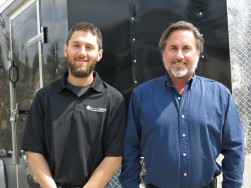 The father-son team of native Kentuckians, Paul and Nate Butcher, bring the winning combination of experience and enthusiasm to the Garage Experts Bluegrass franchise. Paul's background includes co-ownership of the Garage Experts South Carolina Low Country franchise, residential rental properties with multiple renovation projects as well as being the owner operator of Big Sandy Broadband in Johnson and Floyd counties for over 30 years. Nate is a University of Kentucky graduate and before returning to Kentucky worked in a unique job field as an architect and builder for Ice Castles LLC in Colorado. Experience with the Low Country franchise has prepared Nate for the market and installations of custom garage renovations in the heart of the Bluegrass.
Our goal is to provide the best coatings and storage solutions for all of our customers that will result in the ultimate garage makeover experience. We want to assure that each customer is satisfied every time. That is why the Garage Experts always provides Lifetime Warranties on the Garage FX flooring system and all of the custom cabinets that we provide.
When you choose Garage Experts Bluegrass you are supporting a local small business in your community. Because you are dealing directly with the local owners you can rest assured your satisfaction is their number one concern. Paul and Nate are dedicated to the success of their business and your garage improvement so you can be proud for years to come. Paul and Nate look forward to the great referrals you will send their way as their work really stands out.