Garage Epoxy Flooring
Garage Epoxy and Polyaspratic Flooring in O'Fallon, MO
High-Quality Epoxy and Polyaspartic Garage Flooring Solutions Near You
Looking to upgrade your garage flooring in O'Fallon, MO? Look no further than GarageExperts® of West St. Louis! Our garage epoxy and polyaspartic flooring services are designed to enhance the aesthetics of your garage while providing excellent protection against wear and tear.
As the leading epoxy and polyaspartic floor coating company in the O'Fallon area, we offer a lifetime warranty, ensuring the longevity of your new garage flooring. With a track record of installing over 40 million square feet of floor coating, our experienced floor coating experts are ready to transform your garage into a beautiful and practical space.
Upgrade your garage with sleek and durable epoxy flooring in O'Fallon! Dial (636) 385-5376 or contact us online to get started today!
Benefits of Our Epoxy and Polyaspartic Garage Flooring
At GarageExperts®, we offer a range of high-quality coatings that not only enhance the appearance of your garage but also provide numerous benefits. From durability and easy maintenance to increased safety and value, our garage floor coatings have it all!
The benefits of our epoxy and polyaspartic garage flooring include:
Durability

Easy Maintenance

Enhanced safety (slip resistant)

Resistance to chipping, peeling, and staining

Versatile design options

Quick installation
Transform your garage with our exceptional Garage FX® floor coatings and experience these incredible benefits firsthand. Contact our flooring experts today to schedule a consultation and take the first step toward creating the garage of your dreams.
Revitalize Your Garage With our Epoxy & Polyaspartic Flooring
Transform the look and feel of your garage in O'Fallon, MO with our Garage FX® flooring. Your garage is more than just a space to store your vehicles and tools – it's an extension of your home. With our Garage FX® flooring, you can create a bright, clean, and visually stunning environment that will make a big difference in how you feel about your home.
Our epoxy and polyaspartic floor coatings allow you to choose from over 140 colors to customize your floor and match your unique style preferences. Whether you prefer a sleek and modern look or a more vibrant and bold design, our garage flooring options have you covered! Elevate your garage to a whole new level and enhance the overall aesthetics of your home with our Garage FX® flooring.
Here Are Four Reasons Why You Should Choose Our Epoxy and Polyaspartic Flooring:
One-Day Installation

In many cases, our most popular epoxy and polyaspartic floor coating can be installed, and your garage returned to normal, in as little as one day. We can even transform your basement, pool deck, patio, or any other concrete floor.

Crack & Joint Repair

If your floor currently has cracks or other surface imperfections, our Garage FX® epoxy repair product is specially designed to treat cracks and joints. The key to a long-lasting epoxy and polyaspartic garage floor coating is proper preparation to ensure it lasts a lifetime.

Maintenance-Free

Garage floors need to be durable and withstand many hazards, from car wheels to lawn equipment to various chemicals. Our epoxy and polyaspartic flooring products are clear, abrasion-resistant, and easy to clean. They don't require waxing or other time-consuming upkeep and always remain aesthetically pleasing.

No Peeling Or Chipping

Our floor coating offers three times more adhesion than other epoxy and polyaspartic coatings, meaning you'll never have to worry about them peeling or chipping.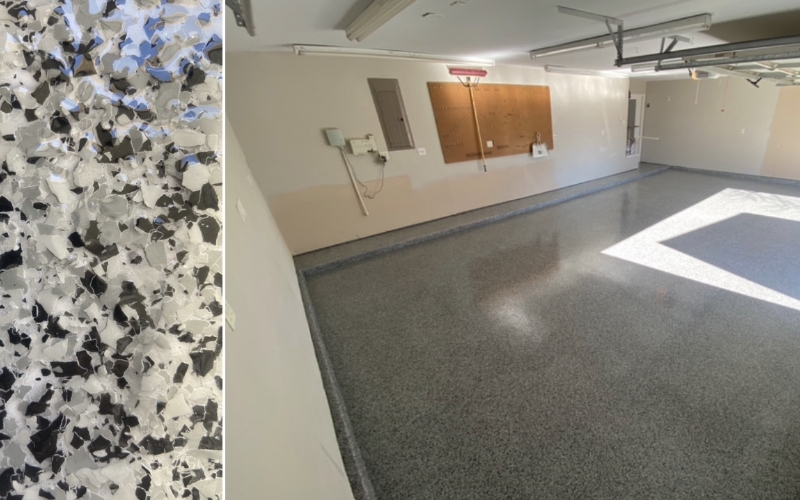 "Jim and his son's Joey & Damian worked very hard to epoxy our garage floor. It is beautiful!!
"

Ann P

"They came prepared to do a good job and completed it on schedule."

Wayne H

"Happy with the results and I do recommend them for your floor finishing"

Hayman A
American Made

Stronger Than
Concrete

No Peeling, Chipping, Or Staining

Resistant to Abrasions, Chemicals, and UV Rays

Over 140 Colors to Choose From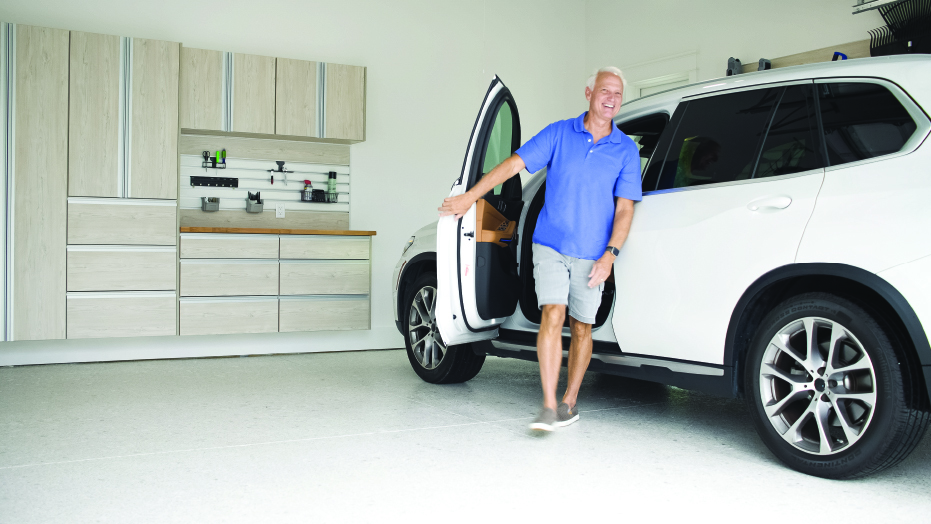 Committed To You
We believe in providing the highest
standard of service
In-Home Estimate Is Always Free

Time Is Valuable So We Arrive On Time

Always Get Upfront Pricing

Products Are Guaranteed For Life
Step 1

First, we prepare your concrete by grinding the surface and repairing any cracks, joints, or surface imperfections with our Garage FX® repair products.

Step 2

We roll out our Garage FX® epoxy primer that fuses directly into concrete to create an incredible bond that won't peel.

Step 3

We broadcast your choice of decorative flakes across the floor making sure to evenly cover the entire space for a seamless finish.

Step 4

Lastly, we apply our highly durable and abrasion-resistant polyaspartic topcoat to protect the floor from wear and tear, while maintaining an attractive, glossy finish for years to come.

Step 5

Now that GarageExperts® has extended the life of your floor and enhanced the look of your space, enjoy it!