Meet Buddy and Jessi
Meet the Owner of GarageExperts® of Central Maryland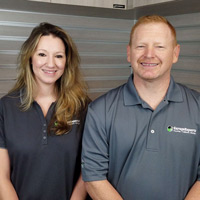 Buddy and Jessi Nichols both loved growing up in Montgomery and Howard County, so it only made sense to start a business in the area they've always called home. Buddy has worked in landscaping and home improvement for 20+ years while his wife Jessi's background is in customer service and HR management. They are very excited to build up their business in areas for which they not only grew up in but played softball, golf and have been raising their family for the last 16 years.
Buddy and Jessi now look forward to providing you with the quality of the GarageExperts® products and solutions. GarageExperts® is a national, vertically integrated provider of quality garage storage cabinets, epoxy floor coating systems and organizational products.
When you choose GarageExperts® of Central Maryland, you are supporting a locally owned and operated small business with national support.