Epoxy & Polyaspartic Flooring for Your Garage
Extend the Life of Your Garage Floor
Whether you're looking to enhance the look of your garage or protect your floor from wear-and-tear – or both – GarageExperts® is here to help you transform your garage into a beautiful and practical space. We are the leading epoxy and polyaspartic floor coating company that offers a lifetime warranty. We have installed over 40 million square feet of floor coating over the years – and we are ready to get to work for you.
Long-lasting epoxy and polyaspartic floor coatings from GarageExperts® will improve the look of your garage while making it easy to clean and protecting it from peeling, scratching, chipping, or staining. Garage FX® flooring systems are bright, attractive, durable, and easy to clean. Best of all, our premium products and installations are backed by a lifetime warranty.
Benefits of Our Garage Floor Coatings
Our Garage FX® epoxy and polyaspartic flooring solutions enhance the look of your garage, as well as help to increase the value of your home. Key benefits include:
Enhance the Look & Feel of Your Garage
Your garage is a multifunctional space. From parking your car to storing belongings to playtime for children, your garage is an important part of the home that can be a beautiful, practical space. Our Garage FX® flooring will give your garage an entirely new look and feel. Having a bright, clean space as you leave your home in the morning or when you return home in the evening can make a big difference in how you feel about your home.
With over 140 colors to choose from, you can customize your floor to fit your unique style preferences, making your garage the envy of your neighbors. And in addition to looking great, our epoxy and polyaspartic flooring will extend the life of your floor and free you of the hassles of peeling and chipping. Need storage and organizational solutions? GarageExperts can also install custom cabinets and slatwall organization systems to match your new floors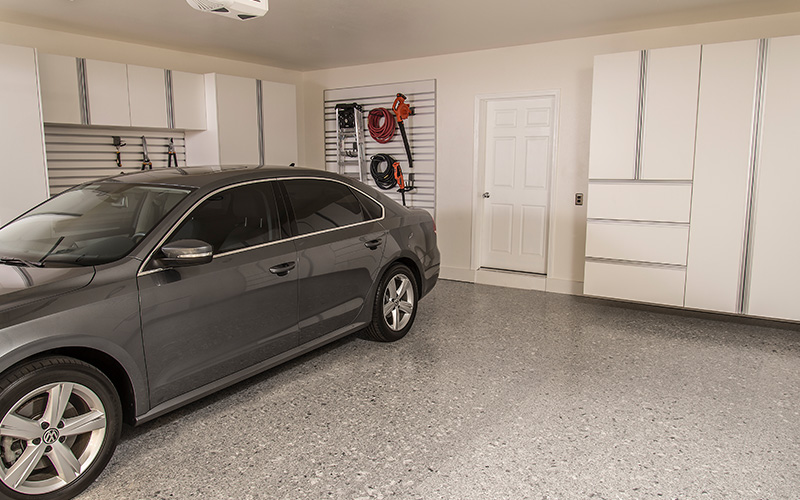 Free On-Site Estimates, Lifetime Warranty
GarageExperts® has over a decade of experience transforming residential garages into more practical spaces. We are so confident in our services and our expert team of professionals that we offer free on-site estimates and back all our products and installations with a lifetime warranty. Your local GarageExperts® team will take the time to assess your space, discuss all your options, and give you an accurate estimate. Prior to installation, we utilize our proprietary 3D rending software to "build out" your garage, allowing you to move and adjust the design and colors in real-time, helping you to make your choice with confidence.
Step 1

First, we prepare your concrete by grinding the surface and repairing any cracks, joints, or surface imperfections with our Garage FX® repair products.

Step 2

We roll out our Garage FX® epoxy primer that fuses directly into concrete to create an incredible bond that won't peel.

Step 3

We broadcast your choice of decorative flakes across the floor making sure to evenly cover the entire space for a seamless finish.

Step 4

Lastly, we apply our highly durable and abrasion-resistant polyaspartic topcoat to protect the floor from wear and tear, while maintaining an attractive, glossy finish for years to come.

Step 5

Now that GarageExperts® has extended the life of your floor and enhanced the look of your space, enjoy it!