Meet Matt and Ksenia
Meet the Owner of GarageExperts® of North County
License Number: 1073788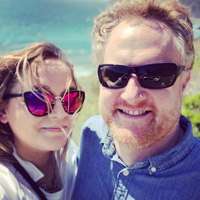 Matt is a native San Diegan, a graduate from Palomar College and holds a bachelor's degree from Ashford University. He has been always active in the community, recently serving the citizens of San Diego for many years for San Diego Fire and Police and also recently as an elected member of the Rancho Bernardo Planning Board.
Ksenia is an artist and has been working many years with epoxy resin for art projects. Ksenia has a Russian heritage. She graduated with honors from Saint-Petersburg State Polytechnic University. After moving to the United States, she completed a graduate program at the City University of New York. She has an eye for great design concepts and is dedicated to helping transform your garage space into a beautiful extension of your home.
Spending countless hours in their garage working on cars and art projects, Matt & Ksenia know the importance of having a nice garage to work in and the value of superb garage coating. We treat every project as it's our own garage and want to make the process of transforming your garage as easy and smoothly as possible.