Meet Dennis and Jennifer
Meet the Owner of GarageExperts® of Seattle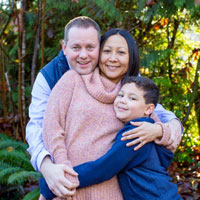 Thank you for visiting GarageExperts® of Seattle! Owners Dennis, Jennifer and their son Dillon, are Pacific Northwest natives and have strong ties to the local community.
After nearly two decades of technical coatings sales and support within a multitude of industrial and architectural markets, Dennis and his family decided to slow down the travel and start their own GarageExperts® business in Seattle, Washington. In their minds, there is no better way to celebrate the acquired set of skills, than to put it to work within their local community. Not traveling all the time for work, will afford more time spent with the family enjoying hobbies such as soccer, baseball, and mountain biking!
Without question, owners Dennis and Jennifer are extremely focused on customer service while helping their clients create unique, custom spaces for their businesses and home garages alike. With GarageExperts® you can choose from a full suite of products including industry leading epoxy and polyaspartic floor coatings, hundreds of flake colors, and custom cabinets and storage solutions. Our products are made in the USA at our facilities in California and Texas and come with a lifetime warranty! When you work with GarageExperts® of Seattle, you are working with local owners backed by the strength of our national brand. We are fully licensed and insured.