Meet Joe and Katie
Meet the Owner of GarageExperts® of Central Illinois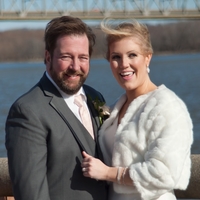 Hi! My name is Joe and photographed with me is my wife, Katie. We are the owners of GarageExperts® of Central Illinois. Together we enjoy spending time with our friends and family while entertaining in our home, yard, and yes—our garage.
The garage is where I spend most of my free time—detailing cars, organizing tools, or just enjoying the company of friends. I believe this room is a true extension of our everyday living-space and everyone should love their garage as much as I love mine.
I have been developing custom design solutions for my customers for over 20 years. I look forward to bringing this design experience to your home. Let me help you organize and expand your usable living space, develop the dream garage to keep your outdoor equipment and toys, and give your family a new room to enjoy.
Listening to you allows me to best understand your needs. I combine these needs with GarageExperts solutions and products to deliver a custom design experience that is sure to elevate your indoor and outdoor living experience. While my focus is redesigning your garage, the Garage FX® System works on all concrete floors. New basement, retail, or warehouse floor, anyone?
With GarageExperts you can choose from a full suite of products including industry leading epoxy and polyaspartic floor coatings with 140 different color choices, custom cabinets, and storage solutions.

Call (309) 741-2501 today to schedule your free on-site estimate. We'll provide a custom 3D rendering of your new solution, complete with our Garage FX® System, custom cabinetry, slatwall, and overhead storage. All products are manufactured in the USA. We provide a quality, professional look, and superior products you won't find anywhere else. We are so confident you will love your new garage; We offer a Lifetime Warranty on the Garage FX® flooring system and on all of our custom cabinets.