Epoxy & Polyaspartic Flooring for Your Business
Superior Products and Expert Installation
GarageExperts® offers a wide variety of industrial and commercial epoxy and polyaspartic floor coatings that can be customized to fit your space. Our Garage FX® flooring hides scuffs and everyday wear and tear, resulting in better-looking floors that last a lifetime. This saves business owners time and cuts maintenance costs by minimizing the need for extensive upkeep. These coatings are bright, durable, easy to clean, and low maintenance. No matter your industry, we can customize these coatings to fit most brand standards and color schemes, while also being compliant with worker safety regulations.
We can work with just about any type of commercial or industrial space, including the following:
Epoxy Flooring Installed to Last
Let our GarageExperts® team make the process of selecting the best epoxy and polyaspartic floor coating for your business seamless. We provide expert installation and back our products with a limited lifetime warranty. No matter your requirements, we have the perfect solution for your industrial or commercial property.
Garage FX® epoxy and polyaspartic flooring provides more than just a tough finish to your business' floors. It's designed to last a lifetime and extend the lifespan of your floors. Since 2008, GarageExperts® has applied over 40 million square feet of epoxy and polyaspartic floor coating in residential, commercial, and industrial spaces across the United States . When you trust our team for your floor coating, you'll never have anything to worry about.
Key Benefits of Using Garage FX® Flooring:
Inviting Space

With fresh, clean, and attractive floors, you'll enhance the customer experience in your space. We offer a variety of finishes for you to choose from to keep with the aesthetics of your brand and design. A more inviting space will improve your guest's experience and lead to more time spent in your facility.

Crack & Joint Repair

If your floor has cracks or other imperfections, our Garage FX® repair product is specially designed to treat cracks and joints. This will ensure that your new epoxy and polyaspartic floor will last a lifetime.

Maintenance-Free

Save time and money with your new maintenance-free floors. Our epoxy and polyaspartic flooring products are designed to withstand the toughest environments. They don't require waxing or other time-consuming upkeep and always remain aesthetically pleasing.

No Peeling Or Chipping

Say goodbye to unsightly peeling or chipping. Our industrial and commercial floor coatings are designed to fuse deep into the concrete and offer more than three times the adhesion of most other epoxy and polyaspartic coatings.
What Makes Garage FX® Epoxy & Polyaspartic
Technology Superior For Your Garage
American Made

Stronger Than
Concrete

No Peeling, Chipping, Or Staining

Resistant to Abrasions, Chemicals, and UV Rays

Over 140 Colors to Choose From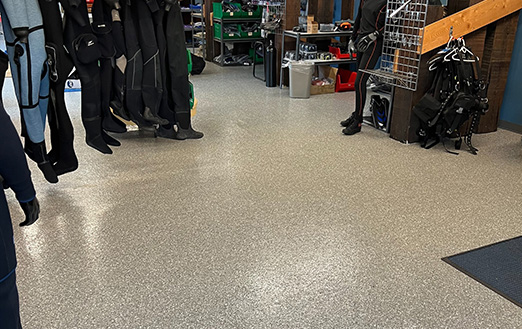 We Have Many Options for You
Not sure what industrial or commercial floor coating is right for your space? Let the GarageExperts® team help you find the right option to fit your facility. We are confident that we have an option to fit just about any floor type and requirements.
GarageExperts® is so confident in our product and installations, we offer free on-site estimates and a warranty on all our services. We are the leading provider of industrial-strength epoxy floor coatings and are dedicated to your satisfaction.
Step 1

First, we prepare your concrete by grinding the surface and repairing any cracks, joints, or surface imperfections with our Garage FX® repair products.

Step 2

We roll out our Garage FX® epoxy primer that fuses directly into concrete to create an incredible bond that won't peel.

Step 3

We broadcast your choice of decorative flakes across the floor making sure to evenly cover the entire space for a seamless finish.

Step 4

Lastly, we apply our highly durable and abrasion-resistant polyaspartic topcoat to protect the floor from wear and tear, while maintaining an attractive, glossy finish for years to come.

Step 5

Now that GarageExperts® has extended the life of your floor and enhanced the look of your space, enjoy it!