Downers Grove, IL
Custom Cabinets and Epoxy and Polyaspartic Floor Coating in Downers Grove, IL
Expert Installation in Downers Grove
Take your garage to new heights with GarageExperts® of Chicagoland, the premier provider of polyaspartic and epoxy garage floor coatings and organization solutions. As a locally owned and operated business backed by the reputable GarageExperts® national brand, we offer high-quality products and exceptional service. Whether it's a residential, commercial, or industrial space, our garage storage and floor coating solutions will transform your garage into a functional and visually stunning area.
Ready to upgrade your garage in Downers Grove? Call (630) 931-0699 or contact us online to schedule a free on-site estimate for a custom epoxy and polyaspartic garage floor. Elevate the look and functionality of your garage with our top-notch solutions.
Revitalize Your Downers Grove Space with Garage Floor Coatings
GarageExperts® of Chicagoland is your go-to source for top-quality epoxy and polyaspartic flooring solutions in Downers Grove, IL, catering to residential, commercial, and industrial needs. Whether it's your garage, school, office building, or any other space, our experienced team in Downers Grove is dedicated to delivering tailored solutions that align with your unique style and preferences.
Experience the durability and visual appeal of our Garage FX® epoxy and polyaspartic flooring, designed to withstand the demands of any industry or space, both indoors and outdoors. Request a free estimate today and transform your flooring with our exceptional Garage FX® coatings. Don't delay—upgrade your floors now!
Tailor Your Garage Floors with Customizable Options
Experience a seamless garage transformation with GarageExperts® of Chicagoland and our customizable Garage FX® Flooring options. Designed to cater to your specific needs and preferences, our garage floor coatings offer an extensive range of colors and styles, allowing you to achieve the desired look effortlessly.
If you're seeking a vibrant pop of color for your garage, look no further! With over 140 colors to choose from, you have the freedom to select the perfect match for your epoxy and polyaspartic garage floors. Let our team assist you in revitalizing your space with our premium and customizable Garage FX® Flooring.
Unlock the potential of our tailored epoxy and polyaspartic garage floor solutions. Call us today (630) 931-0699 or contact us online to get a free estimate.
Polyaspartic & Epoxy Flooring Solutions in Downers Grove, IL
Experience Unparalleled Strength and Durability with Our Proprietary Garage FX® Flooring System.
With our exclusive fusing epoxy primer, your concrete receives a bond that boasts up to three times stronger adhesion than ordinary epoxies. This exceptional strength prevents peeling or chipping, ensuring long-lasting performance. Adding to its appeal, our polyaspartic topcoat provides a glossy finish that withstands the daily wear and tear of high-traffic environments. Our epoxy and polyaspartic coatings combine the best of both worlds, offering our customers the ultimate technical strength.
Not only do these coatings offer remarkable durability, but they are also easy to clean and resistant to scuffs and scratches, significantly reducing maintenance time. Trust in the extensive experience of GarageExperts® of Chicagoland, knowing that our products and services are backed by a lifetime warranty, ensuring your peace of mind.
Discover the Advantages of an Epoxy and Polyaspartic Garage Floor in Downers Grove
Easy Maintenance: Effortlessly sweep or mop to keep your epoxy and polyaspartic floors looking pristine, with stain-resistant properties for worry-free cleanups.
Exceptional Durability: Resist fading, discoloration, and everyday wear and tear, ensuring your garage floor remains in top condition.
Enhanced Safety: Enjoy slip-resistant surfaces that reduce the risk of slips and falls, while low VOC emissions contribute to a healthier indoor environment.
Cost-Effectiveness: Benefit from an affordable flooring solution compared to hardwood or tile options, with long-lasting durability that eliminates the need for frequent replacements.
Versatile Design: Explore a variety of colors and designs, allowing you to create a customized look that mimics the elegance of pricier materials like stone or marble.
Interested in our epoxy and polyaspartic flooring services in Downers Grove? Call us at (630) 931-0699 or reach out to us online for a free estimate and to learn more about how we can transform your space with our high-quality epoxy and polyaspartic flooring solutions.
Epoxy and Polyaspartic Garage Floor Coating Drying Time: What to Expect
The drying time for an epoxy and polyaspartic garage floor coating ranges from 24 to 48 hours, depending on environmental factors such as temperature and humidity. It is essential to allow sufficient drying time before walking or driving on the coated surface to ensure the coating sets properly and avoids any potential damage.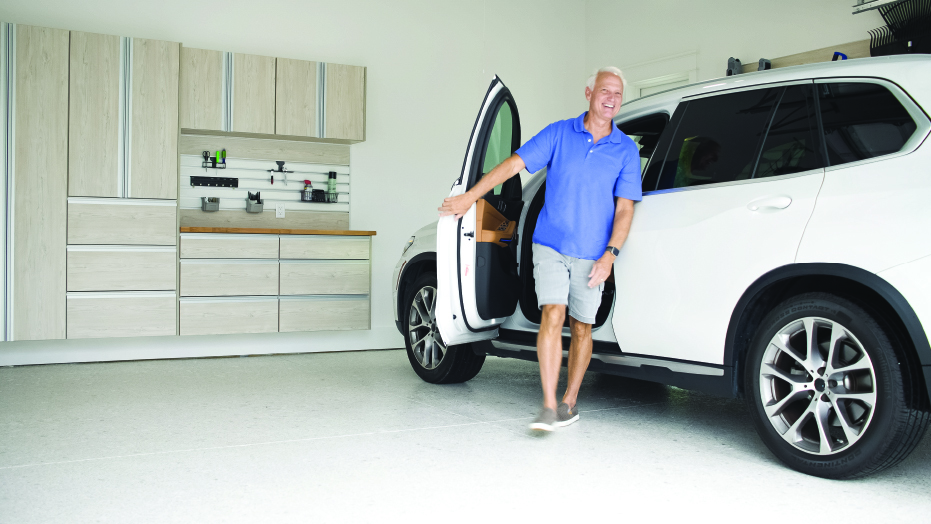 Committed To You
We believe in providing the highest
standard of service
In-Home Estimate Is Always Free

Time Is Valuable So We Arrive On Time

Always Get Upfront Pricing

Products Are Guaranteed For Life