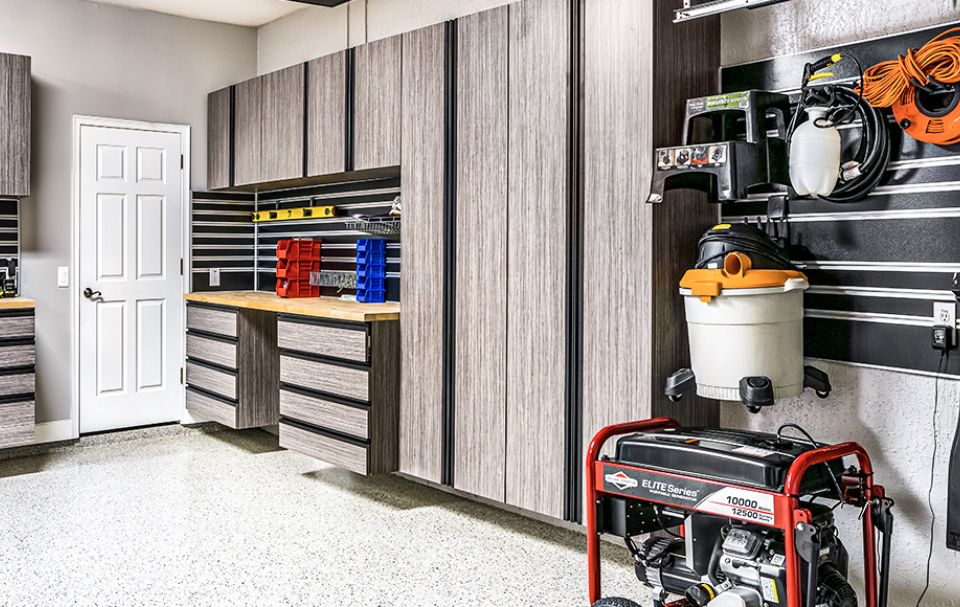 Naperville Epoxy and Polyaspartic Flooring Systems
Polyaspartic and Epoxy Garage Floor Systems Garage Cabinets and Slatwall Organization Systems
Ready to take your garage to the next level? GarageExperts® of Chicagoland is the leading provider of polyaspartic and epoxy garage floor coatings and organization solutions. With the backing of the GarageExperts® national brand, our locally owned and operated business provides quality products and excellent service. Whether you are looking to transform a residential, commercial, or industrial space, GarageExperts® has the garage storage and epoxy garage floor coating solutions you need.
For a custom epoxy garage floor in Naperville, IL, call Garage Experts at (630) 931-0699 or contact us online to get started with a free estimate.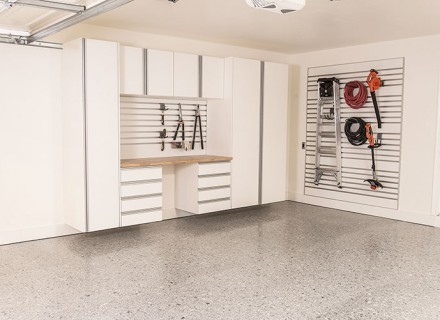 Naperville Garage Floor Coatings For All Types of Spaces
At GarageExperts® of Chicagoland, we specialize in top-qualityresidential, commercial, and industrial epoxy flooringsolutions in Naperville, IL. Whether you need epoxy floor coating solutions for your garage, school, office building, or any other type of space, our experienced Naperville team is here to work with you to meet your unique needs, style, and preferences.
Residential epoxy and polyaspartic floor coatings can be a useful flooring solution for many rooms in your home. It's ideal for any room that may experience frequent spills, equipment use or walking occurs. The durable and moisture-resistant qualities of GarageFX® floor coatings make it ideal for:
Basements

Kitchens

Bathrooms

Laundry Rooms

Home Gyms

Outdoor Patio

And many more!

Commercial and Industrial Epoxy and Polyaspartic Flooring

Commercial epoxy and polyaspartic flooring in Naperville offer a durable, long-lasting solution for businesses. From small stores to large industrial spaces, we can customize a flooring system that works for your business needs. Here are just a few examples of industries that we serve:
Office Buildings

Retail

Mechanic Shops

Restaurants

Gyms

Hospitality

Schools

And much more!
Request a free estimate and experience the durability and stunning appearance of our epoxy and polyaspartic flooring. Don't wait, transform your Naperville flooring with GarageFX® coatings today!
Our polyaspartic and epoxy floor experts apply floor coatings with a flawless finish! Learn more by calling (630) 931-0699 or schedule your on-site estimate online.
Personalize Your Garage With Our Customizable Flooring
Transform your garage effortlessly with GarageExperts® of Chicagoland and our customizable GarageFX® Flooring options. Tailored to your needs and preferences, our garage floor coatings offer a stunning array of colors and styles to help you achieve your desired look.
Looking to add a vibrant pop of color to your garage? Look no further! With over 140 colors available, you have the freedom to choose the perfect match for your epoxy garage floors. Let us help you revamp your space with our premium, custom-colored GarageFX® Flooring.
Call us at (630) 931-0699 or request a free on-site estimate& discover how our tailored epoxy garage floor solutions can bring your desired look to life!
Polyaspartic & Epoxy Flooring Solutions in Naperville, IL
Our proprietary fusing epoxy primer develops a bond with the concrete that has up to three times stronger adhesion strength than other epoxies, preventing the system from peeling or chipping over time. On top, our polyaspartic topcoat leaves an attractive, glossy finish that can withstand the daily wear and tear of busy environments. Together, our polyaspartic and epoxy coatings are used for their technical strengths, giving our customers the best of both worlds!
These coatings are also easy to clean and won't show scuffs or scratches, reducing the need for upkeep. Our GarageExperts® of Chicagoland has extensive experience, and our products and services are backed by a lifetime warranty.
Other benefits of an epoxy garage floor in Naperville include:
Easy to Clean: You can sweep or mop your epoxy floors to keep them looking new. They are also stain-resistant, so you wont have to worry about spills.
Durable: Epoxy floors are resistant to fading, discoloration, and normal wear and tear, so no need to worry about them being damaged.
Safe: They are slip-resistant, which reduces the chances of slips and falls. Epoxy floors emit very low levels of volatile organic compounds

(VOCs), so they won't contribute to indoor air pollution.

Cost-effective: Epoxy floors are also very affordable compared to hardwood, tile, and other types of flooring. They tend to be less expensive to install and will last for many years without needing to be replaced.
Versatile: Epoxy flooring can be used in homes and businesses. They also come in various colors and designs, allowing you to mimic the look of more expensive materials such as stone or marble.
To learn more about our epoxy flooring services near you, call us at (630) 931-0699 or contact us online to get a free estimate.
Trusted Epoxy & Polyaspartic Garage Flooring Near You
At GarageExperts® of Chicagoland we prioritize your satisfaction above all else. Our dedicated team is here to help you find the perfect epoxy floor coating option that precisely suits your space's specific needs. With our extensive range of options, we are confident in our ability to accommodate various floor types and requirements. As part of our commitment to accuracy and transparency, we offer on-site estimates for free, so you can understand the scope of the work in full.
Enjoy Peace of Mind of Your Investment with Our Warranty
GarageExperts® believes in the quality of our GarageFX® Flooring Systems and storage solutions. That's why we back them with a lifetime warranty, demonstrating our confidence in their durability and longevity. As the industry leader in industrial-strength epoxy floor coatings, we are fully committed to exceeding your expectations and ensuring your satisfaction.
Trust us to deliver exceptional results that transform your space into something extraordinary.
In need of garage flooring near you? Call (630) 931-0699 or contact us online and let our dedicated team help you find the perfect epoxy floor coating option for you today!
How long does an epoxy garage floor coating take to dry?
Epoxy garage floor coatings typically take 24-48 hours to dry, depending on the temperature and humidity of your environment. If applying it in a warm climate, it may only take 12-24 hours for the coating to fully cure. It's important not to walk on or drive over an epoxy coated garage floor until it is completely dry as this can cause damage to your new floor coating.
Continue Reading
Read Less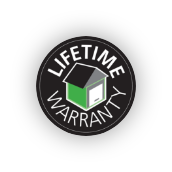 Service With A
Lifetime Warranty
We are so confident in the quality of our Garage FX Flooring Systems and storage solutions that we back them with a lifetime warranty.
Industrial Or Home Installation
GarageExperts® floor coatings are industrial strength yet designed for any type of concrete floor.
Hover over our top rated flooring options to see how they might look in your space.
Unclutter Your Space
Make the most of your space with customizable storage solutions from GarageExperts®.
Custom Garage Storage Solutions in Naperville, IL
For the total garage makeover, GarageExperts® of Chicagoland offers custom cabinets and slatwall organizational systems, so you can maximize the functionality of your space.
With our storage options, you get:
A custom organization solution designed to your storage needs
Variety of colors and styles to match your look
Generous storage capacity that keeps your things off the floor
Adjustable shelves and slatwall accessories that change with your needs
To learn more about our custom garage storage installations in Naperville, IL, call us at (630) 931-0699 or contact us online today to get a free estimate.
Hover over our top rated cabinet options to see how they might look in your space.
What Makes Garage FX® Epoxy & Polyaspartic
Technology Superior For Your Garage
American Made

Stronger Than
Concrete

No Peeling, Chipping, Or Staining

Resistant to Abrasions, Chemicals, and UV Rays

Over 140 Colors to Choose From
Get Ideas From Our Recent Work
Dec 6, 2023

Residential Garage Epoxy Flooring in Oak Brook, Il

Nov 20, 2023

Residential Garage Epoxy Flooring in Naperville, Il

Nov 7, 2023

Residential Garage Epoxy Flooring in Naperville, Il