Meet David
Meet the Owner of GarageExperts® of Colorado Springs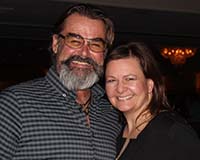 David Lyon retired disabled veteran of 22 years in the military. Starting as a mechanic working on many types of vehicles in several garages around the world for 12 years. 6 years as a Special Forces weapons expert and then the final 4 years as a Special Forces medic. After I retired I worked as an independent contractor for 14 years overseas providing security related work.
I have always been an avid hobbyist when it comes to wood working and building things. My hobbies include building outdoor walls with integrated BBQ grills, Pergola's, finishing my own basement on my first house and then the ultimate building my own 5000 square foot house. Over the years I have made many improvements to the house and one of them was installing an epoxy flooring system from one of the big box stores. Needless to say, I was not satisfied with the quality or the durability of that flooring system so I started looking for other options.
That is when I ran across GarageExperts® and their franchise system. I was so impressed that I decided to purchase my own franchise. Since then we have had many satisfied customers and the floors that we install surpass any floors in the industry.