Meet Mark and Melissa
Meet the Owner of GarageExperts® of The Denver Metro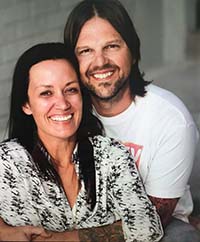 After successfully owning and operating two other businesses' over the years, a recruiting business and a handyman/construction business, we, the Scofield's have decided to take our passion for a balanced and organized family life and turn it into our business. We have also renovated a home and built another over the past 10 years, so we decided to combine the ideas in our heads and open up a business together in which we will be able to execute on both of our strength. Mark and Melissa are new Stapleton (Northfield/Beeler Park) Residents and would love to help the Residents around the city of Denver and Surrounding areas help to organize and expand their living spaces!
"As we have walked our dogs around the different neighborhoods we have lived in for almost two decades here in Denver, Colorado, we have noticed that most people truly use their garage as a dump for all things junk. How nice would it be to be able to not avoid your garage, but instead smile as you drive in and out of it? The garage is usually the largest room in your house and usually the space that holds the most valuable personal items, so why not have it be neat and tidy and beautiful, just like the contents inside it. We are passionate about design and ideas around how to better create that ideal personal space that you will enjoy parking your car in, enjoy storing your goods in such as tools, sporting goods, bikes, boats, toys and so much more in. We would love to meet with you personally and spend time with you to help you create that dream garage you deserve and help to truly expand your living space." — Mark and Melissa Scofield
When you choose GarageExperts® to install your garage floor coating or Custom European Style Garage Storage cabinets, you are supporting a local small business in your community. Because you are dealing directly with the local owners you can rest assured your satisfaction is their number one concern. Mark and Melissa enjoy meeting new people and will go above and beyond to ensure all of their clients - past, present, and future – are 100% satisfied with their custom garage makeovers. They are dedicated to the success of the Garage Floor Coating and Custom Garage Cabinet business in the Denver area so you can be proud of your Garage Improvement for years to come.