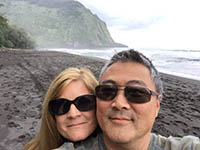 Thank you for visiting Garage Experts of North County San Diego. Miles and Laura are local owners in San Marcos.
Miles was raised in the Central Valley of California and Laura was raised here in Southern California. Miles having experience in the hospitality industry for over twenty years working for Hilton and Marriott, knowing and understanding that service, quality and consistency is always desired by everyone. Laura, loving art from an early age has a background in fine art and design. She grew up with most of her family being contractors and has painted homes for the last ten years.
Together they provide quality service, a professional look with a superior product that is unmatched.
Call us today for your FREE ESTIMATE. We will provide a custom 3D rendering of your new garage, complete with our Industrial Strength Garage FX Flooring, Custom Cabinets and Slatwall. When you choose Garage Experts of North County San Diego you will have the feeling of knowing you are supporting a local business.
All of our products are manufactured right here in the USA. With a Lifetime Warranty on our Industrial Strength Garage FX Flooring System and Custom Cabinets, you will have the certainty of knowing that you will LOVE your new garage.