Garage Storage
Garage Storage Solutions in Sacramento, CA
Transform your chaotic garage into an organized oasis with GarageExperts® of Sacramento. Tired of stumbling through clutter to find what you need? Our custom storage solutions ensure that every tool and item has its own place, eliminating the hassle of sifting through piles of boxes. Experience the joy of a clean and functional garage space -- join our community of delighted customers today. Say goodbye to chaos and frustration, and say hello to a garage that works for you.
Custom Cabinets and Slatwall
Transform your garage into a personalized space with custom cabinets and slatwall solutions from GarageExperts® of Sacramento. Our cabinets come in a range of colors and configurations to fit your garage perfectly. Say goodbye to cluttered floors and hello to organized storage. Plus, our versatile slatwall system offers a variety of storage options like hooks, baskets, and more. Trust our commitment to industry standards and customer satisfaction to create your dream garage.
Experience the Benefits of Vertical Integration with GarageExperts® of Sacramento
Having a well-organized garage can truly transform your daily routine. Not only will it save you time and reduce stress, but it will also make your garage more enjoyable to use.
At GarageExperts® of Sacramento, we are passionate about delivering excellence in garage storage. From start to finish, we handle every aspect to ensure your garage is clutter-free, functional, and optimized to its fullest potential.
With our vertical integration, we have complete control over the entire storage process. This means we can provide you with a long-term storage solution that truly meets your needs.
Our cabinets are not only compliant with CARB regulations, but they are also made from wood sourced from replenishable North American forests. With our use of Computer Numerical Control (CNC) machinery, every wood panel is precisely cut for a perfect fit and finish.
Efficiency is a top priority for us. That's why we keep all the necessary materials on hand, allowing us to offer custom cabinets, floors, and garage storage options in a quick and timely manner.
To give you a visual representation of your redesigned garage, we utilize our proprietary design software. With this software, you can see a 3-D image of your garage and even manipulate the design and colors in real time.
Say goodbye to a cluttered garage and hello to an organized space that is optimized to its fullest potential. Let GarageExperts® of Sacramento take on the challenge and transform your garage into the envy of the neighborhood.
Turn your garage into a highly organized storage area with GarageExperts®. Get an estimate or dial (916) 710-8866 to discover the incredible range of custom cabinets and slatwall systems available in Sacramento. Say goodbye to clutter and hello to efficiency!
Here Are Four Reasons Why You Should Choose Our Epoxy and Polyaspartic Flooring:
One-Day Installation

In many cases, our most popular epoxy and polyaspartic floor coating can be installed, and your garage returned to normal, in as little as one day. We can even transform your basement, pool deck, patio, or any other concrete floor.

Crack & Joint Repair

If your floor currently has cracks or other surface imperfections, our Garage FX® epoxy repair product is specially designed to treat cracks and joints. The key to a long-lasting epoxy and polyaspartic garage floor coating is proper preparation to ensure it lasts a lifetime.

Maintenance-Free

Garage floors need to be durable and withstand many hazards, from car wheels to lawn equipment to various chemicals. Our epoxy and polyaspartic flooring products are clear, abrasion-resistant, and easy to clean. They don't require waxing or other time-consuming upkeep and always remain aesthetically pleasing.

No Peeling Or Chipping

Our floor coating offers three times more adhesion than other epoxy and polyaspartic coatings, meaning you'll never have to worry about them peeling or chipping.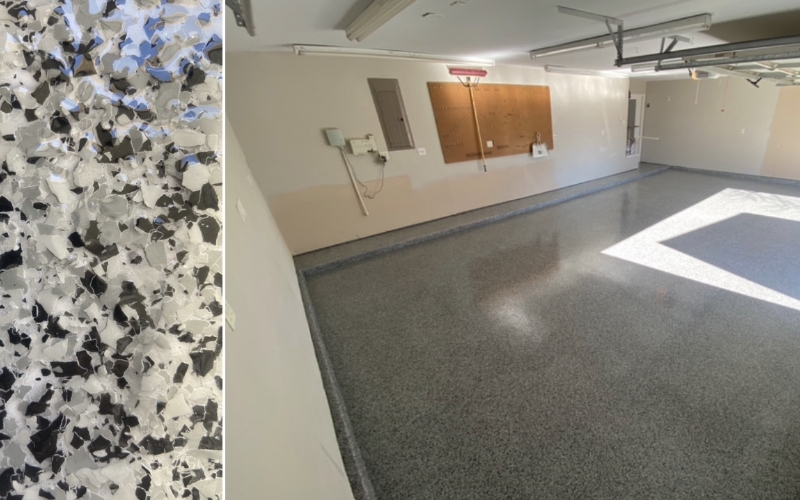 "Garage Experts are the guys to call for your garage transformation."

Sean G.

West Sacramento

"Spencer and Jon were very professional and a pleasure to work with."

Eric Lapurga

"Garage Experts really are the experts!"

Eric M.

Stockton, CA
What Makes Garage FX® Epoxy & Polyaspartic
Technology Superior For Your Garage
American Made

Stronger Than
Concrete

No Peeling, Chipping, Or Staining

Resistant to Abrasions, Chemicals, and UV Rays

Over 140 Colors to Choose From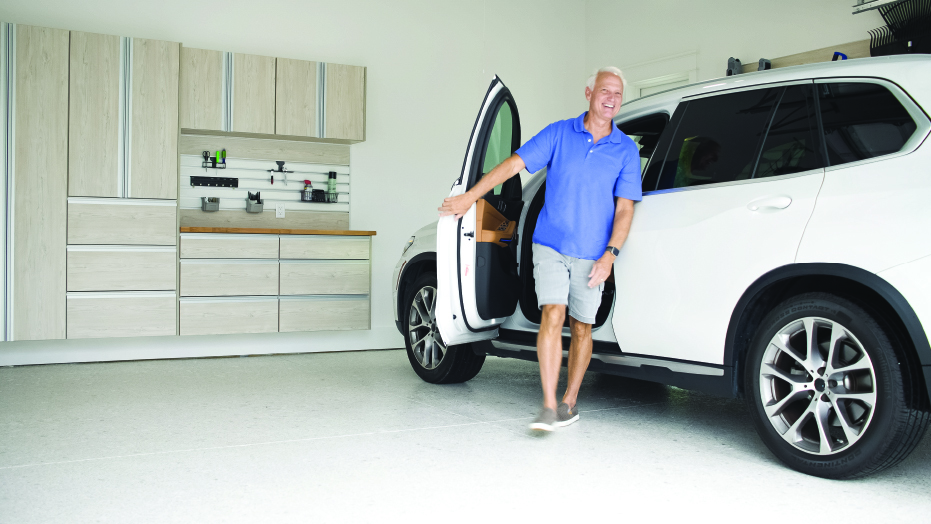 Committed To You
We believe in providing the highest
standard of service
In-Home Estimate Is Always Free

Time Is Valuable So We Arrive On Time

Always Get Upfront Pricing

Products Are Guaranteed For Life
Step 1

First, we prepare your concrete by grinding the surface and repairing any cracks, joints, or surface imperfections with our Garage FX® repair products.

Step 2

We roll out our Garage FX® epoxy primer that fuses directly into concrete to create an incredible bond that won't peel.

Step 3

We broadcast your choice of decorative flakes across the floor making sure to evenly cover the entire space for a seamless finish.

Step 4

Lastly, we apply our highly durable and abrasion-resistant polyaspartic topcoat to protect the floor from wear and tear, while maintaining an attractive, glossy finish for years to come.

Step 5

Now that GarageExperts® has extended the life of your floor and enhanced the look of your space, enjoy it!