Meet Forrest
Meet the Owner of GarageExperts® of Sacramento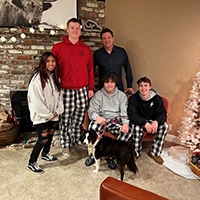 Thank you for visiting GarageExperts of Sacramento! The owner, Forrest Farman, and his children, Gabriella, Colbey, Wyatte, and Spencer, are California natives who have been in Loomis, CA for over 15 years.
Forrest has many years of experience in the construction and computer networking industries. Along with Spencer and Colbey, he decided to take on the Sacramento area franchise of GarageExperts to serve the surrounding locations with the highest quality garage makeovers available. This is truly a family business with Colbey as an on-site installer, Spencer handling sales and marketing, and Forrest overseeing the remaining aspects of the business.
Thank you again for visiting and considering GarageExperts of Sacramento.