Residential Epoxy Flooring
Residential Epoxy & Polyaspartic Garage Flooring In Southwest Virginia
Blacksburg's Premier Choice for Stylish Garage Flooring
A garage is not just a space to park your car but can also serve as a workspace, storage, and even a gathering place for family and friends. That said, you want your garage to be more than just functional and reliable. You want it to look good too. That's why GarageExperts® of Southwest Virginia offers high-quality epoxy and polyaspartic floor coatings that not only protect your garage floors but also enhance their overall appearance.
Our Garage FX® epoxy and polyaspartic flooring transforms your concrete floors into a polished and vibrant surface that adds style and personality to your garage. The garage floor coatings we offer are durable, resist chemical spills, and offer excellent resistance to heavy foot traffic. Choose GarageExperts® of Southwest Virginia today and give your garage the protection and style it deserves.
Elevate your garage with our durable and stylish epoxy and polyaspartic floor coatings in Blacksburg, VA! Request an estimate online or call (540) 870-0336 today!
Our Customizable Garage Floor Coatings
At GarageExperts® of Southwest Virginia, we understand that your home is unique, and your garage should reflect that. We believe that your garage is an important extension of your home, one that should be as beautiful and functional as the rest of your living space.
That's why we're proud to offer Garage FX® epoxy and polyaspartic flooring in over 140 colors and finishes, giving you the freedom to design the garage of your dreams. Whether you want to create a sleek, modern look or a warmer, more inviting atmosphere, our flooring options provide endless possibilities to help you customize your garage to match your style.
The Benefits of Garage FX® Epoxy and Polyaspartic Floor Coatings
From its unrivaled durability to its low maintenance requirements, Garage FX® epoxy and polyaspartic floor coatings are the perfect choice for those looking to enhance their garage's aesthetic appeal and functionality.
Unmatched Durability and Longevity: Garage FX® epoxy and polyaspartic floor coatings are renowned for their exceptional durability. These coatings are engineered with the strength to withstand heavy foot traffic, repeated mechanical stress, and everyday wear and tear. This means they won't easily succumb to surface scratches or damage, ensuring your garage floor maintains its look for years to come.
Stain-Resistant Surface: One of the biggest challenges with traditional garage floors is dealing with stubborn, unsightly stains. Thankfully, Garage FX® floor coatings provide a solution. Their non-porous surface effectively repels liquids, preventing them from seeping into the material. Whether it's oil, paint, or any other common garage spill, cleanup becomes a breeze - simply wipe it away!
Low-Maintenance Solution: If you're tired of spending hours cleaning and maintaining your garage floor, Garage FX® floor coatings are for you. Their seamless finish doesn't trap dirt, dust, or debris, eliminating the need for frequent deep cleans.
No Peeling or Chipping: Nothing ruins the aesthetic of a garage floor like peeling or chipping paint. Garage FX® epoxy and polyaspartic floor coatings are designed to bond deeply with the concrete, creating a robust layer that won't peel, chip, or fracture, even under harsh weather conditions or intense usage.
Garage FX® epoxy and polyaspartic floor coatings are the ultimate garage flooring solution. They offer an impressive blend of durability, stain resistance, low maintenance requirements, and longevity that sets them apart from traditional flooring options.
Why Partner With GarageExperts® of Southwest Virginia
When it comes to transforming your garage floor into a durable, attractive, and long-lasting surface, there's no one better than GarageExperts® of Southwest Virginia. With our Garage FX® epoxy and polyaspartic flooring, we can help you achieve the look and functionality you want for your garage floor. When you partner with our team you get:
Unmatched Expertise: As part of the nationally recognized GarageExperts® brand, our team is equipped with a vast reservoir of knowledge and experience. We utilize state-of-the-art techniques and superior quality materials to deliver a finish that's not just long-lasting, but also highly durable.
Respect for Your Time: We understand the value of your time and strive to always be punctual. This commitment not only reflects our respect for your schedule but also ensures the timely completion of your project.
Transparent Pricing with Free Estimates: At GarageExperts® of Southwest Virginia, we believe in complete transparency when it comes to pricing. Our free on-site estimates provide a clear picture of the costs involved, enabling you to plan your budget effectively while avoiding any unexpected expenses.
Say goodbye to unsightly stains, cracks, or chips. With GarageExperts® of Southwest Virginia at your service, you can upgrade your plain concrete garage floor into an impressive feature that enhances both the value and utility of your home.
Our team of skilled professionals will handle everything, delivering a beautiful and durable floor that's ready to withstand whatever comes its way. Trust GarageExperts® of Southwest Virginia to bring out the full potential of your garage.
Looking for an easy-to-clean garage floor? Discover our Garage FX® epoxy and polyaspartic flooring. Get a free estimate online or call (540) 870-0336 to speak with our Blacksburg, VA team!

Here Are Four Reasons Why You Should Choose Our Epoxy and Polyaspartic Flooring:
One-Day Installation

In many cases, our most popular epoxy and polyaspartic floor coating can be installed, and your garage returned to normal, in as little as one day. We can even transform your basement, pool deck, patio, or any other concrete floor.

Crack & Joint Repair

If your floor currently has cracks or other surface imperfections, our Garage FX® epoxy repair product is specially designed to treat cracks and joints. The key to a long-lasting epoxy and polyaspartic garage floor coating is proper preparation to ensure it lasts a lifetime.

Maintenance-Free

Garage floors need to be durable and withstand many hazards, from car wheels to lawn equipment to various chemicals. Our epoxy and polyaspartic flooring products are clear, abrasion-resistant, and easy to clean. They don't require waxing or other time-consuming upkeep and always remain aesthetically pleasing.

No Peeling Or Chipping

Our floor coating offers three times more adhesion than other epoxy and polyaspartic coatings, meaning you'll never have to worry about them peeling or chipping.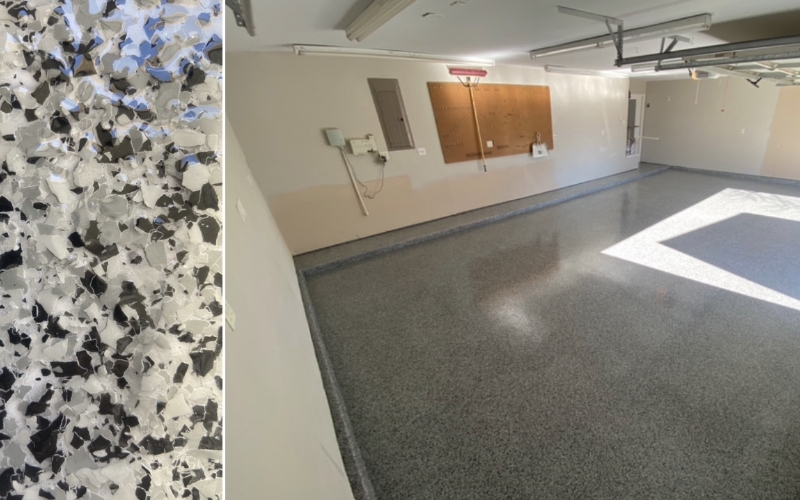 "

Very Professional and job nicely done. Would highly recommend!

"

Prajwol Pant

"Our garage looks great. They do excellent work."

Brandon Nichols

"

They are amazing and great to work with!

"

Joel Daniel
What Makes Garage FX® Epoxy & Polyaspartic
Technology Superior For Your Garage
American Made

Stronger Than
Concrete

No Peeling, Chipping, Or Staining

Resistant to Abrasions, Chemicals, and UV Rays

Over 140 Colors to Choose From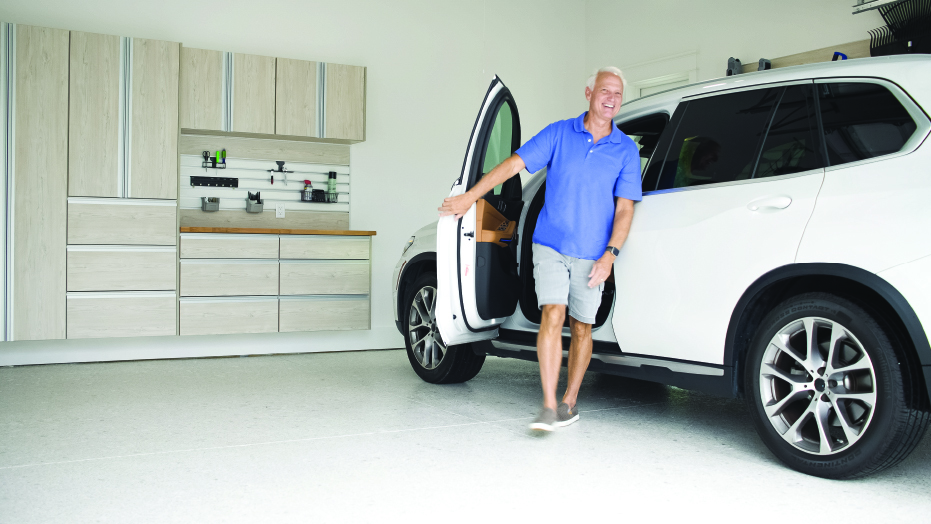 Committed To You
We believe in providing the highest
standard of service
In-Home Estimate Is Always Free

Time Is Valuable So We Arrive On Time

Always Get Upfront Pricing

Products Are Guaranteed For Life
Step 1

First, we prepare your concrete by grinding the surface and repairing any cracks, joints, or surface imperfections with our Garage FX® repair products.

Step 2

We roll out our Garage FX® epoxy primer that fuses directly into concrete to create an incredible bond that won't peel.

Step 3

We broadcast your choice of decorative flakes across the floor making sure to evenly cover the entire space for a seamless finish.

Step 4

Lastly, we apply our highly durable and abrasion-resistant polyaspartic topcoat to protect the floor from wear and tear, while maintaining an attractive, glossy finish for years to come.

Step 5

Now that GarageExperts® has extended the life of your floor and enhanced the look of your space, enjoy it!