Commercial & Industrial Epoxy Flooring
Commercial Epoxy & Polyaspartic Flooring in Tampa Bay
Does your commercial or industrial space need new flooring? Flooring is a big investment, so invest in a solution that's as stylish as it is functional and long-lasting. Sleek epoxy and polyaspartic floor coatings from GarageExperts® Tampa Bay is exactly what you're looking for. Our flooring systems can withstand bustling commercial and industrial environments.
Durable, stylish, and easy to maintain - our GarageFX® epoxy and polyaspartic floor coatings are a game-changer. Call (727) 263-3220 or reach out online for more details!
Benefits of Our GarageFX® Flooring Systems for Tampa Bay Businesses
Commercial epoxy and polyaspartic flooring is popular with many business in Tampa Bay, and for good reason:
Durability: In busy commercial and industrial spaces, floors encounter continuous activity and impact. Owners of warehouses, factories, retail stores and more can see what constant impact by walking and equipment does to floors. Cracks, scuff marks and scratches result in an unpleasant look over time that cleaning can't fix. Our GarageFX® epoxy & polyaspartic floor coating can withstand everyday wear-and-tear.
Diverse Styles: We know how important it is to create an inviting and professional environment for your staff and customers. With over 140 colors, our GarageFX® flooring systems can be customized to mirror your brand. Whether you want modern and sleek, muted colors or an impactful, rich colors, we can create the look you desire.
Effortless Upkeep: The low-maintenance nature of epoxy and polyaspartic floor coatings minimizes cleaning efforts. Reduced maintenance slashes costs and time over the life of your floors.
Our GarageFX® Floor Solution Application Process
At GarageExperts® of Tampa Bay, our skill in applying commercial polyaspartic and epoxy floor coatings shines through. Our crew follows a strict process to ensure seamless application of the flooring system. Here's what you can expect:
Priming the Substrate: Preparing the foundation is pivotal. Our experts cleanse and prime the existing substrate. This will ensure a sturdy bond between our GarageFX® floor coating and the underlying surface.
Epoxy & Polyaspartic Coating Application: Our GarageFX® application kicks off with our fusing primer that eliminates peeling and chipping. The polyaspartic topcoat adds a lustrous finish that will shine for years to come. Our experts apply a seamless coating, making sure that no bubbles or cracks are present.
Curing/Drying: Curing is crucial. Our team makes sure that the floor is free from any stressors while curing so that your floors harden properly.
Final Inspection: After the epoxy and polyaspartic coating fully hardens, our team inspects the surface. We make sure that the result meets our high standards of quality.
Transform your space with our GarageFX® epoxy and polyaspartic floor coatings. Contact us online or call (727) 263-3220 for a free estimate!
Why Choose Our Commercial Flooring Experts in Tampa Bay?
GarageExperts® of Tampa Bay stands at the forefront of commercial flooring solutions. Our approach and attention to detail assure a flooring system that adapts to your business's demands. Whether you're revamping a retail space, gym, showroom or industrial space, our commercial polyaspartic & epoxy flooring is a worthwhile investment.
Here's why you should consider partnering with us:
Free Onsite Estimates: We understand that every project is unique, and we're committed to providing accurate, no-obligation estimates at your location. This allows us to assess your specific needs and provide a tailored solution.
Experienced Professionals: Our team of seasoned professionals brings years of industry experience to each project. We're not just experts in our field; we're passionate about delivering top-quality results that exceed expectations.
Punctuality You Can Count On: Your time is valuable, and we respect that. We're committed to punctuality and will always arrive on time for scheduled appointments.
Unrivaled Quality: Our epoxy and polyaspartic garage floor coatings are not only durable but also aesthetically pleasing. They can transform any garage into a professional-looking space while providing long-lasting protection.
Customer Satisfaction: Your satisfaction is our priority. We work closely with you throughout the process to ensure your needs are met and your expectations are exceeded.
We back our products and services with a limited lifetime warranty, so you have complete confidence in your investment. Schedule a free on-site estimate to discuss your flooring needs, stylistic vision, and budget. Of course, we'll be happy to answer any questions you have!
When it comes to commercial and industrial garage floor coatings, don't settle for less. Choose GarageExperts® of Tampa Bay – a team that combines technical expertise with an unwavering commitment to customer satisfaction.
Ready to upgrade your space with stunning epoxy & polyaspartic flooring for your business? Call (727) 263-3220 or schedule your FREE estimate online!

Here Are Four Reasons Why You Should Choose Our Epoxy and Polyaspartic Flooring:
One-Day Installation

In many cases, our most popular epoxy and polyaspartic floor coating can be installed, and your garage returned to normal, in as little as one day. We can even transform your basement, pool deck, patio, or any other concrete floor.

Crack & Joint Repair

If your floor currently has cracks or other surface imperfections, our Garage FX® epoxy repair product is specially designed to treat cracks and joints. The key to a long-lasting epoxy and polyaspartic garage floor coating is proper preparation to ensure it lasts a lifetime.

Maintenance-Free

Garage floors need to be durable and withstand many hazards, from car wheels to lawn equipment to various chemicals. Our epoxy and polyaspartic flooring products are clear, abrasion-resistant, and easy to clean. They don't require waxing or other time-consuming upkeep and always remain aesthetically pleasing.

No Peeling Or Chipping

Our floor coating offers three times more adhesion than other epoxy and polyaspartic coatings, meaning you'll never have to worry about them peeling or chipping.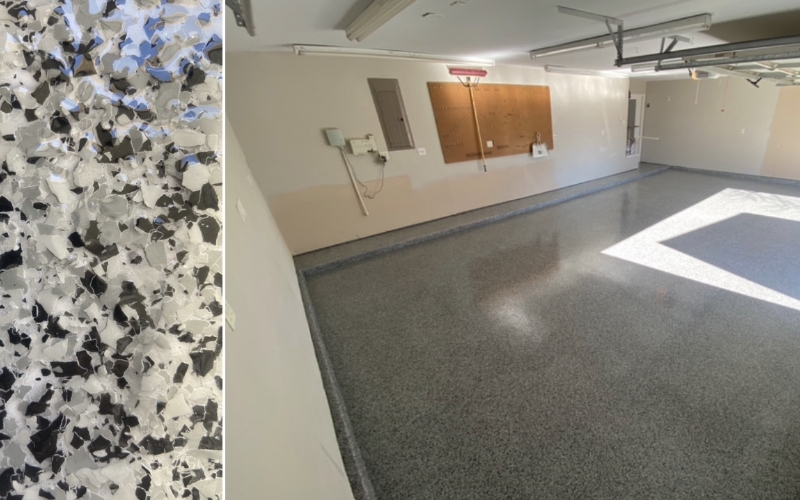 "Highest quality product, a great warranty, and expert installation."

Adam Talley

"My garage looks spectacular!"

Nelida Katz
What Makes Garage FX® Epoxy & Polyaspartic
Technology Superior For Your Garage
American Made

Stronger Than
Concrete

No Peeling, Chipping, Or Staining

Resistant to Abrasions, Chemicals, and UV Rays

Over 140 Colors to Choose From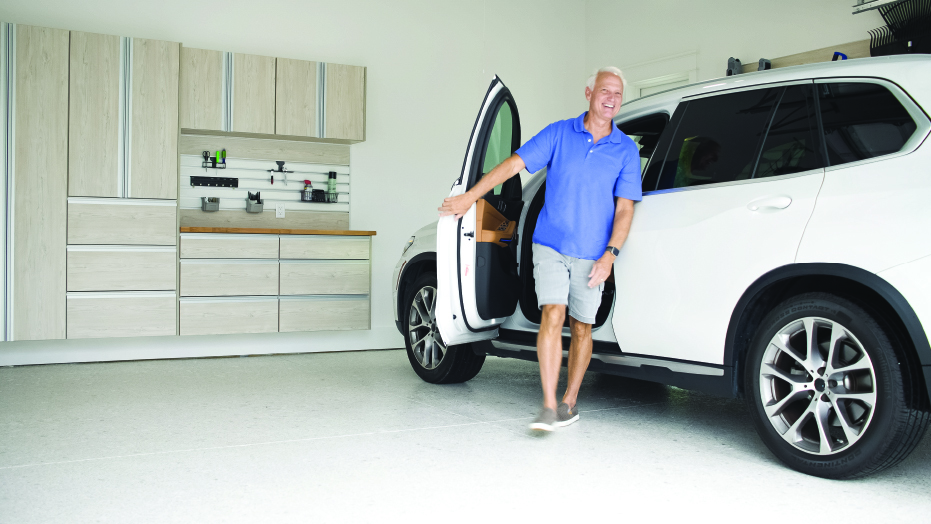 Committed To You
We believe in providing the highest
standard of service
In-Home Estimate Is Always Free

Time Is Valuable So We Arrive On Time

Always Get Upfront Pricing

Products Are Guaranteed For Life
Step 1

First, we prepare your concrete by grinding the surface and repairing any cracks, joints, or surface imperfections with our Garage FX® repair products.

Step 2

We roll out our Garage FX® epoxy primer that fuses directly into concrete to create an incredible bond that won't peel.

Step 3

We broadcast your choice of decorative flakes across the floor making sure to evenly cover the entire space for a seamless finish.

Step 4

Lastly, we apply our highly durable and abrasion-resistant polyaspartic topcoat to protect the floor from wear and tear, while maintaining an attractive, glossy finish for years to come.

Step 5

Now that GarageExperts® has extended the life of your floor and enhanced the look of your space, enjoy it!