Residential Epoxy Flooring
Residential Epoxy & Polyaspartic Garage Floor Coatings In Wichita, KS
Expert Solutions for Your Garage Flooring Needs
Your garage is much more than just a parking spot. It's a multi-purpose area that serves as a workspace, storage unit, and sometimes even a hangout spot. And yet, despite all the ways this space is used, it's often one of the most overlooked areas in a home. That's where GarageExperts® of Wichita comes in.
Our epoxy and polyaspartic garage floor coatings can totally transform your garage from a drab, uninspiring room to a beautiful and highly functional space. And with a range of different styles to choose from, you're sure to find the perfect coating to meet your needs. With Garage FX® epoxy and polyaspartic flooring, you'll also get outstanding protection for your garage floor, no matter how harsh the environment. Don't let your garage go neglected any longer - contact GarageExperts® of Wichita today to see how we can help you transform this versatile space.
Personalize Your Wichita Garage
Transforming your garage into a stunning extension of your living space has never been easier with Garage FX® epoxy and polyaspartic flooring. With a vast range of over 140 colors and finishes to select from, you can craft a tailored and unique space perfectly suited to your style.
With Garage FX® flooring, you can bring the outside in, and customize your garage to reflect your personality. Whether you prefer the classic touch or favor modern décor, epoxy and polyaspartic flooring guarantees to enhance both form and function.
Benefits of Epoxy & Polyaspartic Flooring
Garage FX® epoxy and polyaspartic garage floor coatings offer numerous benefits that make it an ideal choice for homeowners. Not only does it provide an aesthetic upgrade to your home, but it also offers practical solutions that cater to the needs of busy homeowners.
The benefits include:
Durability: One of the most significant advantages of Garage FX® flooring is its exceptional durability. This flooring system is designed to withstand harsh conditions without showing signs of wear and tear. It can handle heavy machinery, tools, and high traffic, making it perfect for garages or workshops.
Damage-resistant: Our Garage FX® epoxy and polyaspartic garage floor coating is resistant to chipping, scratching, and peeling. This means that no matter what you throw at it, it will maintain its smooth, sleek appearance.
UV and Stain Resistant: The flooring is also resistant to UV rays, protecting it from the damaging effects of sun exposure. In addition, it's stain-resistant, so any oil spills, grease marks, or other common garage stains can be easily cleaned up without leaving a permanent mark.
Easy Maintenance: Another benefit of Garage FX® flooring is its ease of maintenance. Its smooth surface makes cleaning a breeze. Simply sweep away dust or debris, or use a damp mop for a deeper clean. There's no need for special cleaners or waxing, making it an excellent choice for busy homeowners.
Aesthetic Appeal: Last but not least, Garage FX® flooring enhances the aesthetic appeal of your home. It's available in a variety of colors and finishes, allowing you to customize the look to match your home's style. A well-installed epoxy floor can transform a drab, boring garage into a vibrant, attractive space.

Ready to transform your Wichita garage? Request a free estimate online or call (316) 867-9181 to learn more about our epoxy and polyaspartic floor coatings!
GarageExperts® - Your Trusted Partner for Garage Flooring
At GarageExperts® of Wichita, our team of experts specializes in epoxy and polyaspartic flooring that is both durable and beautiful. Partnering with us means you can expect top-notch service, high-quality materials, and outstanding results.
Additional reasons why partnering with our team is beneficial:
Always On-Time: We understand the importance of punctuality, which is why we ensure our team is always on schedule and ready to take on the task at hand.
Upfront Pricing: We offer transparent pricing, so you can make an informed decision by receiving a complimentary in-home estimate and upfront pricing.
One-Day Installation: Efficiency is also a guarantee, with some of our flooring options featuring one-day installation, making your garage transformation quick and hassle-free.
We are committed to delivering personalized solutions to cater to all of your garage flooring needs. Choose GarageExperts® of Wichita to elevate your garage with ease and enjoy the benefits of our seasoned professionals who always prioritize quality.
Upgrade your garage floor today! Discover the strength of epoxy and polyaspartic floor coatings in Wichita, KS. Request an estimate online or call (316) 867-9181.
Here Are Four Reasons Why You Should Choose Our Epoxy and Polyaspartic Flooring:
One-Day Installation

In many cases, our most popular epoxy and polyaspartic floor coating can be installed, and your garage returned to normal, in as little as one day. We can even transform your basement, pool deck, patio, or any other concrete floor.

Crack & Joint Repair

If your floor currently has cracks or other surface imperfections, our Garage FX® epoxy repair product is specially designed to treat cracks and joints. The key to a long-lasting epoxy and polyaspartic garage floor coating is proper preparation to ensure it lasts a lifetime.

Maintenance-Free

Garage floors need to be durable and withstand many hazards, from car wheels to lawn equipment to various chemicals. Our epoxy and polyaspartic flooring products are clear, abrasion-resistant, and easy to clean. They don't require waxing or other time-consuming upkeep and always remain aesthetically pleasing.

No Peeling Or Chipping

Our floor coating offers three times more adhesion than other epoxy and polyaspartic coatings, meaning you'll never have to worry about them peeling or chipping.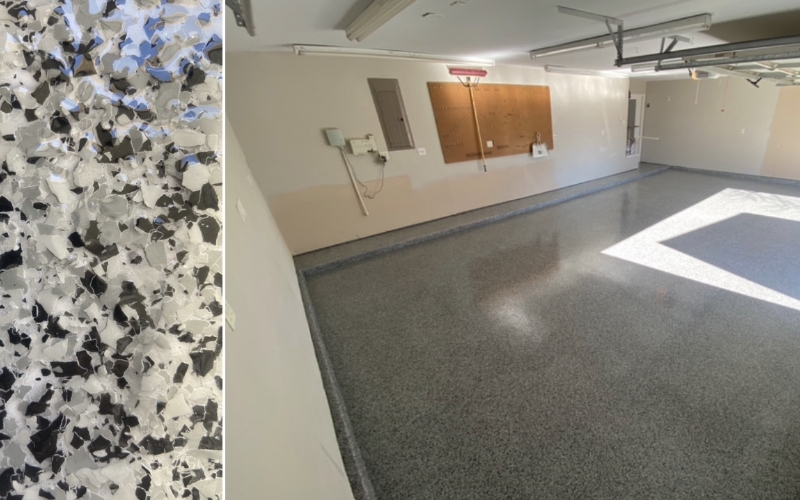 "We greatly appreciate your prompt service, quality workmanship and your professionalism."

GarageExperts® Customer

San Antonio, TX

"I noticed their "LIFETIME WARRANTY" and couldn't believe it!"

GarageExperts® Customer

Fort Worth, TX

"A Man-Cave Making Machine!"

GarageExperts® Customer

Denver, CO
What Makes Garage FX® Epoxy & Polyaspartic
Technology Superior For Your Garage
American Made

Stronger Than
Concrete

No Peeling, Chipping, Or Staining

Resistant to Abrasions, Chemicals, and UV Rays

Over 140 Colors to Choose From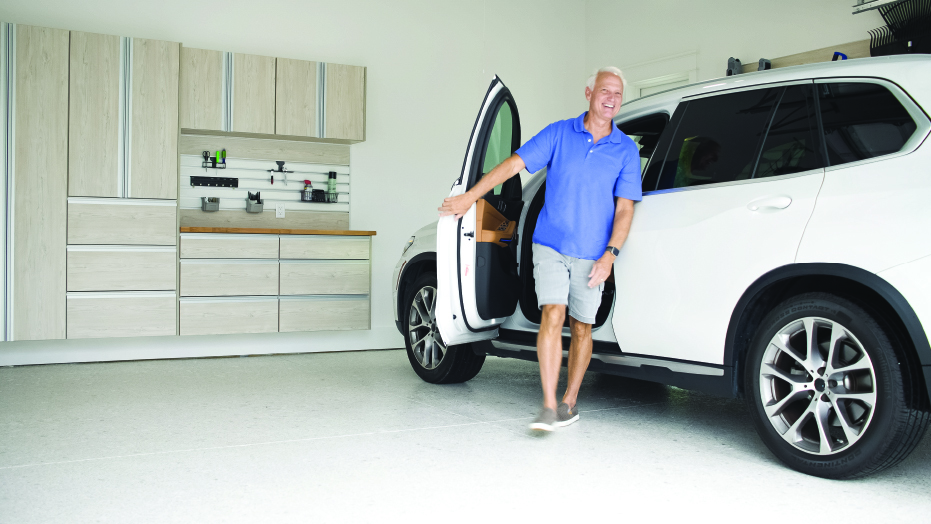 Committed To You
We believe in providing the highest
standard of service
In-Home Estimate Is Always Free

Time Is Valuable So We Arrive On Time

Always Get Upfront Pricing

Products Are Guaranteed For Life
Step 1

First, we prepare your concrete by grinding the surface and repairing any cracks, joints, or surface imperfections with our Garage FX® repair products.

Step 2

We roll out our Garage FX® epoxy primer that fuses directly into concrete to create an incredible bond that won't peel.

Step 3

We broadcast your choice of decorative flakes across the floor making sure to evenly cover the entire space for a seamless finish.

Step 4

Lastly, we apply our highly durable and abrasion-resistant polyaspartic topcoat to protect the floor from wear and tear, while maintaining an attractive, glossy finish for years to come.

Step 5

Now that GarageExperts® has extended the life of your floor and enhanced the look of your space, enjoy it!