Garage Storage
Garage Storage in Baton Rouge
Customized Storage Solutions: Garage Cabinets and Slatwall Installations
GarageExperts of Baton Rouge proudly provides garage storage services to help you maximize your space. We offer customizable cabinet and slatwall solutions to optimize the storage potential of your space. We allow you to choose from a variety of colors, styles, adjustable shelving, drawer slides, and more! But don't just take our word for it, we offer a lifetime warranty to ensure your space stays efficient for life.
Give us a call at (225) 412-6377 or contact us online to get started on your garage organization project today!
Vertical Integration
Being vertically integrated at GarageExperts of Baton Rouge means that we have complete control over the entire process. We focus on producing premium storage solutions that are backed by a lifetime warranty from start to finish. Here are a few examples of how vertical integration enables us to provide high-quality services and products:
Cabinet Manufacturing - All of our cabinets are CARB compliant, and our wood is sourced from renewable North American forests, reducing our environmental impact. Our wood panels are cut on CNC machinery, resulting in assemblies with tolerances of a fraction of a millimeter, resulting in a perfect fit and finish.
On-Hand Inventory - Fully stocked inventory means we have quick access to the materials required for your job. We keep a large inventory on hand to quickly produce custom cabinets, floors, and other garage storage solutions for your job. Our goal is to complete our customers' installations as quickly and efficiently as possible, avoiding long wait times for a completed garage.
Custom Cabinet Design - Our team is trained to use our proprietary design software, which allows us to "build out" your garage and generate a 3-D image. This software enables us to move and adjust the design and colors in real-time, so you know exactly how your garage will look before it is installed.
Maximize your garage space with our storage solutions in Baton Rouge. Reach out online or call (225) 412-6377 to request a free estimate today and get organized!
Why Choose GarageExperts® of Baton Rouge
Quality is essential at GarageExperts®. We are more than just a garage service provider. We strive to be a reliable supplier of high-quality, long-lasting products and services. We have become a leading provider of epoxy and polyaspartic flooring and garage storage solutions because we have built trust and long-term relationships with our customers. Each of our locations is independently owned and operated, and is actively involved in the communities they serve.
Our products are made in the United States and are built to last. We are so confident in our products, services, and expert team, we offer a lifetime warranty to provide our customers with the peace of mind they deserve.
Dial (225) 412-6377 or contact us online to learn more about our garage storage systems today!
Here Are Four Reasons Why You Should Choose Our Epoxy and Polyaspartic Flooring:
One-Day Installation

In many cases, our most popular epoxy and polyaspartic floor coating can be installed, and your garage returned to normal, in as little as one day. We can even transform your basement, pool deck, patio, or any other concrete floor.

Crack & Joint Repair

If your floor currently has cracks or other surface imperfections, our Garage FX® epoxy repair product is specially designed to treat cracks and joints. The key to a long-lasting epoxy and polyaspartic garage floor coating is proper preparation to ensure it lasts a lifetime.

Maintenance-Free

Garage floors need to be durable and withstand many hazards, from car wheels to lawn equipment to various chemicals. Our epoxy and polyaspartic flooring products are clear, abrasion-resistant, and easy to clean. They don't require waxing or other time-consuming upkeep and always remain aesthetically pleasing.

No Peeling Or Chipping

Our floor coating offers three times more adhesion than other epoxy and polyaspartic coatings, meaning you'll never have to worry about them peeling or chipping.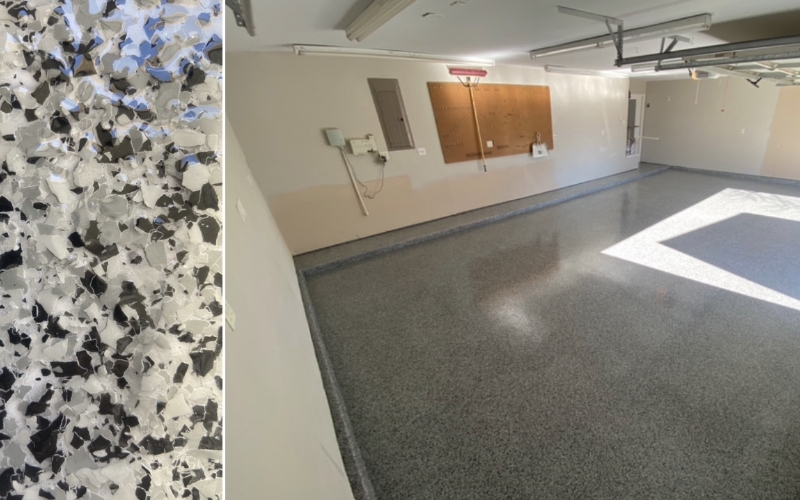 "They had the best prices around and some of the best reviews compared to every other company in the area."

Shawn F.

"Garage Experts fixed the problem and repainted the right way."

Tracy G.

"I am so happy that I found John and Garage Experts and I highly recommend him if you need to transform your garage."

Colleen S.
American Made

Stronger Than
Concrete

No Peeling, Chipping, Or Staining

Resistant to Abrasions, Chemicals, and UV Rays

Over 140 Colors to Choose From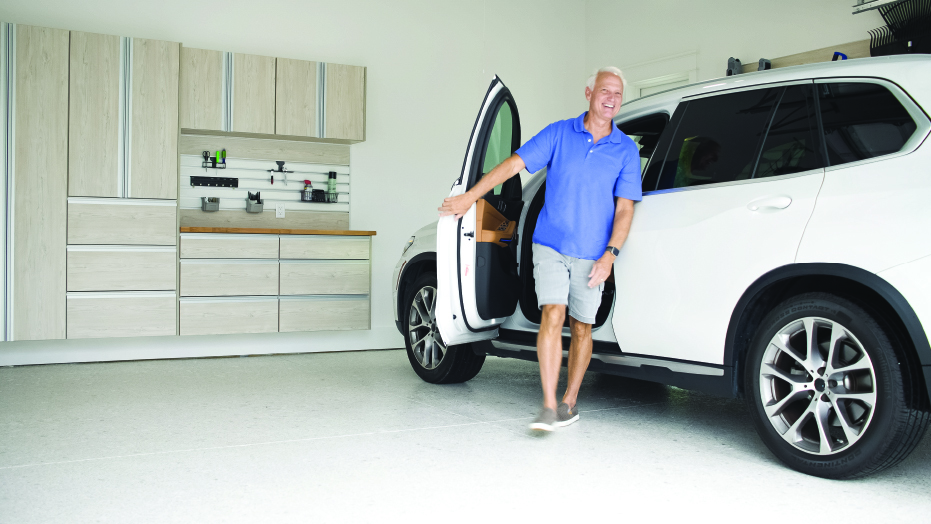 Committed To You
We believe in providing the highest
standard of service
In-Home Estimate Is Always Free

Time Is Valuable So We Arrive On Time

Always Get Upfront Pricing

Products Are Guaranteed For Life
Step 1

First, we prepare your concrete by grinding the surface and repairing any cracks, joints, or surface imperfections with our Garage FX® repair products.

Step 2

We roll out our Garage FX® epoxy primer that fuses directly into concrete to create an incredible bond that won't peel.

Step 3

We broadcast your choice of decorative flakes across the floor making sure to evenly cover the entire space for a seamless finish.

Step 4

Lastly, we apply our highly durable and abrasion-resistant polyaspartic topcoat to protect the floor from wear and tear, while maintaining an attractive, glossy finish for years to come.

Step 5

Now that GarageExperts® has extended the life of your floor and enhanced the look of your space, enjoy it!