Meet Travis and Mark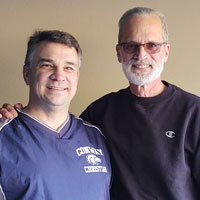 Meet the Onwer of GarageExperts® of Central Arkansas
GarageExperts® of Central Arkansas is a Family centric, faith-based company owned and operated by Travis Parsley and Mark A Powers. With over 50 years of successfully developing, opening, running and managing large divisions and businesses for Fortune 500 companies, Mark and Travis wanted to open and operate a business that supports their local community and is supported by the local community. Our goal is to not only grow our business, but more importantly, grow, develop and give back to our local community.
After two years of research, we decided to open a GarageExperts® Franchise. We chose a GarageExperts® franchise because of the Gold Standard, USA manufactured products and long-term industry leading support structure. Our "Old Fashion" values coupled with the infrastructure and support of GarageExperts® corporate, we are able to offer a superior product line with hometown customer service. As local owners of the business, you will never have to call an 800 number for service. You will always be working with someone who lives around the corner and genuinely wants to help.
When you choose to enhance your home, business or school with a beautiful floor coating, 3D rendered designed European Style cabinets, Slat Wall storage or Industrial Strength overhead storage solutions, you will have a home-town, factory certified specialist working with you from concept through completion.
Our mission is simple - we don't have customers, we have clients who become friends.