Meet John and Matthew
Meet the Owner of GarageExperts® of Cincinnati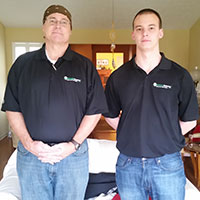 Welcome to GarageExperts® of Cincinnati – co-owned and operated by John H. Baldwin and Matthew J. Hobbs. We are both proud and excited to bring the Quality and History of GarageExperts® to the Ohio area. GarageExperts® is a national company backed by a reputation for superior quality and work. Garage makeovers, lifetime warrantied epoxy flooring, design and storage solutions to provide protection, functionality and value to your garage.
John and Matt both bring a strong since of Quality and ethics to this market. Customer service and trust might sound cliché these days but we both promise to provide these.
Please give us a call at (513) 715-4472 and let us find a solution to your needs.