Meet Farid
Meet the Owner of GarageExperts® of DMV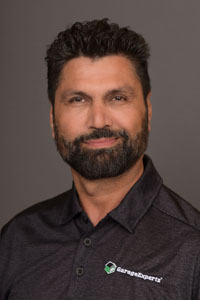 I'm Farid Naimi, local owner of GarageExperts® of DMV. I have lived most of my life in Northern Virginia and migrated to this beautiful country on Christmas Eve, 1986 from Afghanistan as a result of the war of Russian's invasion of Afghanistan.
I reside in McLean Virginia, with my wife and five wonderful children. I studied computer information systems; however, my passion had always been construction. The satisfaction of building or performing a service that puts a smile on someone's face is priceless and endlessly satisfying. I've spent the last 22 years perfecting my skills and leadership in the construction industry, our company continues to build beautiful houses in the McLean and Great Falls communities.
I have always been extremely proud of my work, with one exception, the garages remained unfinished, incomplete, and sort of out of place compared to the rest of the homes we built. The garage is one of the most important parts of a house and should look nice, organized, and provide function. Having this need in my general contracting business, I decided to perform thorough research on garage makeover companies, I joined the GarageExperts® in 2022, they are the leading producer and largest competitor in this space.
The reason GarageExperts® caught my eye is that we stand behind our products with a lifetime warranty. Our products are made in the USA. Call us to set up your free on-site estimate and let me help transform your garage into the space of your dreams.