Epoxy & Polyaspartic Flooring for Your Patio
Protect & Extend the Life of Your Patio Floor
Whether your patio is an extension of your home used to entertain friends, or an outdoor space where you and your family enjoy a meal during the warmer months, the team at GarageExperts® can help make it look great. Standard concrete flooring can look dull and uninviting. With epoxy and polyaspartic patio flooring, we can help you create a warm, beautiful space.
Our Garage FX® flooring systems are customizable and can fit your home's style. These premium concrete coatings not only look attractive, but fuse deep into the concrete so that they don't chip or peel, ensuring your patio floor holds up year after year. With over 140 color options, we are confident we have something you'll love.
Key Benefits of Garage FX® Flooring
If you have an outdoor patio, it's most likely exposed to various elements, such as rain, snow, or extreme temperatures, not to mention foot traffic, pets, toys, and more. All of these things can wear down floors and make them look tired and used. With Garage FX® epoxy and polyaspartic patio floor coatings, you can keep them looking great for many years to come.
Garage FX®flooring offers a variety of benefits, including:
Attractive and long-lasting
Resistant to staining, chipping, and peeling
Easily customizable
Easy to clean and maintenance-free
What Makes Garage FX® Epoxy & Polyaspartic
Technology Superior For Your Garage
American Made

Stronger Than
Concrete

No Peeling, Chipping, Or Staining

Resistant to Abrasions, Chemicals, and UV Rays

Over 140 Colors to Choose From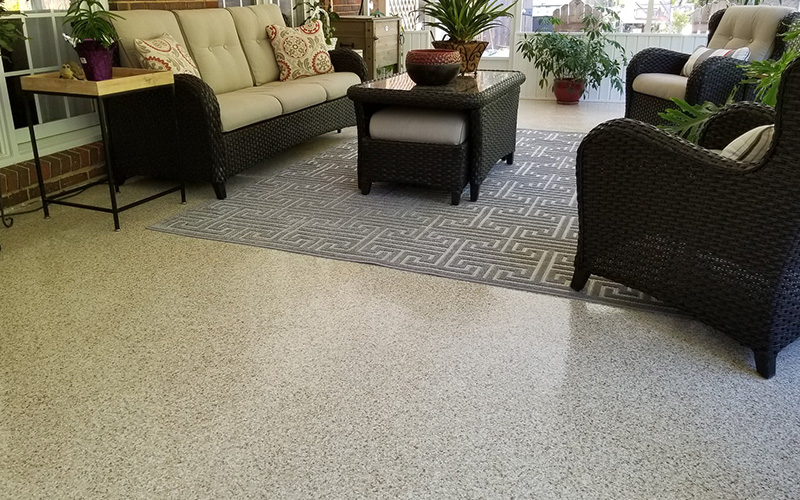 Fast Installation, Trained Professionals, Lifetime Warranty
The GarageExperts® team has extensive experience with our Garage FX® flooring systems and can professionally install them in as little as one day. We'll take the time to learn about your property and any special needs you may have prior to starting work.
Step 1

First, we prepare your concrete by grinding the surface and repairing any cracks, joints, or surface imperfections with our Garage FX® repair products.

Step 2

We roll out our Garage FX® epoxy primer that fuses directly into concrete to create an incredible bond that won't peel.

Step 3

We broadcast your choice of decorative flakes across the floor making sure to evenly cover the entire space for a seamless finish.

Step 4

Lastly, we apply our highly durable and abrasion-resistant polyaspartic topcoat to protect the floor from wear and tear, while maintaining an attractive, glossy finish for years to come.

Step 5

Now that GarageExperts® has extended the life of your floor and enhanced the look of your space, enjoy it!