Epoxy & Polyaspartic Flooring for Your Basement
Enhance the Look & Feel of Your Space
A finished basement can be a great extension of your main living space and add value to your home. Brighten up your basement with a long-lasting, durable floor coating, or give it a full makeover by adding our GarageExperts®storage solutions to the space too. Our Garage FX® flooring can be applied to just about any concrete floor quickly and easily by our professional team. We have over a decade of experience and have applied over 40 million square feet of epoxy and polyaspartic coating to floors in homes and businesses. We are ready to get to work in your basement.
Reimagine Your Basement
For homeowners, our epoxy and polyaspartic floor coating can enhance the basement by changing the entire look and feel of a space. With over 140 colors to choose from, you can find a design that fits your style preferences. These coatings won't crack or peel, and are slip-resistant.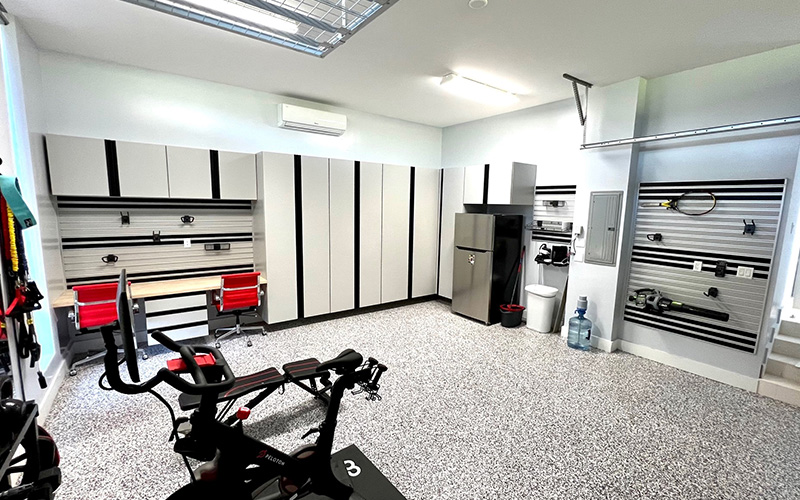 Garage FX® flooring is great for basements that are used for:
Our Garage FX® flooring is low-maintenance, easy to clean, and backed by a lifetime warranty, making it a great alternative to other flooring types that will scratch or peel. Whatever purpose your basement fulfills, this epoxy and polyaspartic floor coating will extend the life of your floor and add value to your home.
Contact Your Local GarageExperts® Team!
Each of our GarageExperts® locations is locally owned and operated, yet backed by a nationally respected brand. We are so confident in our services and your satisfaction that we offer free on-site estimates and back our products and installations with a lifetime warranty.
Step 1

First, we prepare your concrete by grinding the surface and repairing any cracks, joints, or surface imperfections with our Garage FX® repair products.

Step 2

We roll out our Garage FX® epoxy primer that fuses directly into concrete to create an incredible bond that won't peel.

Step 3

We broadcast your choice of decorative flakes across the floor making sure to evenly cover the entire space for a seamless finish.

Step 4

Lastly, we apply our highly durable and abrasion-resistant polyaspartic topcoat to protect the floor from wear and tear, while maintaining an attractive, glossy finish for years to come.

Step 5

Now that GarageExperts® has extended the life of your floor and enhanced the look of your space, enjoy it!