Garage Storage
Garage Storage Solutions in Fort Lauderdale, FL
Reclaim Your Garage Space With Custom Garage Storage
We've all been there - standing in the middle of a cluttered garage, boxes piled high on both sides, tools scattered on the floor, and wondering where to even begin. It can be a frustrating and overwhelming experience, but it doesn't have to be. With GarageExperts® of Fort Lauderdale premium slatwall systems and custom cabinets, you can finally say goodbye to the chaos and hello to a clean, organized garage space.
Our customized solutions in Fort Lauderdale are designed to maximize storage space so that you can store your car and all your belongings with ease. Once everything is neatly organized and easily accessible, you'll be amazed at how much easier even the smallest tasks become. Don't let a cluttered garage hold you back any longer - transform it into a useful space with GarageExperts® of Fort Lauderdale.
Cabinets & Slatwall Systems In Fort Lauderdale
GarageExperts® of Fort Lauderdale provides customized storage solutions that are specifically tailored to your unique needs and preferences. If you're someone who enjoys hobbies that require special equipment or simply need to store your tools, we've got you covered with our range of cabinet configurations.
Our team of experts will collaborate with you closely to make sure you get the best garage cabinets that make the most of your space and suit your personal style. With an endless array of colors and configurations available, there's truly something for everyone. Our slatwall is also an excellent option, offering a wealth of choices, including baskets, hooks, and more, all in coordinating colors.
Partner With GarageExperts® of Fort Lauderdale
GarageExperts® of Fort Lauderdale is your best choice for garage storage solutions. We have the knowledge and experience necessary to help you create the customized storage space you've always wanted. We pride ourselves on being the best in the business. You get these benefits when you work with us:
Expertise: We are backed by a national brand with years of experience in garage storage. Our team in Fort Lauderdale has mastered the art of creating durable, functional, and aesthetically pleasing garage storage solutions.
Free Estimates: We believe in transparency and that's why we offer free in-home estimates, giving you a clear picture of the costs involved, with no hidden surprises.
Punctuality: We respect your time. When we set an appointment, we commit to it. You can count on us to be on time.
Vertical Integration: As a vertically integrated company, we manage every step of the process from design to installation. This allows us to maintain quality control and deliver exceptional results.
Lifetime Warranty: What sets us apart is our lifetime warranty on all our custom garage storage solutions. We stand behind our work and are committed to ensuring your satisfaction.
Call GarageExperts® of Fort Lauderdale today to transform your disorganized garage into a storage space that you can be proud of.
Ready to get your garage organized? Turn to our Fort Lauderdale team for custom garage storage solutions including cabinets and slatwall systems. Request an estimate online or call (754) 704-8920 today!
Here Are Four Reasons Why You Should Choose Our Epoxy and Polyaspartic Flooring:
One-Day Installation

In many cases, our most popular epoxy and polyaspartic floor coating can be installed, and your garage returned to normal, in as little as one day. We can even transform your basement, pool deck, patio, or any other concrete floor.

Crack & Joint Repair

If your floor currently has cracks or other surface imperfections, our Garage FX® epoxy repair product is specially designed to treat cracks and joints. The key to a long-lasting epoxy and polyaspartic garage floor coating is proper preparation to ensure it lasts a lifetime.

Maintenance-Free

Garage floors need to be durable and withstand many hazards, from car wheels to lawn equipment to various chemicals. Our epoxy and polyaspartic flooring products are clear, abrasion-resistant, and easy to clean. They don't require waxing or other time-consuming upkeep and always remain aesthetically pleasing.

No Peeling Or Chipping

Our floor coating offers three times more adhesion than other epoxy and polyaspartic coatings, meaning you'll never have to worry about them peeling or chipping.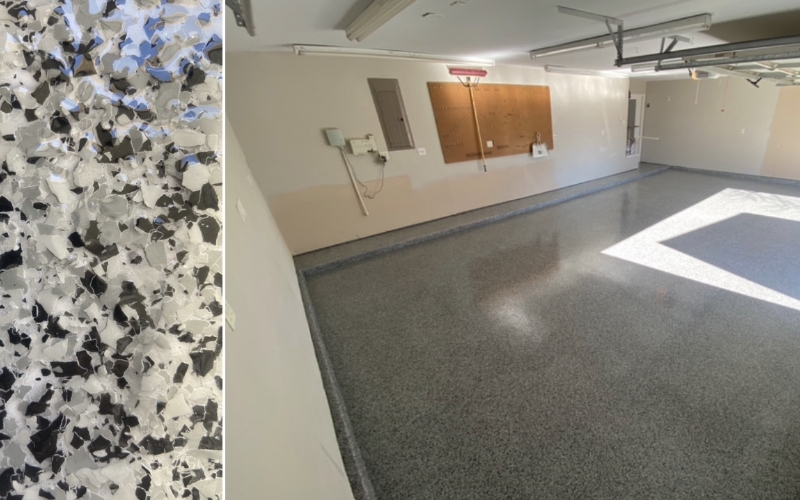 "I cant' stop recommending this company."

Molly W.

"Save some time and call Garage Experts."

Greg T.

"It was a pleasure dealing with Tom and his crew."

Phillip S.
What Makes Garage FX® Epoxy & Polyaspartic
Technology Superior For Your Garage
American Made

Stronger Than
Concrete

No Peeling, Chipping, Or Staining

Resistant to Abrasions, Chemicals, and UV Rays

Over 140 Colors to Choose From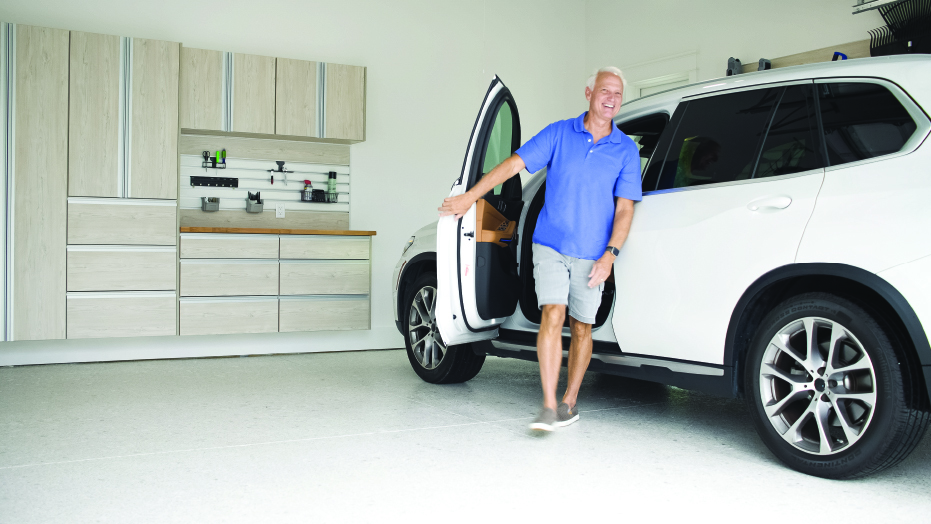 Committed To You
We believe in providing the highest
standard of service
In-Home Estimate Is Always Free

Time Is Valuable So We Arrive On Time

Always Get Upfront Pricing

Products Are Guaranteed For Life
Step 1

First, we prepare your concrete by grinding the surface and repairing any cracks, joints, or surface imperfections with our Garage FX® repair products.

Step 2

We roll out our Garage FX® epoxy primer that fuses directly into concrete to create an incredible bond that won't peel.

Step 3

We broadcast your choice of decorative flakes across the floor making sure to evenly cover the entire space for a seamless finish.

Step 4

Lastly, we apply our highly durable and abrasion-resistant polyaspartic topcoat to protect the floor from wear and tear, while maintaining an attractive, glossy finish for years to come.

Step 5

Now that GarageExperts® has extended the life of your floor and enhanced the look of your space, enjoy it!