Garage Cabinets
Garage Cabinets in Fort Lauderdale
Revitalize Your Garage Space with our Custom Garage Cabinets
Transform your Fort Lauderdale garage into a well-organized and functional space with our custom cabinet solutions from GarageExperts® of Fort Lauderdale. Say goodbye to the frustration of searching for misplaced items or tripping over scattered tools! Our expert team will design and install tailored garage cabinet systems that maximize storage while enhancing the aesthetics of your garage.
From adjustable shelves to slatwall organization systems, we offer customizable storage solutions that cater to your specific needs. Our high-quality, durable garage cabinetry and shelving are designed for strength and offer generous storage capacity in a variety of colors to choose from, including eight standard colors and four premium.
With smart storage solutions, every item has its designated place, creating an efficient workspace or storage area. Embrace the full potential of your garage space and request a free on-site estimate today!
Transform your garage into an organized haven with our custom garage storage cabinets. Dial (754) 704-8920 or request a free on-site estimate to find your perfect solution today!
Benefits of our Garage Cabinets
At GarageExperts® of Fort Lauderdale, we are dedicated to delivering outstanding garage cabinet systems that elevate both the functionality and aesthetics of your space. We take pride in offering top-notch solutions that cater to the unique needs of Fort Lauderdale residents.
As a result of our commitment to quality and innovation, our garage cabinets provide a host of benefits, including:
Adjustable Shelves - Our ¾-inch adjustable shelves are built to withstand heavy loads, maximizing space efficiency in your storage.
Shelf Safety Lock - Rest assured that your shelves will remain secure with our standard safety lock, providing peace of mind.
Easy to Clean - The full, white melamine interiors of our shelves make them easy to wipe clean, ensuring hassle-free maintenance.
Full Extension Drawer Slides - Say goodbye to reaching far back into drawers with our full extension drawer slides, making access effortless.
Standard Pulls - Our door and drawer pulls have a durable brushed finish, offering a sleek and clean appearance.
Optional Channel Pulls - Elevate the aesthetics of your cabinets with our optional channel pulls, available in black and silver finishes, adding a touch of style.
European Style Door Hinges - Enhancing the visual appeal, our concealed hinges provide a sophisticated look and come with a slow closing option.
Full Backs - All our cabinets feature full backs, ensuring enhanced durability and stability.
Applied Ends - For a polished, European-inspired look, we attach ends to the cabinet runs, providing a finished appearance.
Our team at GarageExperts® of Fort Lauderdale will custom design a cabinet system tailored to your specific storage needs. Our extensive range includes a pantry, overhead, and base cabinets in various sizes and configurations. We are confident in our ability to create the perfect storage solution for your garage space in Fort Lauderdale!
Here Are Four Reasons Why You Should Choose Our Epoxy and Polyaspartic Flooring:
One-Day Installation

In many cases, our most popular epoxy and polyaspartic floor coating can be installed, and your garage returned to normal, in as little as one day. We can even transform your basement, pool deck, patio, or any other concrete floor.

Crack & Joint Repair

If your floor currently has cracks or other surface imperfections, our Garage FX® epoxy repair product is specially designed to treat cracks and joints. The key to a long-lasting epoxy and polyaspartic garage floor coating is proper preparation to ensure it lasts a lifetime.

Maintenance-Free

Garage floors need to be durable and withstand many hazards, from car wheels to lawn equipment to various chemicals. Our epoxy and polyaspartic flooring products are clear, abrasion-resistant, and easy to clean. They don't require waxing or other time-consuming upkeep and always remain aesthetically pleasing.

No Peeling Or Chipping

Our floor coating offers three times more adhesion than other epoxy and polyaspartic coatings, meaning you'll never have to worry about them peeling or chipping.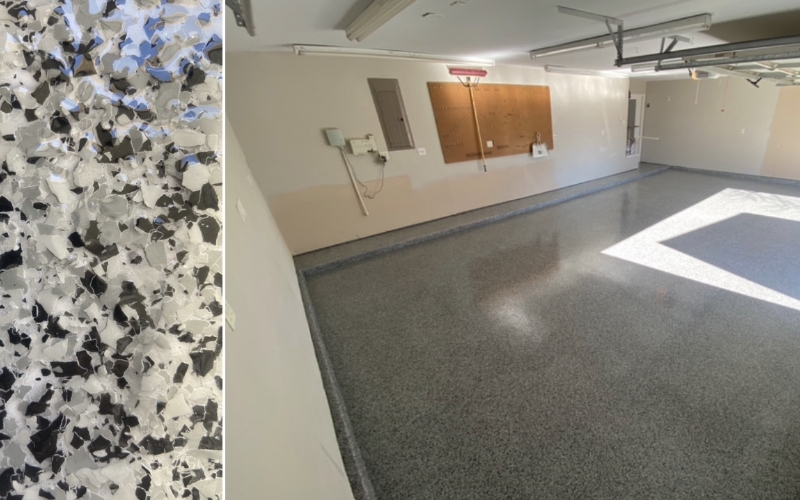 "Save some time and call Garage Experts."

Greg T.

"I cant' stop recommending this company."

Molly W.

"Worth the money and you can't go wrong with this company."

John L.
American Made

Stronger Than
Concrete

No Peeling, Chipping, Or Staining

Resistant to Abrasions, Chemicals, and UV Rays

Over 140 Colors to Choose From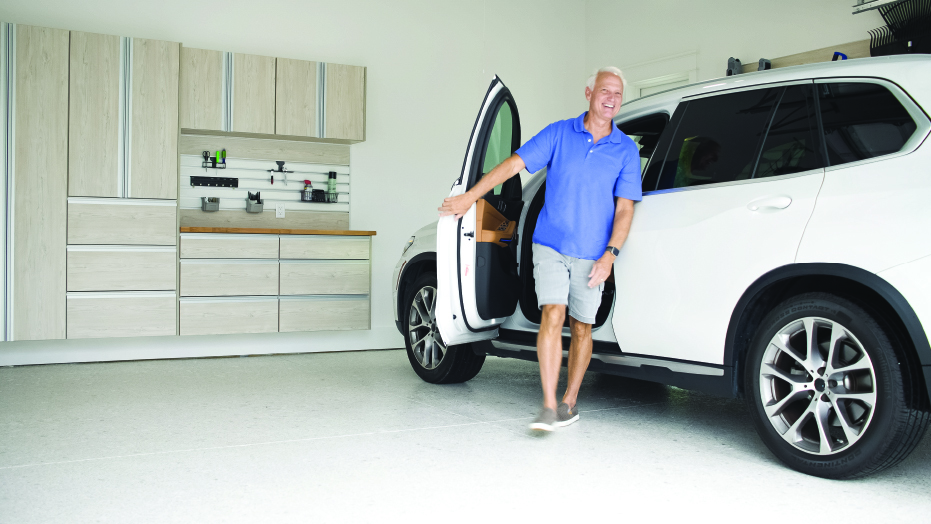 Committed To You
We believe in providing the highest
standard of service
In-Home Estimate Is Always Free

Time Is Valuable So We Arrive On Time

Always Get Upfront Pricing

Products Are Guaranteed For Life
Step 1

First, we prepare your concrete by grinding the surface and repairing any cracks, joints, or surface imperfections with our Garage FX® repair products.

Step 2

We roll out our Garage FX® epoxy primer that fuses directly into concrete to create an incredible bond that won't peel.

Step 3

We broadcast your choice of decorative flakes across the floor making sure to evenly cover the entire space for a seamless finish.

Step 4

Lastly, we apply our highly durable and abrasion-resistant polyaspartic topcoat to protect the floor from wear and tear, while maintaining an attractive, glossy finish for years to come.

Step 5

Now that GarageExperts® has extended the life of your floor and enhanced the look of your space, enjoy it!