Residential Epoxy Flooring
Residential Epoxy and Polyaspartic Flooring in Lakeland
At GarageExperts® of Lakeland, we are your trusted partner in transforming your floors with premium epoxy and polyaspartic floor coatings. While we specialize in garage flooring, we can apply our coatings to different parts of your home. Whether you want to coat your patio or a room inside your home, we can help! Elevate your garage or living environment with our tailored solutions. seamlessly blend style and functionality.
Benefits of GarageFX® Floor Coatings for Your Home
Built to Endure: Our flooring solutions are made to handle the everyday demands in your Lakeland home. From regular impacts of walking, to oil spills, to chemical exposure, our options stand strong. They boast remarkable resistance against abrasions, stains, and cracks. Our floor coatings create a strong surface that can withstand years of use without losing integrity.
Effortless Upkeep: Our seamless and resilient residential floor coatings create a barrier against dirt, dust, and liquids. This makes cleaning a breeze! Regular sweeping and occasional mopping will maintain your floor's stunning appearance.
Design Possibilities: Our GarageFX® floor coatings have many design possibilities! Lakeland homeowners can infuse their space with personal style. With over 140 colors to choose from, you'll have many design choices.
Safety Amplified: We offer the option of incorporating anti-slip additives into our flooring systems. This mitigates the risks posed by wet or slippery surfaces. This ensures a secure environment for homeowners and instills a sense of assurance.
Why Choose GarageExperts® of Lakeland?
Our residential epoxy and polyaspartic floor coatings will surpass your expectations! Whether you're looking to revamp your garage, basement, or patio, our coatings bring a touch of elegance while being durable. Our team at GarageExperts of Lakeland is committed to excellence. We pride ourselves on using highest-quality materials with flawless application. We want you to have full satisfaction in the results!
Experience the transformative power of our GarageFX® flooring systems. It offers long-lasting protection against daily wear and tear, spills, impacts, and more. We create custom flooring that not only stands up to the demands of daily life but also showcases your personal style! Discover the possibilities with GarageExperts of Lakeland's residential epoxy and polyaspartic floor coatings.

Transform your home garage, basement or interior room with stunning epoxy and polyaspartic flooring! Call (863) 270-3070 or schedule your FREE in-home estimate!
Here Are Four Reasons Why You Should Choose Our Epoxy and Polyaspartic Flooring:
One-Day Installation

In many cases, our most popular epoxy and polyaspartic floor coating can be installed, and your garage returned to normal, in as little as one day. We can even transform your basement, pool deck, patio, or any other concrete floor.

Crack & Joint Repair

If your floor currently has cracks or other surface imperfections, our Garage FX® epoxy repair product is specially designed to treat cracks and joints. The key to a long-lasting epoxy and polyaspartic garage floor coating is proper preparation to ensure it lasts a lifetime.

Maintenance-Free

Garage floors need to be durable and withstand many hazards, from car wheels to lawn equipment to various chemicals. Our epoxy and polyaspartic flooring products are clear, abrasion-resistant, and easy to clean. They don't require waxing or other time-consuming upkeep and always remain aesthetically pleasing.

No Peeling Or Chipping

Our floor coating offers three times more adhesion than other epoxy and polyaspartic coatings, meaning you'll never have to worry about them peeling or chipping.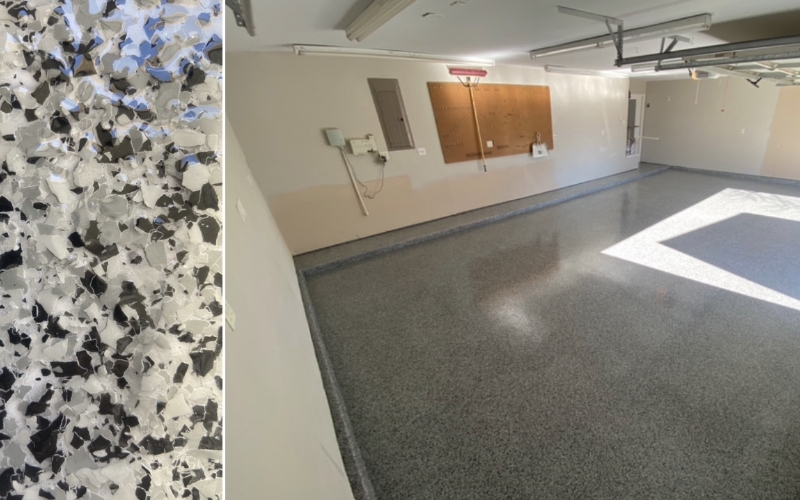 "My garage looks amazing and the work was done perfectly."

Luis P.

"What a huge difference a new floor makes."

Casey P.

"We couldn't be happier."

Dennis J.
What Makes Garage FX® Epoxy & Polyaspartic
Technology Superior For Your Garage
American Made

Stronger Than
Concrete

No Peeling, Chipping, Or Staining

Resistant to Abrasions, Chemicals, and UV Rays

Over 140 Colors to Choose From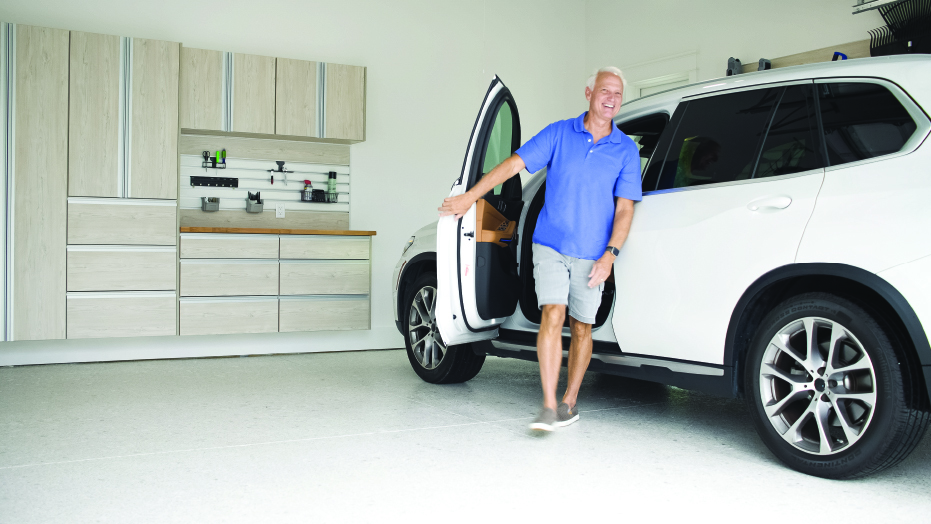 Committed To You
We believe in providing the highest
standard of service
In-Home Estimate Is Always Free

Time Is Valuable So We Arrive On Time

Always Get Upfront Pricing

Products Are Guaranteed For Life
Step 1

First, we prepare your concrete by grinding the surface and repairing any cracks, joints, or surface imperfections with our Garage FX® repair products.

Step 2

We roll out our Garage FX® epoxy primer that fuses directly into concrete to create an incredible bond that won't peel.

Step 3

We broadcast your choice of decorative flakes across the floor making sure to evenly cover the entire space for a seamless finish.

Step 4

Lastly, we apply our highly durable and abrasion-resistant polyaspartic topcoat to protect the floor from wear and tear, while maintaining an attractive, glossy finish for years to come.

Step 5

Now that GarageExperts® has extended the life of your floor and enhanced the look of your space, enjoy it!