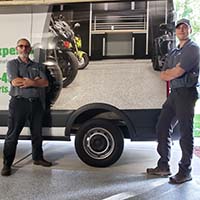 Thank you for your interest in Garage Experts of Madison! We are lifelong Midwesterners with strong family values that adds to our Expert experience.
Josef and Steve have hands on experience from engineering to residential building. They partnered with garage experts to provide a quality product that goes hand in hand with our professional experience to give you an end product that lasts and is reliable.
A combination of our professions and family values brings unique customer experience with lifelong commitment.