Residential Epoxy Flooring
Residential Epoxy and Polyaspartic Flooring in Derry, NH
Durable Floor Coatings Near You
In Derry, NH, when it comes to enhancing your floors with top-tier epoxy and polyaspartic coatings, GarageExperts® of Merrimack Valley is your trusted partner. While we specialize in garage flooring, our expertise extends to various parts of your home. Whether you're looking to upgrade your patio or a room inside your house, count on us to elevate your living spaces with tailored solutions that seamlessly blend style and functionality.
Upgrade your garage with our top-quality residential epoxy and polyaspartic floor coatings. Request a quote online or call our Derry team at (603) 556-8882.
Which Rooms are Best for New Floor Coatings?
Our GarageFX® residential epoxy and polyaspartic flooring can be useful for a variety of rooms in your home. Any area that may be susceptible to moisture or dirt buildup is a great place to utilize new floor coatings. Some areas that can benefit most from polyaspartic and epoxy flooring includes:
Basements

Laundry Rooms

Kitchens

Bathrooms

Entryways and Mudrooms

Patios
The Advantages of GarageFX® Floor Coatings for Your Home
Built to Endure: Our flooring solutions are designed to withstand the daily demands of your Derry home. From the regular foot traffic impacts to occasional oil spills and chemical exposure, our options stand strong. They offer remarkable resistance to abrasions, stains, and cracks, ensuring a durable surface that can withstand years of use without compromising integrity.
Effortless Upkeep: Our seamless and resilient residential floor coatings create a protective barrier against dirt, dust, and liquids, making cleaning a breeze. Regular sweeping and occasional mopping are all it takes to maintain the stunning appearance of your floors.
Design Possibilities: Our GarageFX® floor coatings offer endless design possibilities, allowing Derry homeowners to infuse their spaces with personal style. With over 140 colors to choose from, you have ample design choices to create the perfect look for your home.
Safety Amplified: For added safety, we provide the option to incorporate anti-slip additives into our flooring systems. This minimizes the risks associated with wet or slippery surfaces, ensuring a secure environment for you and your family.
Why Choose GarageExperts® of Merrimack Valley for Home Epoxy and Polyaspartic Flooring Solutions?
Our residential epoxy and polyaspartic floor coatings are designed to exceed your expectations. Whether you're looking to revamp your garage, basement, or patio, our coatings add a touch of elegance while delivering durability. The GarageExperts® of Merrick Valley team is dedicated to excellence. We use only the highest-quality materials and flawless application techniques to give you complete satisfaction with the results!
Here's why you should partner with GarageExperts® of Merrimack Valley:
Quality Products: We use high-grade epoxy and polyaspartic materials that are durable and resistant to various damaging factors like oil spills, tire marks, and chemicals.
Fast Installation: We value your time. Our experienced professionals can install some of our floor coatings in as little as one day, minimizing disruption to your daily routine.
Free In-Home Estimate: Our commitment to transparency and customer satisfaction starts from the very beginning. We provide a free in-home estimate, so you know exactly what to expect regarding cost and installation process.
Experienced Team: Our team of professionals has extensive experience in garage floor coatings. We have the skills and knowledge to deliver an outstanding finish, no matter the size or condition of your garage.
Experience the transformative power of our GarageFX® flooring systems. They offer long-lasting protection against daily wear and tear, spills, impacts, and more. We create custom flooring that not only withstands the rigors of daily life but also reflects your personal style. Discover the possibilities with GarageExperts® of Merrimack Valley's residential epoxy and polyaspartic floor coatings and elevate the aesthetics and durability of your Derry home.

Ready to transform your home with sleek, flawless residential epoxy and polyaspartic flooring in Derry, NH? Call (603) 556-8882 and take advantage of our FREE on-site consultation to start.
Here Are Four Reasons Why You Should Choose Our Epoxy and Polyaspartic Flooring:
One-Day Installation

In many cases, our most popular epoxy and polyaspartic floor coating can be installed, and your garage returned to normal, in as little as one day. We can even transform your basement, pool deck, patio, or any other concrete floor.

Crack & Joint Repair

If your floor currently has cracks or other surface imperfections, our Garage FX® epoxy repair product is specially designed to treat cracks and joints. The key to a long-lasting epoxy and polyaspartic garage floor coating is proper preparation to ensure it lasts a lifetime.

Maintenance-Free

Garage floors need to be durable and withstand many hazards, from car wheels to lawn equipment to various chemicals. Our epoxy and polyaspartic flooring products are clear, abrasion-resistant, and easy to clean. They don't require waxing or other time-consuming upkeep and always remain aesthetically pleasing.

No Peeling Or Chipping

Our floor coating offers three times more adhesion than other epoxy and polyaspartic coatings, meaning you'll never have to worry about them peeling or chipping.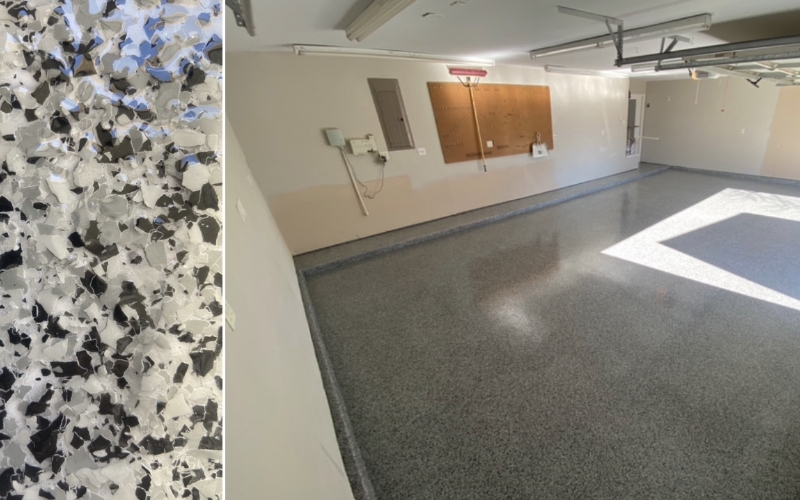 "Yes I am happy with the work. Looks awesome!...... Thank you and the guys for the great job!"

Bill

"Thanks Steve, It looks great."

Roger from Ctr Ossipee

"The garage floor looks great. You and your team did a fantastic job! Thank you very much."

Beata M. Groton
What Makes Garage FX® Epoxy & Polyaspartic
Technology Superior For Your Garage
American Made

Stronger Than
Concrete

No Peeling, Chipping, Or Staining

Resistant to Abrasions, Chemicals, and UV Rays

Over 140 Colors to Choose From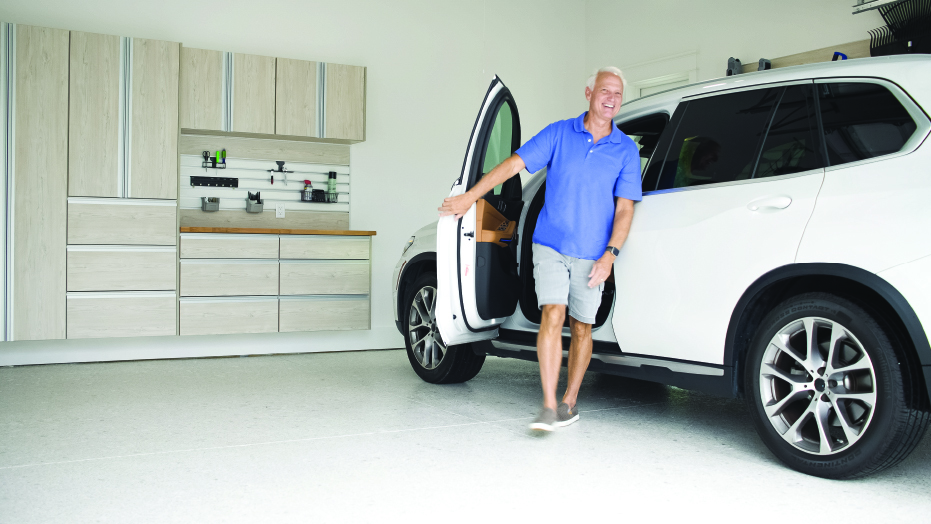 Committed To You
We believe in providing the highest
standard of service
In-Home Estimate Is Always Free

Time Is Valuable So We Arrive On Time

Always Get Upfront Pricing

Products Are Guaranteed For Life
Step 1

First, we prepare your concrete by grinding the surface and repairing any cracks, joints, or surface imperfections with our Garage FX® repair products.

Step 2

We roll out our Garage FX® epoxy primer that fuses directly into concrete to create an incredible bond that won't peel.

Step 3

We broadcast your choice of decorative flakes across the floor making sure to evenly cover the entire space for a seamless finish.

Step 4

Lastly, we apply our highly durable and abrasion-resistant polyaspartic topcoat to protect the floor from wear and tear, while maintaining an attractive, glossy finish for years to come.

Step 5

Now that GarageExperts® has extended the life of your floor and enhanced the look of your space, enjoy it!