Meet Ben and Brittney
Meet the Owner of GarageExperts® of North Houston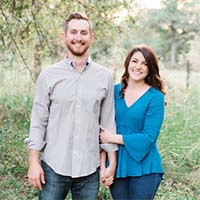 Thank you for visiting GarageExperts® of North Houston. Local owners, Ben and Brittney Belk, live in Spring with their newborn Garrett.
Ben and Britney have a passion for people and community, which makes owning a local business and serving the community they live in such a joy. Ben has always had a passion for classic cars, jeeps, and anything he can take apart and put back together. After experiencing his own garage floor from GarageExperts®, he was sold at the promise and durability that was delivered and decided to get behind this promise by becoming an owner himself.
When you choose GarageExperts® of North Houston you are supporting a local business in your community. We are committed to the success of this business which means giving you the garage of your dreams, and one to show off to the neighbors.
GarageExperts® of North Houston is currently serving the entire North Houston territory in both commercial and residential applications. Call (281) 241-1320 today to schedule your free on-site estimate and hear about the lifetime epoxy floor coatings, polyaspartics, cabinet options, and organization products. We are excited about the opportunity to earn your business!