Commercial & Industrial Epoxy Flooring
Premium Commercial Epoxy and Polyaspartic Flooring Solutions in Spring, TX
Elevate Your Business with Durable, Attractive, and Low-Maintenance Flooring Options
As business owners ourselves, we're well aware that a strong foundation is key to a thriving business. Our commercial and industrial epoxy and polyaspartic flooring services offer long-lasting, visually appealing, and easy-to-maintain solutions that can withstand the challenges of your daily operations. Whether you run a warehouse, retail space, or manufacturing facility, our epoxy and polyaspartic flooring specialists are prepared to upgrade your workspace with state-of-the-art flooring technology.
Choose a quality flooring solution that ensures your safety. Contact GarageExperts® of North Houston today at (281) 241-1320 or reach out to us online for a free estimate on our top-tier commercial and industrial epoxy and polyaspartic flooring services.
Discover the Advantages of Epoxy and Polyaspartic Flooring for Your Spring, TX Business
Garage FX® epoxy and polyaspartic flooring is the premier choice for businesses seeking a high-performance, cost-effective solution for their commercial and industrial spaces. Our team installs superior epoxy and polyaspartic flooring systems that provide numerous benefits, including:
Durability: Engineered to endure heavy traffic, machinery, and chemical exposure, our Garage FX® epoxy and polyaspartic flooring systems shield your surfaces from daily wear, prolonging their lifespan
Safety: Epoxy and polyaspartic flooring enhances workplace safety by offering a slip-resistant surface, reducing the likelihood of accidents
Easy Maintenance: Maintain a clean, professional appearance in your commercial or industrial space with our seamless, non-porous epoxy and polyaspartic flooring systems that resist stains, spills, and dirt accumulation
Customization: Select from a wide array of colors, textures, and finishes to complement your brand aesthetic and create an eye-catching work environment
Quick Installation: Our skilled epoxy and polyaspartic flooring specialists ensure a rapid and efficient installation process, minimizing downtime for your business
Rely on GarageExperts® of North Houston for Expert Commercial & Industrial Epoxy Flooring Installation
When you rely on GarageExperts® of North Houston to take care of your flooring needs, you're choosing a locally owned and operated company dedicated to providing outstanding epoxy and polyaspartic flooring solutions. Our team of commercial flooring experts in Spring take pride in delivering exceptional customer service, premium materials, and expert installation backed by a comprehensive warranty.
With GarageExperts® of North Houston, you can expect:
Free, no-obligation estimates

Professional guidance on the best epoxy flooring solution for your unique needs

Dependable, courteous, and efficient installation services

An industry-leading warranty for peace of mind
Don't compromise when it comes to your business's flooring requirements. Invest in excellence with GarageExperts® of North Houston's commercial and industrial epoxy and polyaspartic flooring services. Call us today at (281) 241-1320 or fill out our online form to schedule your free estimate.

Here Are Four Reasons Why You Should Choose Our Epoxy and Polyaspartic Flooring:
One-Day Installation

In many cases, our most popular epoxy and polyaspartic floor coating can be installed, and your garage returned to normal, in as little as one day. We can even transform your basement, pool deck, patio, or any other concrete floor.

Crack & Joint Repair

If your floor currently has cracks or other surface imperfections, our Garage FX® epoxy repair product is specially designed to treat cracks and joints. The key to a long-lasting epoxy and polyaspartic garage floor coating is proper preparation to ensure it lasts a lifetime.

Maintenance-Free

Garage floors need to be durable and withstand many hazards, from car wheels to lawn equipment to various chemicals. Our epoxy and polyaspartic flooring products are clear, abrasion-resistant, and easy to clean. They don't require waxing or other time-consuming upkeep and always remain aesthetically pleasing.

No Peeling Or Chipping

Our floor coating offers three times more adhesion than other epoxy and polyaspartic coatings, meaning you'll never have to worry about them peeling or chipping.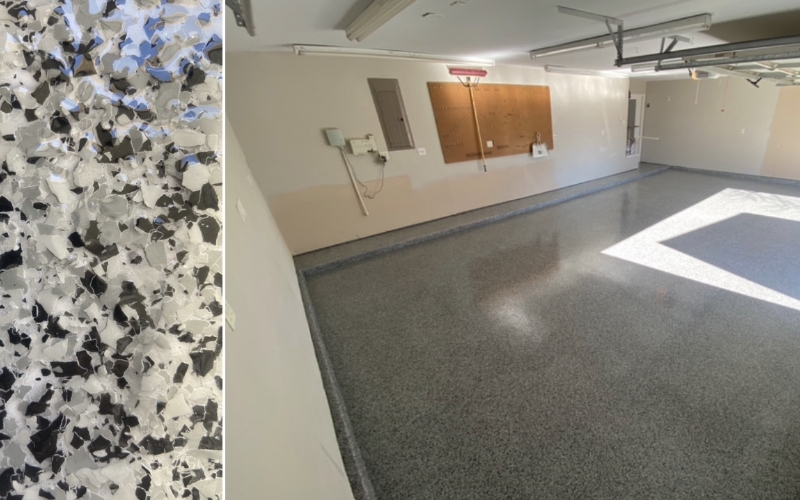 "

We are so happy with our garage makeover!

"

Kim N.

"

We love the garage and patio... KUDOS TO YOUR CREW...

"

Jeff H.

"

The guys were terrific - They did a really nice job and they were very efficient and quick and friendly and... I'm happy!

"

Ms. Greenberg
What Makes Garage FX® Epoxy & Polyaspartic
Technology Superior For Your Garage
American Made

Stronger Than
Concrete

No Peeling, Chipping, Or Staining

Resistant to Abrasions, Chemicals, and UV Rays

Over 140 Colors to Choose From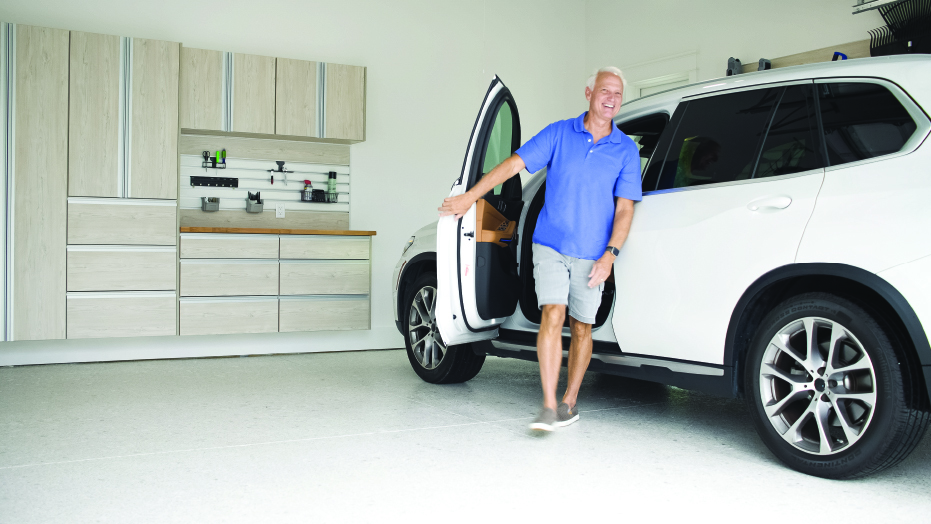 Committed To You
We believe in providing the highest
standard of service
In-Home Estimate Is Always Free

Time Is Valuable So We Arrive On Time

Always Get Upfront Pricing

Products Are Guaranteed For Life
Step 1

First, we prepare your concrete by grinding the surface and repairing any cracks, joints, or surface imperfections with our Garage FX® repair products.

Step 2

We roll out our Garage FX® epoxy primer that fuses directly into concrete to create an incredible bond that won't peel.

Step 3

We broadcast your choice of decorative flakes across the floor making sure to evenly cover the entire space for a seamless finish.

Step 4

Lastly, we apply our highly durable and abrasion-resistant polyaspartic topcoat to protect the floor from wear and tear, while maintaining an attractive, glossy finish for years to come.

Step 5

Now that GarageExperts® has extended the life of your floor and enhanced the look of your space, enjoy it!