Residential Epoxy Flooring
Residential Epoxy & Polyaspartic Flooring in Crown Point, IN
Residential Garage Flooring Near You
Unlock the potential of your residential concrete floor with GarageExperts® of North West Indiana! Our premium residential epoxy and polyaspartic flooring can transform plain and imperfect surfaces into functional and attractive spaces, enhancing the look of your home with just the right coating. Experience the difference of our top-quality solutions today!
At GarageExperts® of North West Indiana, we take pride in our top-notch service, meticulous attention to detail, and unparalleled craftsmanship. Trust our experienced team to handle your floor coating project with care and professionalism. We work closely with you, understanding your specific needs, preferences, and budget to tailor solutions that match your vision and exceed your expectations.
Reasons to Choose Garage FX® Flooring
Discover a wide range of styles in our garage flooring solutions in Crown Point, IN. Our coatings seamlessly fuse into the concrete, creating a durable surface that withstands heavy foot and vehicle traffic. Specially designed for tough environments, our epoxy and polyaspartic floor coatings offer superior protection and durability while looking beautiful in various colors, textures, and patterns that complement your garage and home's aesthetic.
With Garage FX® Flooring, your Crown Point garage floor will remain in top condition for years to come. It's visually appealing and low maintenance, making it the practical choice for busy homeowners in the area. Say goodbye to unsightly stains and unsanitary surfaces, and welcome a garage floor that looks and feels amazing. Choose Garage FX® Flooring for the ultimate combination of beauty and functionality in Crown Point, IN.
Transform your Crown Point garage floors with professional epoxy and polyaspartic floor coating! Contact us now at (219) 205-3302 or reach out online to schedule an estimate and experience the difference in your space with GarageExperts® of North West Indiana.
Our Lifetime Warranty
At GarageExperts® of North West Indiana, we have unwavering confidence in the exceptional quality of our Garage FX® flooring and the expertise of our installation team. That's why we proudly offer a lifetime warranty on our epoxy and polyaspartic flooring and garage cabinets. Our experienced professionals will swiftly and flawlessly install your new epoxy and polyaspartic coating, guaranteeing a durable floor that will never peel or chip. With our team's extensive training in proper installation techniques and meticulous attention to preparatory work, your satisfaction is assured for a lifetime. Experience the difference in Crown Point with GarageExperts® of North West Indiana!
Our Unique Process
Step 1: Meticulous Concrete Preparation - Conducting surface grinding and addressing cracks, joints, and imperfections using top-of-the-line Garage FX® repair products.
Step 2: Seamless Bonding - Applying our exceptional Garage FX® epoxy primer, ensuring a secure adhesion that remains intact over time.
Step 3: Uniform Flawless Finish - Evenly distributing your chosen decorative flakes across the entire floor, guaranteeing a flawlessly smooth look.
Step 4: Durable and Appealing Protection - Employing our remarkably durable polyaspartic topcoat, safeguarding your floor against abrasion and maintaining an appealing glossy appearance for years to come.
Step 5: Expert Transformation - With GarageExperts® of North West Indiana, we expertly extend the lifespan of your floor while enhancing the aesthetic appeal of your space. Now, it's time to enjoy the remarkable transformation!
Partner With GarageExperts® of North West Indiana
At GarageExperts® of North West Indiana, we believe in enhancing the beauty and functionality of your home. We specialize in providing high-quality, durable epoxy and polyaspartic garage floor coatings that not only protect your floors but also elevate the aesthetics of your residence. When you invest in our products, you're choosing longevity, beauty, and quality.
Free Estimates: Our commitment to transparency and customer satisfaction is evident in our approach. We offer free in-home estimates for all potential clients, providing a clear understanding of the project cost upfront. This way, you can make an informed decision without any hidden surprises or commitments.
Punctuality: We understand that your time is precious. That's why we prioritize punctuality. Our team is always on time, respecting your schedule and ensuring a stress-free experience from start to finish. We're not just installing a floor coating; we're providing a service that revolves around you.
Backed by a National Brand: GarageExperts® of North West Indiana is backed by a nationally recognized brand with years of experience in the field. This backing guarantees the quality of our products and services, offering you peace of mind. When you partner with our team, you're choosing a brand that has earned the trust of numerous homeowners across the country.
Our residential epoxy and polyaspartic floor coatings are more than just a home improvement solution. They're a long-term investment. With GarageExperts® of North West Indiana, you're not just upgrading your garage floor; you're enhancing your home's value and appeal while securing a future of hassle-free maintenance and stunning aesthetics. Choose GarageExperts® of North West Indiana – because your home deserves nothing but the best.
Elevate your garage with a residential epoxy floor coating in Crown Point, IN. Contact us online or call (219) 205-3302 to schedule a free on-site estimate and take the first step towards upgrading your living space with GarageExperts® of North West Indiana.
Here Are Four Reasons Why You Should Choose Our Epoxy and Polyaspartic Flooring:
One-Day Installation

In many cases, our most popular epoxy and polyaspartic floor coating can be installed, and your garage returned to normal, in as little as one day. We can even transform your basement, pool deck, patio, or any other concrete floor.

Crack & Joint Repair

If your floor currently has cracks or other surface imperfections, our Garage FX® epoxy repair product is specially designed to treat cracks and joints. The key to a long-lasting epoxy and polyaspartic garage floor coating is proper preparation to ensure it lasts a lifetime.

Maintenance-Free

Garage floors need to be durable and withstand many hazards, from car wheels to lawn equipment to various chemicals. Our epoxy and polyaspartic flooring products are clear, abrasion-resistant, and easy to clean. They don't require waxing or other time-consuming upkeep and always remain aesthetically pleasing.

No Peeling Or Chipping

Our floor coating offers three times more adhesion than other epoxy and polyaspartic coatings, meaning you'll never have to worry about them peeling or chipping.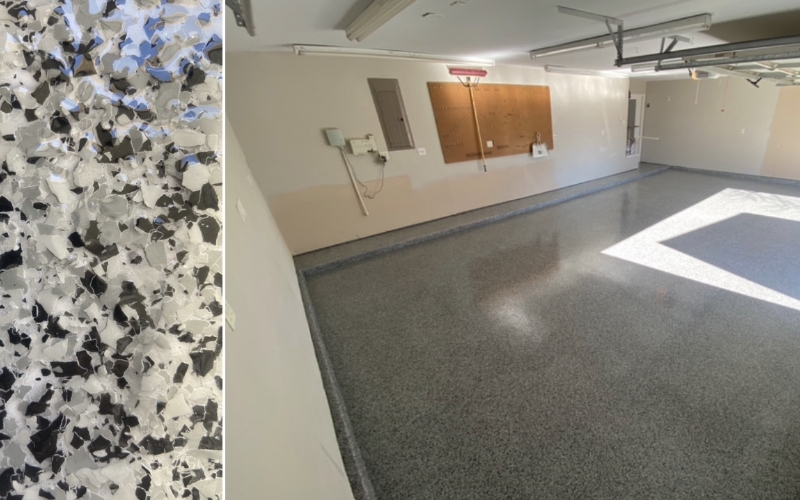 "We greatly appreciate your prompt service, quality workmanship and your professionalism."

GarageExperts® Customer

San Antonio, TX

"I noticed their "LIFETIME WARRANTY" and couldn't believe it!"

GarageExperts® Customer

Fort Worth, TX

"A Man-Cave Making Machine!"

GarageExperts® Customer

Denver, CO
What Makes Garage FX® Epoxy & Polyaspartic
Technology Superior For Your Garage
American Made

Stronger Than
Concrete

No Peeling, Chipping, Or Staining

Resistant to Abrasions, Chemicals, and UV Rays

Over 140 Colors to Choose From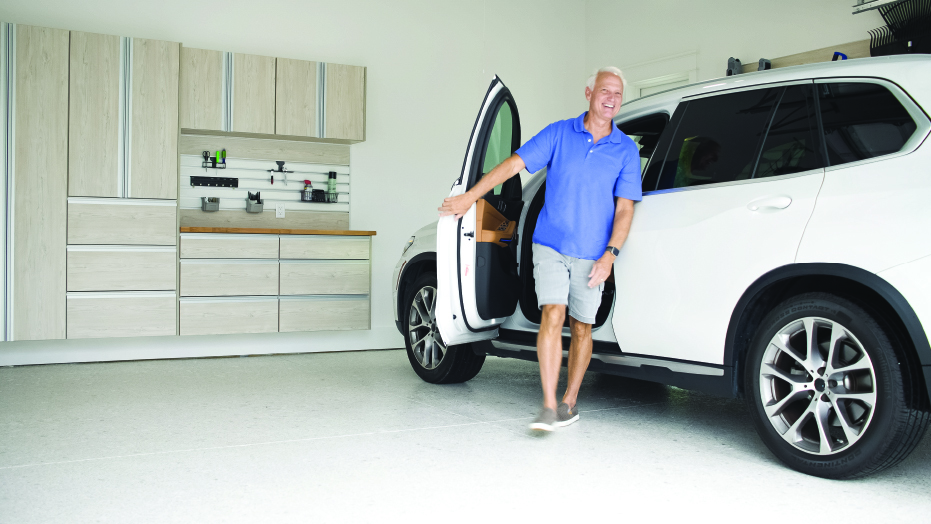 Committed To You
We believe in providing the highest
standard of service
In-Home Estimate Is Always Free

Time Is Valuable So We Arrive On Time

Always Get Upfront Pricing

Products Are Guaranteed For Life
Step 1

First, we prepare your concrete by grinding the surface and repairing any cracks, joints, or surface imperfections with our Garage FX® repair products.

Step 2

We roll out our Garage FX® epoxy primer that fuses directly into concrete to create an incredible bond that won't peel.

Step 3

We broadcast your choice of decorative flakes across the floor making sure to evenly cover the entire space for a seamless finish.

Step 4

Lastly, we apply our highly durable and abrasion-resistant polyaspartic topcoat to protect the floor from wear and tear, while maintaining an attractive, glossy finish for years to come.

Step 5

Now that GarageExperts® has extended the life of your floor and enhanced the look of your space, enjoy it!