Meet Steve
Meet the Owner of GarageExperts® of North West Indiana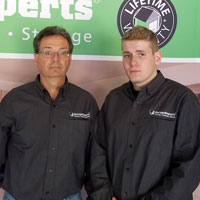 Steve Golub and his sons (Steven Jr., Ben, and Nick) are GarageExperts® of NWI. Steve has 23 years of retail and 19 years of construction experience.
"With the help and guidance of Indiana SBA,SCORE mentoring and the wonderful people at GarageExperts®, I am fulfilling a dream of running my own business. I have lived and worked here in NWI and Chicago my whole life. I was looking for an opportunity to make a unique difference for us hard-working people. When I learned about GarageExperts® and their Lifetime warranty USA-made products, I knew this was an opportunity I wanted to bring to this area. I transformed my garage and will do the same for my customers."
When you call (219) 205-3302, you are dealing with a local family business. Steve plans on giving his customers a one-stop shop for garage make overs, a lifetime warranty USA-made products, and outstanding service.