Garage Storage
Garage Storage Solutions in The Triangle, NC
Maximize Space and Minimize Clutter
The garage can be a frustrating place when everything is in disarray. From seasonal decorations to tools and equipment, it's easy for clutter to pile up in a seemingly endless sea of chaos. At GarageExperts® of The Triangle, we understand the need for organization and space optimization in the garage. That's why we offer custom garage storage solutions to transform your cluttered garage into a functional and efficient space.
Our slatwall organization and durable cabinets provide the flexibility and ease of use that you need to keep everything in its proper place. With a variety of colors, styles, adjustable shelves, and drawer slides to choose from, our storage systems can be customized to your specific needs. Plus, our lifetime warranty ensures that our solutions will last for years to come. So, say goodbye to frustration and hello to a clutter-free garage with GarageExperts® of The Triangle.
Ready for a clutter-free garage? Call GarageExperts® of The Triangle at (919) 842-5930 for custom storage solutions or get an estimate online!
Durable & Customizable Garage Storage
At GarageExperts® of The Triangle, we understand that no two garages are the same. That's why our team of garage storage experts collaborates with each client to design a customized storage system that perfectly fits the unique needs of their garage.
With a wide range of cabinet and slatwall options available in various configurations and colors, we make it easy to create a storage solution that meets your specific wants and needs. Our team takes pride in our exceptional service that exceeds industry standards, and we guarantee unmatched quality
The Benefits of Vertical Integration
Our vertically integrated business model puts us in a unique position of control over every aspect of the process, enabling us to offer lifetime warranties on our superior-quality storage solutions. This is what sets us apart:
Unmatched Craftsmanship: Our dedication to perfection is reflected in every single detail of our garage storage offerings. We utilize cutting-edge CNC machinery, ensuring unparalleled accuracy and precision in every cut and finish. Our wood, sourced from North American forests adhering to eco-friendly practices, ensures our garage storage solutions are not only flawlessly functional but also durable.
Ready-to-Go Inventory: Our extensive inventory is always ready to cater to your needs, allowing us to act swiftly and reduce waiting times. You can rely on us for timely, high-quality installations every single time.
3D Imaging: A garage renovation project can seem overwhelming, but with our proprietary design software, the process becomes much easier. Our software offers a realistic 3D representation of your ideal garage, allowing you to explore different design elements and color schemes in real time. This innovative tool empowers you to make important design decisions with confidence, ensuring you're completely satisfied with the final outcome.
Transform your garage today with GarageExperts® of The Triangle's garage storage solutions! Contact us online for a free estimate or call (919) 842-5930!
Here Are Four Reasons Why You Should Choose Our Epoxy and Polyaspartic Flooring:
One-Day Installation

In many cases, our most popular epoxy and polyaspartic floor coating can be installed, and your garage returned to normal, in as little as one day. We can even transform your basement, pool deck, patio, or any other concrete floor.

Crack & Joint Repair

If your floor currently has cracks or other surface imperfections, our Garage FX® epoxy repair product is specially designed to treat cracks and joints. The key to a long-lasting epoxy and polyaspartic garage floor coating is proper preparation to ensure it lasts a lifetime.

Maintenance-Free

Garage floors need to be durable and withstand many hazards, from car wheels to lawn equipment to various chemicals. Our epoxy and polyaspartic flooring products are clear, abrasion-resistant, and easy to clean. They don't require waxing or other time-consuming upkeep and always remain aesthetically pleasing.

No Peeling Or Chipping

Our floor coating offers three times more adhesion than other epoxy and polyaspartic coatings, meaning you'll never have to worry about them peeling or chipping.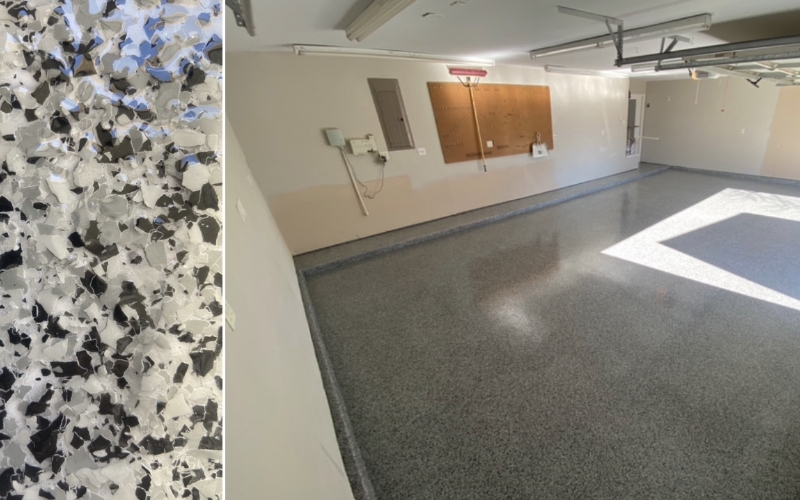 "Our garage floor was done and it looks great Johnny and Ryan were prompt, and professional. I recommend Garage Experts highly"

Mike B.

"If you want a professional job, I highly recommend Garage Experts!"

Woody W.

"It looks fantastic!! Quality looks great."

Gareth J.
What Makes Garage FX® Epoxy & Polyaspartic
Technology Superior For Your Garage
American Made

Stronger Than
Concrete

No Peeling, Chipping, Or Staining

Resistant to Abrasions, Chemicals, and UV Rays

Over 140 Colors to Choose From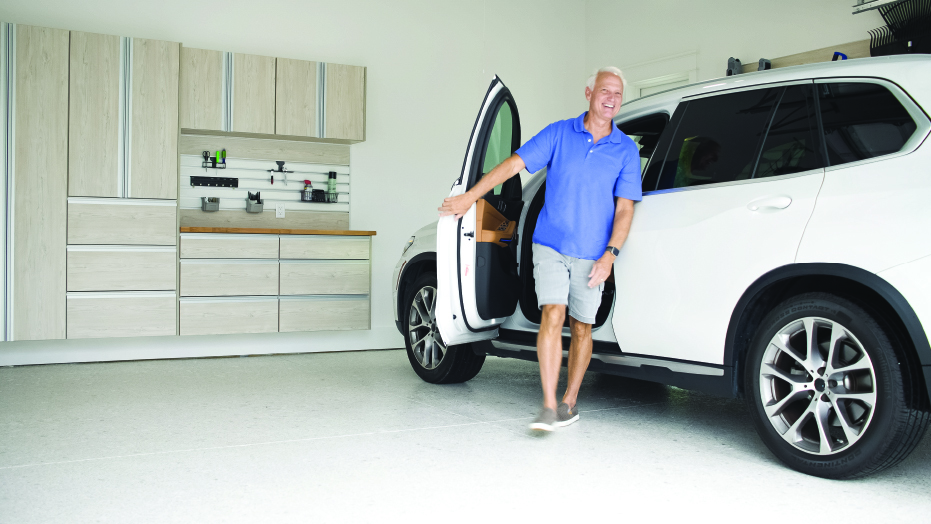 Committed To You
We believe in providing the highest
standard of service
In-Home Estimate Is Always Free

Time Is Valuable So We Arrive On Time

Always Get Upfront Pricing

Products Are Guaranteed For Life
Step 1

First, we prepare your concrete by grinding the surface and repairing any cracks, joints, or surface imperfections with our Garage FX® repair products.

Step 2

We roll out our Garage FX® epoxy primer that fuses directly into concrete to create an incredible bond that won't peel.

Step 3

We broadcast your choice of decorative flakes across the floor making sure to evenly cover the entire space for a seamless finish.

Step 4

Lastly, we apply our highly durable and abrasion-resistant polyaspartic topcoat to protect the floor from wear and tear, while maintaining an attractive, glossy finish for years to come.

Step 5

Now that GarageExperts® has extended the life of your floor and enhanced the look of your space, enjoy it!