Meet Toby
Meet the Owner of GarageExperts® The Triangle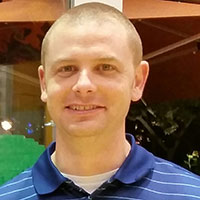 Hi, I'm Toby Baker, local owner of GarageExperts® of the Triangle. I moved to Chapel Hill in 1987 and have lived and worked in the Triangle area for most of my life. I am happily married to my wife Holly and we have 2 wonderful children ages 4 and 2. I have spent the first 15 years of my working career in the automotive repair field. I was a very successful Store manager for 2 large automotive repair companies. My strong work ethic has helped me to be successful as a manager and my attention to detail guaranteed satisfied customers. My customers valued my honesty and dedication to their needs.
In my free time I enjoy playing with my kids. I am a huge sports fan, specifically basketball and football. I enjoy tinkering with about anything, presently I am restoring a 1966 Mustang. I've been an automotive enthusiast all my life and I enjoy hands on projects. Because of this interest I have spent a lot of time in my garage and gained a sense of the importance of this space as an extension of the home. This led me to GarageExperts®.
I have been through extensive training at the GarageExperts® headquarters in Anaheim, California. Our garage flooring and storage system installations are truly top-notch. All of our products are made in the USA and have a lifetime guarantee which ensures lifelong beauty and functionality for your garage. With GarageExperts® I can come to your home and transform your garage into a functional clean space in as little as 1 or 2 days.
We currently are serving Chapel Hill, Carrboro, Raleigh, Apex, Cary, Morrisville, Wake Forest, Durham, Hillsborough and surrounding areas.