Do you own a restaurant? How do your floors look? Are they safe for employees and customers? We have a solution to making them both beautiful and safe - GarageExperts® flooring products!
As an employee, when you walk into a restaurant in the morning, part of how your day goes is determined by the team the night before. One of those touch points is how clean the team left the restaurant, including the floors. The old-fashioned tile work in many restaurants can make keeping the floors clean a huge challenge. Issues such as grout lines capturing water and debris build-up make floors look bad and create unsafe work environments. The number one accident in restaurants is slipping and falling according to Culinary Service Group. Finding ways to eliminate that risk is critical. Another issue with tile floors is repair and maintenance. Grout lines break down, water gets trapped underneath, and tiles come loose, creating an unsafe environment for everyone. Repairs and constant maintenance can be time-consuming and affect profitability.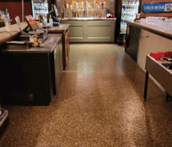 So, what is the solution? The GarageExperts® team can transform concrete floors by removing the tiles and making the concrete a flat, slip-resistant surface that will limit ongoing repair and maintenance and look beautiful. The Garage FX® premium coatings can be applied to just about any concrete floor and are built to withstand the toughest conditions and environments. You'll love that the floors are slip-resistant and easy to clean. And they are covered by a lifetime warranty.
What about your front-of-the-house floors? Do they need a facelift? Are you building a new location? Our products combine strength and beauty to create a great look that your guests will love. The Garage FX® system drives a WOW factor and is easy to maintain during the shift. A guest seeing a clean restaurant that delivers great food and service will lead to repeat business. Who doesn't want that as a restaurateur? Let GarageExperts® help you deliver that very thing! Talking to a local GarageExperts® team near you is a click away!