Take a few minutes and think about your garage. Does the garage door open to reveal an interior that is meticulously organized, clean, and neat? Do you find yourself leaving the door open to allow the neighbors to pick up a few pointers on how they can improve the domestic dumping ground they call a garage? Do you drop subtle hints in conversations about how your overhead racks and cabinets give you so much space that you have room to park your new golf cart next to your large SUV? Every morning as you drive to work, do you have to play a game of "dodge car" just to make it down the street making you wonder why the neighbors don't just park in their garages?
Or are you that neighbor that has not parked in your garage in years? Right now, close your eyes and try to remember the last time you spent more than five minutes in your garage. The truth is your garage is more of a storage unit that is reaching full capacity. Spring rolls around each year and you tell yourself that you'll get it organized next year. You fight your way through the boxes, bikes, and clutter to find the lawn equipment, and you refuse to open the garage door all the way because you're embarrassed by the mess. The last time you opened the garage door, a soccer ball rolled into the street and almost caused a neighbor to take out your mailbox with their car. Your garage has become an eyesore and a hazard.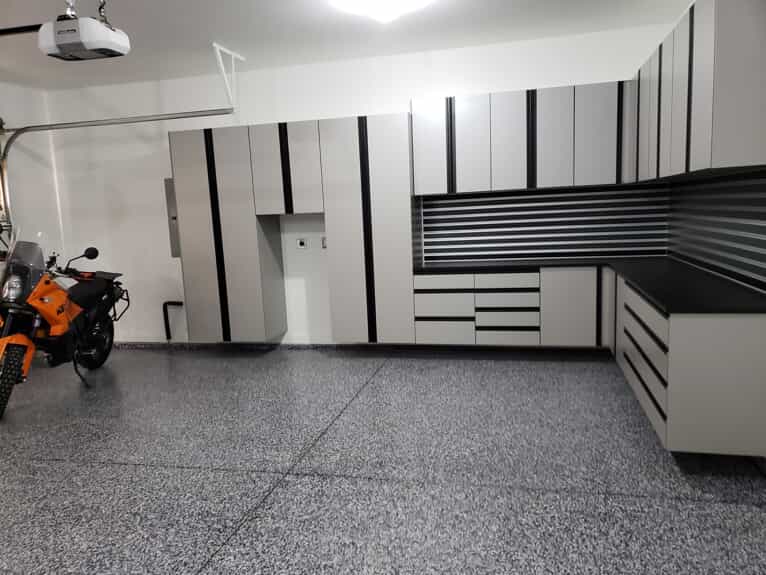 Answer the following questions to help you define your Garage Personality IQ:
1. How would you describe your home décor?
A) A mix of old and new
B) More is always better
C) Old fashioned with a farmhouse flare
D) Modern with class
2. Number of hours your garage door is open in an average day:
A) 0 - I park in the street and go in and out through the front door.
B) 24 - I haven't been able to close it for years—something's always blocking it.
C) 10-15 - I want my neighbors to take a gander at my sweet ride.
D) If the sun is up, my garage door is open! - I like the way the sun makes my garage glow.
3. If you had one word to describe how you feel about your garage it would be:
A) Overwhelming
B) Ugh
C) Proud
D) Perfect
4. Your favorite sport is:
A) Watching bowling on television.
B) I can't just pick one - baseball, football, basketball, and hockey.
C) NASCAR racing.
D) Golf. I always have my clubs clean and ready to go.
5. The perfect date night would be:
A) A day of bowling and a few games of pool.
B) Shopping at discount malls, garage sales, or online, always looking for a good deal.
C) Taking a spin through the country in a mint condition 1969 Chevrolet Corvette.
D) A weekend getaway to play some golf and relax.
Mostly "A"s: My Hot Mess
You would clean your garage if you could clear a path to the garage door. It's just short of a landfill. Boxes are stacked high in front of bigger boxes that sit on top of stuff, and it's all piled on the mysterious junk underneath. The unidentifiable odor makes you cringe, and it seems to fluctuate daily. It may be chemicals, dirty socks, mold, or animals. You keep telling yourself it's fine and that you know where everything is, and the smell must be from the trash bin outside. Is it really?
Unclutter your space. Make the most of your space with GarageExperts® storage solutions. Work with your local GarageExperts® professional to customize a solution that will help you get organized. Choose from a variety of custom cabinets, overhead storage, and slatwall organization systems. By getting things cleaned out of your garage and off the floor you can take back your space. To finish off your complete garage makeover, choose from one of our 142 colors and have a new Garage FX® flooring system installed by your GarageExperts® team. Backed by the GarageExperts® lifetime warranty, you can be confident that your hot mess of a garage is now a thing of the past.
Mostly "B"s: Hobbyist, Hoarder, or Both
You have it all. As soon as you start to think about throwing something out, you remember that one time you needed that extra bicycle helmet that you gave to a neighbor down the street. Never again! You own more bikes than there are people living in your home. There are duplicates of everything…kids' toys, skateboards, roller blades, deflated balls, and tools are everywhere with no place to belong. The last time you went to look for a hammer, it took you 45 minutes and your 12-year-old ended up borrowing one from the neighbor.
GarageExperts® Solution:
Uncover your garage's true potential. Whether you are looking to organize tools, sports equipment, bikes, and toys, or hang your gardening tools for easy access, our team will work closely with you to fully understand your needs and then customize a solution that perfectly fits your space. Your local GarageExperts® team will work with you to design a 3D rendering of custom cabinets and storage solutions. Our cabinets come in several colors and multiple configurations, plus our slatwall comes in matching colors and offers several options, from baskets to hooks and beyond. Complete your garage transformation with a Garage FX® flooring system. You can choose from several flooring styles and colors that are available. With a new easy-to-clean epoxy and polyaspartic coating, you'll never have to worry about a peeling or chipping floor.
Mostly "C"s: My Car, My Obsession
Your desk has a framed picture of your car sitting on it. Saturday mornings are reserved for a weekly carwash and wax for your sweet ride. You spray down your concrete floors daily because the slightest smear on your tires is unacceptable. You have so many car gadgets and fancy yourself an ASE certified mechanic. In reality, you are a computer programmer, but your garage is full of tools so you can tinker on your ride 24/7.
GarageExperts® Solution:
Your dream car deserves better. Your local GarageExperts® professional can help you design your own personal auto show floor. Choose from a custom flake blend that matches your ride or go all out with the shiny marble look of a Garage FX® metallic system. Customize your space by adding matching cabinets and slatwall systems. The cabinets are American made, come in a variety of design options, and have full backs to provide you with strong storage solutions. With all your things meticulously organized and out of the way, no distractions are present to take your eyes off your car. It may be time to replace that photo on your desk.
Mostly "D"s: A White Glove Life
Your garage is as immaculately tidy as your home. There is a doormat on top of your doormat. Guests often ask you if they should take their shoes off to walk in your garage. Tools, bikes, and toys are all cleverly aligned and arranged alphabetically. Every surface from top to bottom is polished and gleaming.
GarageExperts® Solution:
You pass the white glove garage test with flying colors. Now it is time to take your garage to a whole new level. GarageExperts® can install our Garage FX® industrial-strength, American-made epoxy and polyaspartic floor coatings that are bright, durable, and easy to clean. They will never peel or chip, and they are also resistant to abrasions, chemicals, and UV rays. Your local GarageExperts® will help you turn your garage into something you never imagined. Our customizable storage solutions include overhead racks, adjustable cabinets, versatile slatwall systems, and more. GarageExperts® installs organizational products that are designed for strength, offer generous storage capacity, and are available in a variety of colors. You may think your garage is organized and clean but get ready for GarageExperts® to put the "wow" in your garage.