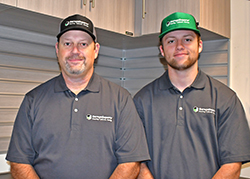 Thank you for visiting Garage Experts of North Florida. Owner Jerry Torrance, along with his wife Emily and sons Jake and Luke, has lived in North Florida for almost 20 years.
Jerry has 18 years of Law Enforcement service under his belt and has been in the real estate industry for 15 years before starting his own Garage Experts. Garage Experts specializes in epoxy flooring, custom cabinets, and slat wall organization.
Garage Experts of North Florida is locally owned and operated and prides itself by using the finest materials made here in the USA. Free estimates will be provided on site, so please give Jerry a call to make an appointment and get started in transforming your space into something amazing and usable.