Commercial & Industrial Epoxy Flooring
Premium Commercial & Industrial Epoxy and Polyaspartic Flooring Solutions in Richmond
Elevate Your Business Space with High-Quality, Durable, and Stylish Flooring Systems
Looking for the best commercial epoxy and polyaspartic flooring solutions near you? Look no further, we're the team of commercial epoxy and polyaspartic flooring experts to call. GarageExperts® of Richmond is the premier provider of exceptional Garage FX® commercial and industrial epoxy and polyaspartic flooring services. Our expert team delivers durable, attractive, and low-maintenance flooring solutions tailored to meet the unique demands of various industries, from warehouses to automotive shops.
Upgrade your commercial or industrial space with a dependable, visually striking, and cost-effective epoxy and polyaspartic flooring system. Reach out to GarageExperts® of Richmond today at (804) 294-3828 for a complimentary, no-obligation quote.
Discover the Advantages of Epoxy and Polyaspartic Flooring for Your Business
Garage FX® commercial epoxy and polyaspartic flooring is a good, smart choice for business owners and facility managers that are looking for a high-performance, budget-friendly solution for their property's commercial and industrial flooring. Our team of commercial epoxy and polyaspartic flooring experts installs top-quality Garage FX® flooring systems that offer numerous benefits, including:
Durability: Our flooring solutions are designed to withstand heavy traffic, machinery, and chemical exposure, protecting your surfaces from everyday wear and tear while extending their lifespan
Safety: Enhance workplace safety with our slip-resistant epoxy and polyaspartic flooring surfaces, reducing the risk of accidents
Easy Maintenance: Keep your commercial or industrial space clean and professional-looking with our seamless, non-porous epoxy and polyaspartic flooring systems that resist staining, spills, and dirt buildup
Customization: Choose from a wide array of colors, textures, and finishes to match your brand identity and create a visually appealing work environment
Quick Installation: Our experienced flooring specialists ensure a fast and proficient installation process, minimizing disruptions to your business operations
Trusted, Skilled, Professional Commercial & Industrial Epoxy Flooring Installation
When you choose GarageExperts® of Richmond, you're working with a locally owned and operated company committed to delivering first-rate epoxy and polyaspartic flooring solutions. Our highly-rated commercial epoxy and polyaspartic flooring team takes pride in offering outstanding customer service, high-quality materials, and professional installation backed by a comprehensive warranty.
When you work with GarageExperts® of Richmond, you can expect:
Complimentary, no-obligation quotes

Expert guidance on the ideal epoxy flooring solution tailored to your specific needs

Reliable, courteous, and efficient installation services

A best-in-class warranty for your peace of mind
Invest smartly in your business's flooring needs with GarageExperts® of Richmond's commercial and industrial epoxy and polyaspartic flooring services. Contact us today at (804) 294-3828 or fill out our online form to schedule your free estimate.
Here Are Four Reasons Why You Should Choose Our Epoxy and Polyaspartic Flooring:
One-Day Installation

In many cases, our most popular epoxy and polyaspartic floor coating can be installed, and your garage returned to normal, in as little as one day. We can even transform your basement, pool deck, patio, or any other concrete floor.

Crack & Joint Repair

If your floor currently has cracks or other surface imperfections, our Garage FX® epoxy repair product is specially designed to treat cracks and joints. The key to a long-lasting epoxy and polyaspartic garage floor coating is proper preparation to ensure it lasts a lifetime.

Maintenance-Free

Garage floors need to be durable and withstand many hazards, from car wheels to lawn equipment to various chemicals. Our epoxy and polyaspartic flooring products are clear, abrasion-resistant, and easy to clean. They don't require waxing or other time-consuming upkeep and always remain aesthetically pleasing.

No Peeling Or Chipping

Our floor coating offers three times more adhesion than other epoxy and polyaspartic coatings, meaning you'll never have to worry about them peeling or chipping.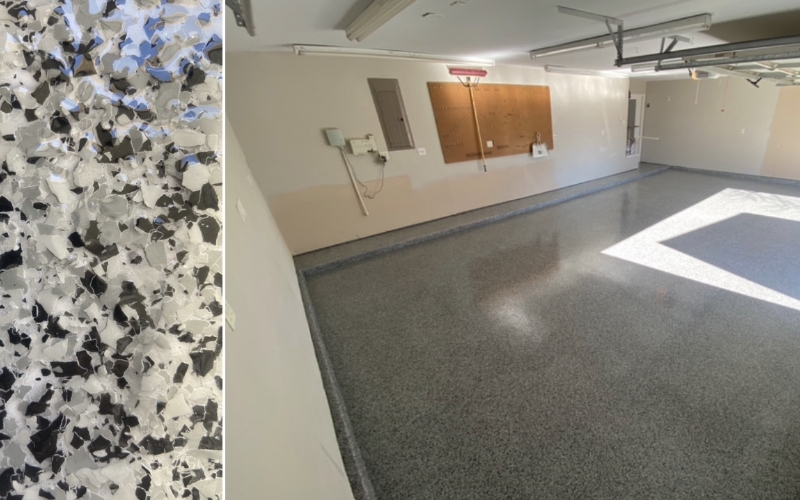 "

Michelle and I were thrilled to see the final product. We love our new garage!

"

Matt Dunham

"

Great new look and quality!! Everything was completed on time as promised.

"

Rod McGeorge

"

I cannot say enough good about these guys. the price was better, the outcome was perfect, and I just couldn't be happier.

"

Jesse G.
American Made

Stronger Than
Concrete

No Peeling, Chipping, Or Staining

Resistant to Abrasions, Chemicals, and UV Rays

Over 140 Colors to Choose From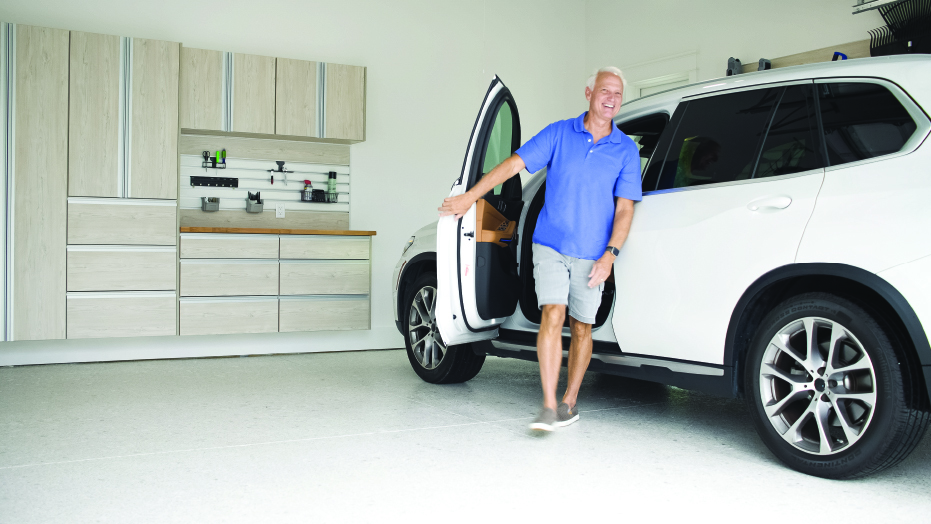 Committed To You
We believe in providing the highest
standard of service
In-Home Estimate Is Always Free

Time Is Valuable So We Arrive On Time

Always Get Upfront Pricing

Products Are Guaranteed For Life
Step 1

First, we prepare your concrete by grinding the surface and repairing any cracks, joints, or surface imperfections with our Garage FX® repair products.

Step 2

We roll out our Garage FX® epoxy primer that fuses directly into concrete to create an incredible bond that won't peel.

Step 3

We broadcast your choice of decorative flakes across the floor making sure to evenly cover the entire space for a seamless finish.

Step 4

Lastly, we apply our highly durable and abrasion-resistant polyaspartic topcoat to protect the floor from wear and tear, while maintaining an attractive, glossy finish for years to come.

Step 5

Now that GarageExperts® has extended the life of your floor and enhanced the look of your space, enjoy it!