Meet Steve
Meet the Owner of GarageExperts® of The Shenandoah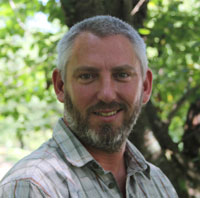 Steve MacDonald lives with his lovely wife and two daughters in the beautiful Shenandoah Valley near Woodstock, VA. Much of their family lives in the Valley, and they think it's the most beautiful place in the world.
Steve spent 5 years working with epoxy for marine applications while commercial fishing in Kodiak, Alaska. It was a great experience; he learned a lot about the quality of coatings and the importance of proper installation. Steve has also been in the cabinet business since childhood and spent a couple of years doing work for GarageExperts in Northern Virginia. It has been a great education on the benefits and resilience of the Garage FX® system. After seeing project transformations in a matter of days and how happy customers were to have a functional and beautiful garage, Steve decided this was something he wanted to bring full-time to his area.
Thank you for visiting and considering GarageExperts of The Shenandoah.