Meet Danny and Helen
Meet the Owner of GarageExperts® Tulsa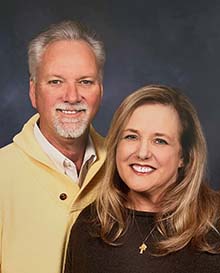 Thank you for visiting GarageExperts® of Tulsa. Local owners, Danny and Helen Bryant, are residents of Broken Arrow where they have raised their two daughters, Christina and Jennifer. Danny spent over 30 years in the car rental industry and then followed that up with 9 years in the oil/gas and construction world.
After researching numerous companies, we were impressed with the high standards and quality of products offered by the GarageExperts® brand.
GarageExperts® of Tulsa is locally owned and operated and prides itself by using the finest materials made here in the USA. For a free on-site estimate, so please give Danny or Helen a call (918) 393-3390 to make an appointment and get started in transforming your space into something amazing and usable and something you can be proud to show your friends and family.