Residential Epoxy Flooring
Residential Epoxy & Polyaspartic Garage Floor Coatings In West Houston
Unleash the Potential of Your West Houston Garage
Are you tired of staring at the drab, blemished concrete floors in your home? It's time to give them the attention they deserve. Get ready to take your flooring game to the next level with GarageExperts® of West Houston. As experts in residential concrete floor coatings, we know just how to transform your concrete floor into a functional and attractive space.
We offer premium epoxy and polyaspartic coatings that can help take your garage floors to the next level. Say goodbye to uninspiring floors and hello to a fresh, new look with our Garage FX® epoxy and polyaspartic flooring. Let's work together to give your home the upgrade it deserves.
Custom Garage Flooring Solutions
With Garage FX® epoxy and polyaspartic flooring, you have an endless array of creative options at your fingertips. With over 140 colors and finishes to choose from, you can express your style in a way that adds both beauty and value to your home. Whether you want a sleek and modern look or a warm and inviting atmosphere, our epoxy and polyaspartic flooring allows you to customize your space to reflect your taste. Your space will be one-of-a-kind and uniquely designed to reflect your distinct style.
Garage FX® Flooring: The Perfect Choice for West Houston Homes
When it comes to flooring solutions that are both practical and beautiful, nothing beats the superior quality of Garage FX® epoxy and polyaspartic floor coatings. These floor coatings are specifically designed to handle the demands of busy homeowners in West Houston while enhancing the overall appeal of your home.
Here are some of the key benefits you'll enjoy when you choose our epoxy and polyaspartic floor coatings:
Exceptional Durability: Our floor coatings do not chip or peel. They're built to withstand heavy foot traffic, making them ideal for high-use areas like garages, basements, or workshops.
Spill and Stain Resistance: Accidents happen, but with Garage FX® floor coatings, you don't need to worry. Our floors resist spills and stains, so you can easily clean up any messes and keep your floors looking their best.
Ease of Maintenance: No time for extensive floor care routines? No problem. Garage FX® epoxy and polyaspartic floor coatings are incredibly easy to maintain, allowing you to spend more time enjoying your home and less time cleaning.
Aesthetic Appeal: Beyond their functional advantages, our floor coatings also enhance the beauty of your home. With a wide range of colors and finishes available, you can customize your floors to match your home's unique style.

Ready to enhance your home's aesthetic? Discover the difference Garage FX® epoxy and polyaspartic flooring can make. Request an estimate online or call (832) 626-4244 today!
Partner With GarageExperts® of West Houston
With GarageExperts® of West Houston, you get more than just a beautiful garage. As a company, we pride ourselves on providing a top-notch customer experience.
Partnering with our team has the following benefits:
Time Efficiency: We understand that your time is precious, and we respect it. Our team is committed to punctuality for both appointments and installations.
One-Day Installation: Time constraints? No problem! We offer one-day installation on some of our flooring options. This means you can have a brand-new, high-quality garage floor in just a single day.
Free In-Home Estimates: We believe in transparency and honesty. That's why we provide free in-home estimates so you know exactly what to expect before we start work.
Upfront Pricing: With GarageExperts® of West Houston, you get clear, upfront pricing. This ensures you are fully aware of the cost before the project begins, aiding in your budgeting process.
We prioritize quality and customer satisfaction to ensure that our clients receive a functional and beautiful space that can stand up to everyday use. It is our goal at GarageExperts® of West Houston to exceed your expectations.

Upgrade your West Houston garage today with our durable, easy-to-maintain epoxy and polyaspartic garage flooring. Call (832) 626-4244 or reach out online to transform your space!
Here Are Four Reasons Why You Should Choose Our Epoxy and Polyaspartic Flooring:
One-Day Installation

In many cases, our most popular epoxy and polyaspartic floor coating can be installed, and your garage returned to normal, in as little as one day. We can even transform your basement, pool deck, patio, or any other concrete floor.

Crack & Joint Repair

If your floor currently has cracks or other surface imperfections, our Garage FX® epoxy repair product is specially designed to treat cracks and joints. The key to a long-lasting epoxy and polyaspartic garage floor coating is proper preparation to ensure it lasts a lifetime.

Maintenance-Free

Garage floors need to be durable and withstand many hazards, from car wheels to lawn equipment to various chemicals. Our epoxy and polyaspartic flooring products are clear, abrasion-resistant, and easy to clean. They don't require waxing or other time-consuming upkeep and always remain aesthetically pleasing.

No Peeling Or Chipping

Our floor coating offers three times more adhesion than other epoxy and polyaspartic coatings, meaning you'll never have to worry about them peeling or chipping.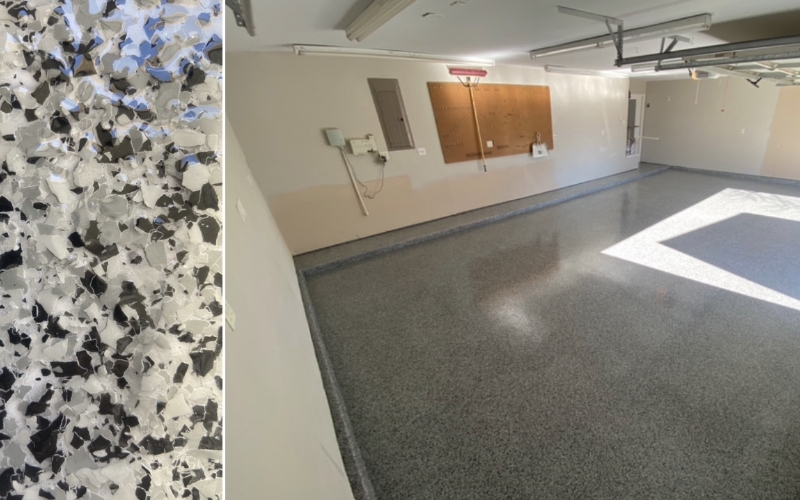 "

My Garage is now a WOW factor! Neighbors are so jealous too!

"

Chris P.

"

Absolutely wonderful experience! Amazing communication throughout the process.

"

Sofia T.

"

Our floors turned our really good. They worked hard and we appreciated it.

"

Chris H.
What Makes Garage FX® Epoxy & Polyaspartic
Technology Superior For Your Garage
American Made

Stronger Than
Concrete

No Peeling, Chipping, Or Staining

Resistant to Abrasions, Chemicals, and UV Rays

Over 140 Colors to Choose From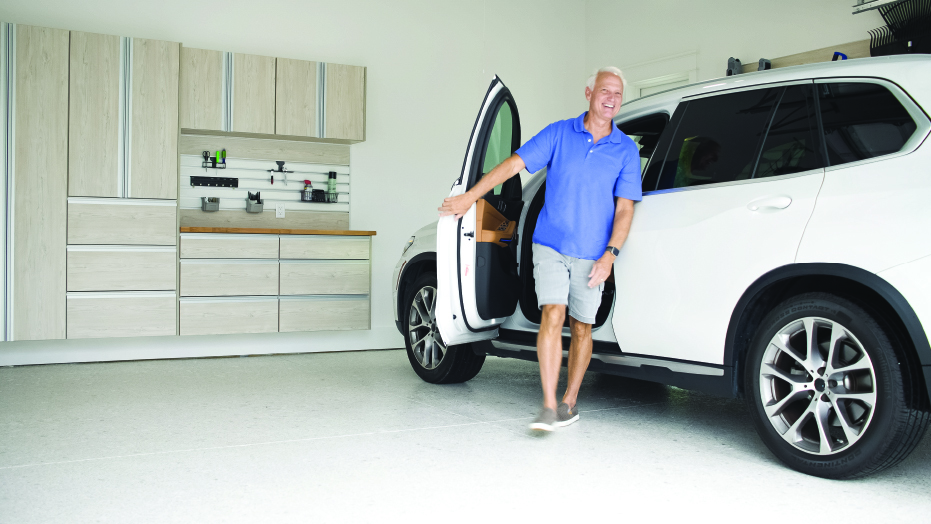 Committed To You
We believe in providing the highest
standard of service
In-Home Estimate Is Always Free

Time Is Valuable So We Arrive On Time

Always Get Upfront Pricing

Products Are Guaranteed For Life
Step 1

First, we prepare your concrete by grinding the surface and repairing any cracks, joints, or surface imperfections with our Garage FX® repair products.

Step 2

We roll out our Garage FX® epoxy primer that fuses directly into concrete to create an incredible bond that won't peel.

Step 3

We broadcast your choice of decorative flakes across the floor making sure to evenly cover the entire space for a seamless finish.

Step 4

Lastly, we apply our highly durable and abrasion-resistant polyaspartic topcoat to protect the floor from wear and tear, while maintaining an attractive, glossy finish for years to come.

Step 5

Now that GarageExperts® has extended the life of your floor and enhanced the look of your space, enjoy it!