Garage Cabinets
Garage Cabinets in Pittsburgh
Maximize Your Garage Space with our Custom Cabinets
Maximize the potential of your garage with personalized cabinet solutions provided by GarageExperts® of Western PA! Whether you're in need of adjustable cabinets or slatwall organization systems, we've got you covered! Reclaim your valuable space and achieve ultimate organization with our top-notch products.
Our cabinets and shelving units are engineered for durability, offering ample storage capacity, and come in various stylish colors. With our skilled team, you can count on professional installation, and rest assured knowing that all our cabinets are backed by a lifetime warranty. Unlock the true potential of your garage! Contact us today to schedule a free on-site estimate!
Take control of your garage's storage! Dial (412) 357-1996 or request a free estimate today and discover how our premium garage storage cabinets can transform your space!
Benefits of Our Custom-Made Garage Cabinets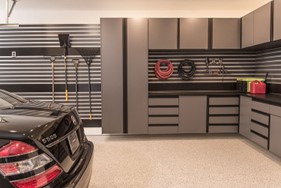 Our custom-made garage cabinets are designed to elevate your garage storage to new heights. At GarageExperts®, we understand the importance of a well-organized space, and our cabinets offer a multitude of benefits to enhance your garage experience.
Discover the exceptional features of our GarageExperts® cabinets including:
Adjustable shelves

Shelf safety lock

Easy to clean

Full extension drawer slides

Standard pulls

Optional channel pulls

European-style door hinges

Full backs

Applied ends
From maximizing storage capacity to providing durability and functionality, our custom-made garage cabinets are tailored to meet your specific needs. Say goodbye to clutter and hello to a beautifully organized garage.
Cabinet Systems Tailored to Your Garage Storage Needs
At GarageExperts® of Western PA, we take pride in our unwavering commitment to providing tailored cabinet systems that precisely match your unique storage requirements. Our extensive selection includes a pantry, overhead, and base cabinets, available in various sizes and configurations.
Plus, we offer a wide range of captivating cabinet colors, with eight standard options and four premium choices to ensure a perfect match for your style. Whether you seek abundant storage for pantry items, a streamlined organization for overhead spaces, or robust base cabinets, we have the ideal solution for you.
With our expertise and meticulous attention to detail, you can trust our team to design a cabinet system that maximizes your available space and fulfills your storage needs flawlessly. We understand that a well-organized space contributes to peace of mind and efficiency. That's why we go the extra mile to deliver a customized solution that transforms your garage into an organized haven. Trust GarageExperts® to provide you with exceptional quality and a perfect fit for your storage requirements.
Let us design and build the perfect cabinets for your garage! Contact us for your FREE estimate by calling (412) 357-1996 or schedule your estimate online.
Are Garage Cabinets Worth It?
Garage cabinets can be a valuable investment for homeowners seeking to organize their garage space efficiently. With the ability to store tools, equipment, and other items, garage cabinets provide a systematic approach to decluttering and optimizing storage. By utilizing garage cabinets, you can create a neat and tidy environment, making it easier to find what you need when you need it.
Some key benefits of investing in a garage cabinet system:
Organization: Garage cabinets provide a systematic and organized approach to storing tools, equipment, and other items, making it easier to find and access them.
Space Optimization: By utilizing garage cabinets, you can efficiently use the available space in your garage, making room for other activities or additional storage.
Protection: Garage cabinets offer enhanced protection for your belongings, keeping them safe from dust, moisture, pests, and potential damage.
Neat Appearance: With garage cabinets, you can create a visually appealing and tidy garage environment, which can improve the overall aesthetics of your home.
Accessibility: Having designated storage areas for different items allows for easy accessibility and reduces the time spent searching for tools or equipment.
Take the first step towards transforming your garage into a functional and visually appealing space by exploring our various garage cabinet options and choosing the ones that best suit your needs today!
Say goodbye to clutter and hello to functionality! Call us at (412) 357-1996 or request a free estimate today for our custom garage cabinets near you!
We're proud to serve the following communities in Western PA:
Pittsburgh

Jeanette

Gibsonia

Fox Chapel

Allison Park

Wexford

Monroeville

Bethel Park

Cranberry
Here Are Four Reasons Why You Should Choose Our Epoxy and Polyaspartic Flooring:
One-Day Installation

In many cases, our most popular epoxy and polyaspartic floor coating can be installed, and your garage returned to normal, in as little as one day. We can even transform your basement, pool deck, patio, or any other concrete floor.

Crack & Joint Repair

If your floor currently has cracks or other surface imperfections, our Garage FX® epoxy repair product is specially designed to treat cracks and joints. The key to a long-lasting epoxy and polyaspartic garage floor coating is proper preparation to ensure it lasts a lifetime.

Maintenance-Free

Garage floors need to be durable and withstand many hazards, from car wheels to lawn equipment to various chemicals. Our epoxy and polyaspartic flooring products are clear, abrasion-resistant, and easy to clean. They don't require waxing or other time-consuming upkeep and always remain aesthetically pleasing.

No Peeling Or Chipping

Our floor coating offers three times more adhesion than other epoxy and polyaspartic coatings, meaning you'll never have to worry about them peeling or chipping.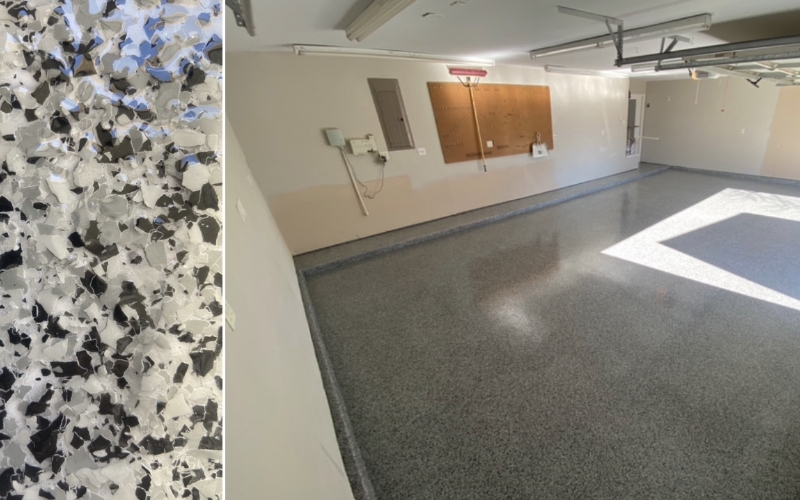 "

Joe and his crew did an amazing job with my basement floor. Thanks for all your work and attention to detail!

"

Michael P. McGihon

"

I wanted to tell you how much we LOVE the garage floor. It looks so great and we have gotten so many compliments on it.

"

Jennifer H. from Mt. Lebanon

"

The epoxy floors look beautiful and we expect them to last for many years. The job was professionally done on time.

"

Pete in New Kensington
American Made

Stronger Than
Concrete

No Peeling, Chipping, Or Staining

Resistant to Abrasions, Chemicals, and UV Rays

Over 140 Colors to Choose From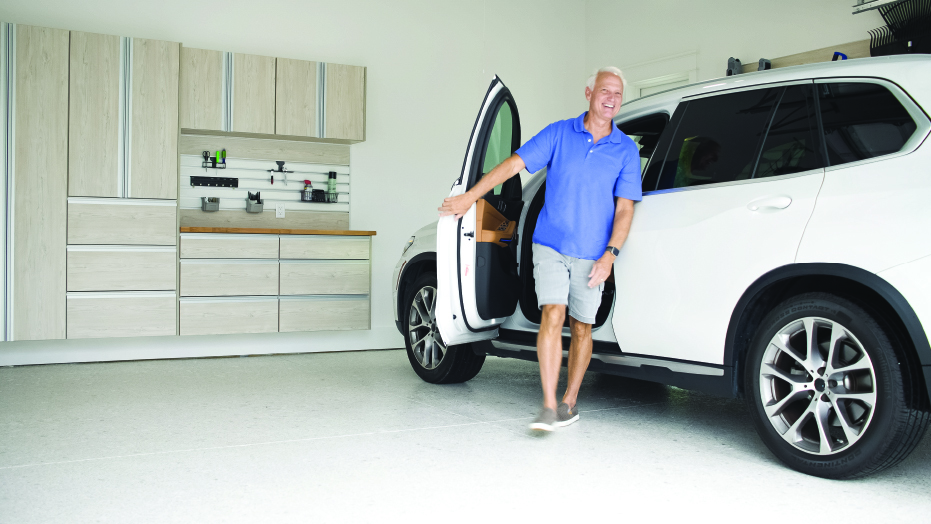 Committed To You
We believe in providing the highest
standard of service
In-Home Estimate Is Always Free

Time Is Valuable So We Arrive On Time

Always Get Upfront Pricing

Products Are Guaranteed For Life
Step 1

First, we prepare your concrete by grinding the surface and repairing any cracks, joints, or surface imperfections with our Garage FX® repair products.

Step 2

We roll out our Garage FX® epoxy primer that fuses directly into concrete to create an incredible bond that won't peel.

Step 3

We broadcast your choice of decorative flakes across the floor making sure to evenly cover the entire space for a seamless finish.

Step 4

Lastly, we apply our highly durable and abrasion-resistant polyaspartic topcoat to protect the floor from wear and tear, while maintaining an attractive, glossy finish for years to come.

Step 5

Now that GarageExperts® has extended the life of your floor and enhanced the look of your space, enjoy it!