Garage Storage
Garage Storage in Augusta
Garage Organization Near You
GarageExperts of Augusta is pleased to provide garage storage services to assist you in making the most of your available space. We offer custom cabinet and slatwall solutions to maximize your storage capacity. We have a variety of colors, styles, adjustable shelving, drawer slides, and much more! But don't take our word for it; we provide a lifetime warranty to ensure that your space remains functional for the rest of your life.
Give us a call at (706) 786-3839 or contact us online to get started on your garage organization project today!
Vertical Integration
Vertical integration means that GarageExperts of Augusta has complete control over our entire process. We focus on producing premium storage solutions that are backed by a lifetime warranty from start to finish. The following are some examples of how vertical integration enables us to provide high-quality services and products:
Cabinet Production - All of our cabinets are CARB compliant, and our wood is sourced from renewable North American forests, reducing our environmental impact. Our wood panels are CNC cut, resulting in assemblies with millimeter-level tolerances and a perfect fit and finish.
On-Hand Inventory - Because our inventory is fully stocked, we have quick access to the materials required for your job. We keep a large inventory on hand in order to produce custom cabinets, floors, and other garage storage solutions for your project as quickly as possible. To avoid long wait times for a finished garage, we strive to complete our customers' installations as quickly and efficiently as possible.
Custom Cabinet Design - We have trained our technicians to use our proprietary design software, which allows us to "build out" your garage and generate a 3-D image. With this software, we can move and adjust the design and colors in real-time, so you know exactly how your garage will look before it is installed.
How To Organize Your Garage
We can build cabinets to organize your space, but how you organize your items is entirely up to you! The layout of your garage will be determined by the size of your space and how you intend to use it. To get you started, we've created a 5-step process:
Create A Plan - The first step in organizing a space is to devise a strategy to meet your needs. What will you do with your space? What will you require quick access to? What do you hope to achieve in your space? Create a plan with "zones" for your designated activities and tools.
Clear the Floor - It's always a good idea to start with a clean slate. Use a broom or shop vacuum to sweep your floor. This will allow you to clean our nails, small items, chemical stains, bugs, and so on. You can begin sorting once your space is clear.
Sort Your Belongings Into Zones - To help you take inventory, we recommend pulling everything out of your garage and sorting it into zones. This is best done in the driveway or front yard. This will assist you in grouping items such as auto supplies, sports equipment, tools, holiday decorations, and so on.
Plan Garage Storage - After you've assessed everything you own, start visualizing how you want it organized. Vertical storage space, for example, is ideal for bikes and larger items, while drawers are ideal for tools and lockable cabinetry can be used for chemicals or gasoline.
Maintain Garage Organization - Make a tidying plan to keep your space in order. Depending on how frequently you use your garage, this can be done seasonally, monthly, or weekly.
Understanding the step-by-step process of organizing your garage can make what appears to be a difficult task much easier. Once you get into a routine, you'll notice how much more quickly you can complete projects or access your belongings.
Why Choose GarageExperts
Quality is everything at GarageExperts®. We are more than just a garage service. We aim to be a reliable supplier of high-quality, long-lasting goods and services. We have become a leading provider of epoxy and polyaspartic flooring and garage storage solutions because we have built trust and long-term relationships with our customers. Each of our locations is independently owned and operated, and we are involved in the communities in which we operate.
Our products are long-lasting and made in the United States. We are so sure of our products, services, and knowledgeable staff that we offer a lifetime warranty to give our customers the peace of mind they deserve.
Dial (706) 786-3839 or contact us online to learn more about our garage storage systems today!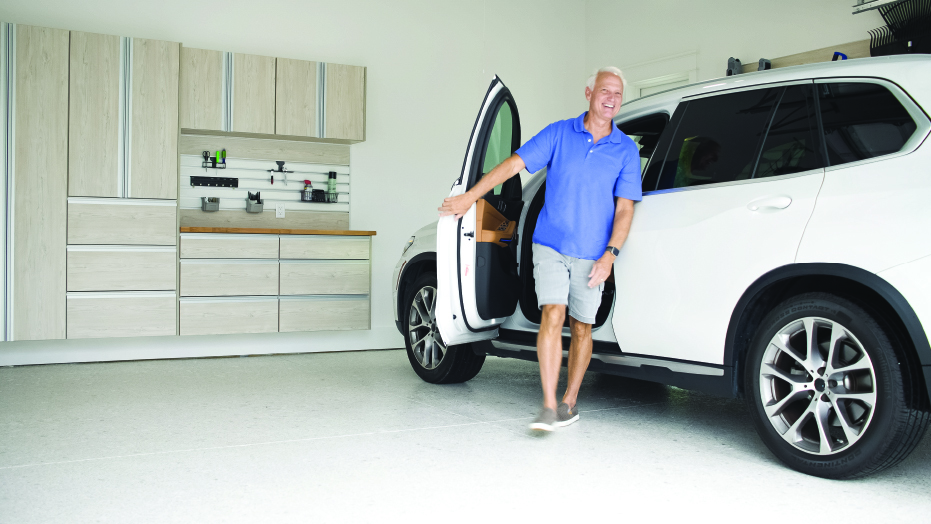 Committed To You
We believe in providing the highest
standard of service
In-Home Estimate Is Always Free

Time Is Valuable So We Arrive On Time

Always Get Upfront Pricing

Products Are Guaranteed For Life