Epoxy & Polyaspartic Flooring
Epoxy & Polyaspartic Flooring in Augusta
Durable Garage Floor Coating Solutions Near You
GarageExperts® has installed over 40 million square feet of Garage FX® flooring throughout the United States in residential, industrial, and commercial properties. You can trust GarageExperts® of Augusta to enhance the look of your space and extend the life of your floor.
With a lifetime warranty, our epoxy and polyaspartic floor coatings are tough, durable, easy to maintain, and can be applied to any interior or exterior concrete floor. As a company with over a decade of experience, we provide an extensive range of color options, and we provide one-day installations as well. Learn more about our garage transformation services by requesting a free on-site estimate.
Don't wait any longer to update your garage. Contact us online or call (706) 786-3839 to learn more about our epoxy and polyaspartic garage floor coatings in Augusta.
Epoxy and Polyaspartic Flooring That Is Built To Last
Our proprietary Garage FX® epoxy and polyaspartic flooring products are only available from GarageExperts®. It doesn't matter if it is an interior or an exterior floor, we can coat both concrete floors with our premium coatings.
Able to withstand the harshest conditions and environments, our epoxy and polyaspartic floor coatings are built to last and designed for every space, from airplane hangars to auto shops to home basements. Providing over 140 color options, we are confident we can match your style with one of our colors.
Why Choose Our Garage FX®Epoxy and Polyaspartic Flooring:
It won't peel, chip, or fade

The flooring is resistant to abrasion, chemicals, and UV rays

It is maintenance-free and easy to clean
An epoxy or polyaspartic floor will last much longer if it's properly prepared and installed. GarageExperts® of Augusta has the experience and knowledge necessary to prep and professionally install Garage FX® flooring. Additionally, our proprietary repair product will eliminate cracks, joints, and other imperfections in your flooring and ensure a smooth and seamless finish.
Experience the benefits of easy maintenance and superior protection with our epoxy and polyaspartic garage flooring. Contact us online or call (706) 786-3839 to get your free estimate and let us transform your garage!
Take Advantage of Both Epoxy and Polyaspartic Flooring
Epoxy and polyaspartic Garage FX® flooring is perfect for all types of spaces, from homes to harsh industrial environments. With our durable products and installation techniques, you won't have to worry about heavy traffic, oil, and dirt, or cleaning products like detergents and turpentine.
Using GarageExperts® fusing epoxy primer, you can prevent unsightly peeling and cracking by creating a strong bond with the concrete. To make the garage floor durable, our polyaspartic topcoat is applied to make it resistant to abrasions, chemicals, and UV rays.
Looking for durable epoxy floor coatings in Augusta? Call (706) 786-3839 today or contact us online to get started!
Here Are Four Reasons Why You Should Choose Our Epoxy and Polyaspartic Flooring:
One-Day Installation

In many cases, our most popular epoxy and polyaspartic floor coating can be installed, and your garage returned to normal, in as little as one day. We can even transform your basement, pool deck, patio, or any other concrete floor.

Crack & Joint Repair

If your floor currently has cracks or other surface imperfections, our Garage FX® epoxy repair product is specially designed to treat cracks and joints. The key to a long-lasting epoxy and polyaspartic garage floor coating is proper preparation to ensure it lasts a lifetime.

Maintenance-Free

Garage floors need to be durable and withstand many hazards, from car wheels to lawn equipment to various chemicals. Our epoxy and polyaspartic flooring products are clear, abrasion-resistant, and easy to clean. They don't require waxing or other time-consuming upkeep and always remain aesthetically pleasing.

No Peeling Or Chipping

Our floor coating offers three times more adhesion than other epoxy and polyaspartic coatings, meaning you'll never have to worry about them peeling or chipping.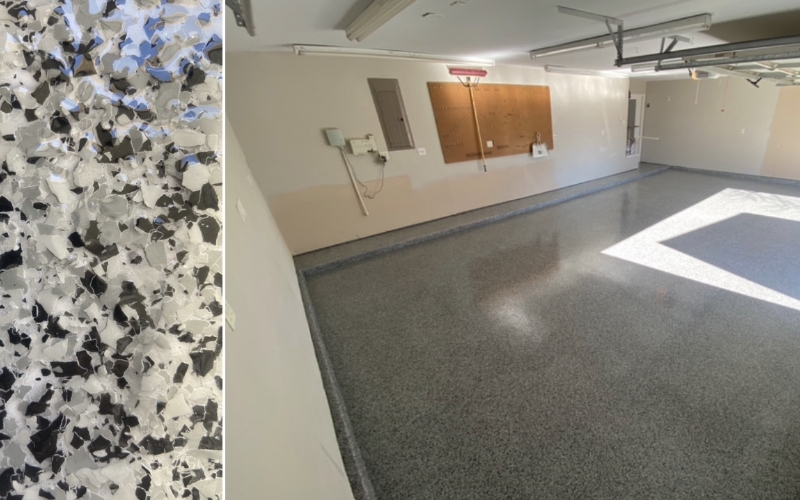 "

I am impressed with their timeliness.

"

Michael N.

Navon S.

McCormick, SC

"

Sam at Garage Experts was wonderful!

"

Chuck S.

Evans, GA
What Makes Garage FX® Epoxy & Polyaspartic
Technology Superior For Your Garage
American Made

Stronger Than
Concrete

No Peeling, Chipping, Or Staining

Resistant to Abrasions, Chemicals, and UV Rays

Over 140 Colors to Choose From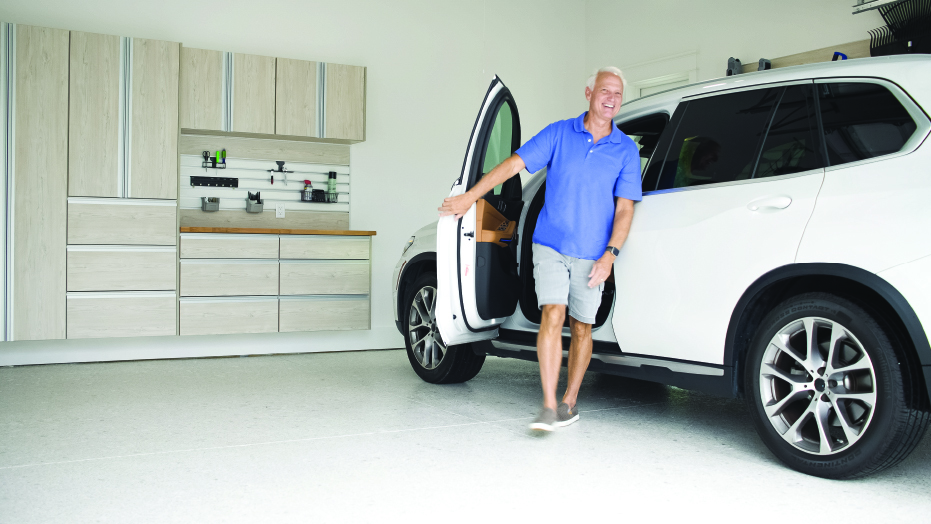 Committed To You
We believe in providing the highest
standard of service
In-Home Estimate Is Always Free

Time Is Valuable So We Arrive On Time

Always Get Upfront Pricing

Products Are Guaranteed For Life
Step 1

First, we prepare your concrete by grinding the surface and repairing any cracks, joints, or surface imperfections with our Garage FX® repair products.

Step 2

We roll out our Garage FX® epoxy primer that fuses directly into concrete to create an incredible bond that won't peel.

Step 3

We broadcast your choice of decorative flakes across the floor making sure to evenly cover the entire space for a seamless finish.

Step 4

Lastly, we apply our highly durable and abrasion-resistant polyaspartic topcoat to protect the floor from wear and tear, while maintaining an attractive, glossy finish for years to come.

Step 5

Now that GarageExperts® has extended the life of your floor and enhanced the look of your space, enjoy it!