Commercial & Industrial Epoxy Flooring
Commercial & Industrial Epoxy & Polyaspartic Flooring in Lexington
Superior Commercial Flooring With Expert Installation
At GarageExperts® of Lexington, we provide a broad range of industrial and commercial epoxy and polyaspartic floor coatings, all customizable to your unique facility. With Garage FX® flooring, everyday wear and tear is effectively masked, resulting in long-lasting beautiful floors with minimal upkeep demands. Our vibrant, durable, and easy-to-clean floor coatings are adaptable to any industry, complying with safety regulations while aligning with your brand's aesthetics and color scheme.
Learn more about how our team can transform your space with our proprietary commercial flooring system in Lexington and request a free on-site estimate online or by calling (859) 809-9002 today!
We can work with just about any type of commercial or industrial space, including the following:
Office buildings

Fitness centers

Laundromats

Restaurants

Schools and daycares

Commercial kitchens

Car dealerships

Distribution warehouses

Manufacturing facilities

Storage facilities

Showrooms

Data Centers

Airplane hangars
Experience the Difference Of Garage FX® Flooring
When it comes to finding the perfect flooring solution for your commercial or industrial space, look no further than Garage FX® epoxy and polyaspartic floor coatings. Designed with durability and functionality in mind, these coatings offer a plethora of benefits that make them an excellent choice for any high-traffic area.
Superior Durability: Garage FX® floor coatings are engineered to withstand the rigors of daily wear and tear. Whether you're running a bustling warehouse or a busy retail store, our coatings can handle heavy foot traffic, equipment movement, and more, without compromising on their integrity.
Stain-Resistance: Say goodbye to unsightly stains and hard-to-remove spills. Our floor coatings are highly resistant to staining, allowing you to maintain a clean and professional appearance at all times. This feature makes cleanup a breeze, saving you both time and effort in maintaining your floors.
Easy Maintenance: Our floor coatings are not only stain-resistant but also remarkably easy to maintain. They will not chip or peel, ensuring that your floors always look their best. This low-maintenance feature translates into lower costs over the life of your flooring.
Chemical and UV Resistant: Worried about harsh chemicals or constant UV exposure damaging your floors? With Garage FX® flooring, you won't have to. Our floor coatings are designed to resist damage from a wide range of chemicals and UV rays, preserving the beauty and functionality of your floors for years to come.
Garage FX® epoxy and polyaspartic floor coatings deliver longevity, aesthetic appeal, and ease of maintenance, making them the ideal choice for your commercial or industrial space. Experience the Garage FX® difference today and give your floors the treatment they deserve.
Elevate your Lexington commercial space with Garage FX® epoxy & polyaspartic floor coatings. Durable, stylish, easy to maintain. Get a free estimate online or call (859) 809-9002!
Epoxy and Polyaspartic Flooring Designed to Last
Trust the GarageExperts® of Lexington to simplify your search for the ideal epoxy and polyaspartic floor coating for your enterprise. We ensure professional installation and back our products with a limited lifetime guarantee. Whatever your industry demands, we provide the ultimate flooring solution for your industrial or commercial space.
Garage FX® epoxy and polyaspartic flooring systems are the most durable on the market. Designed to withstand impacts, abrasions, chemical spills and stains, Garage FX® is equipped to handle the challenges posed by any major industrial or commercial environment. Its superior resilience enhances its service life, enabling businesses to significantly reduce expenses on frequent repairs or replacements.
Garage FX® epoxy and polyaspartic flooring offers more than just a sturdy finish to your business's concrete floors, it is designed to prolong the service life of your floors for the years ahead. Since 2008, GarageExperts® has installed over 40 million square feet of epoxy and polyaspartic floor coating in residential, commercial, and industrial settings nationwide. When you delegate your industrial concrete floor coating project to us, your facility is in good hands.
Contact us today at (859) 809-9002 or book your free on-site estimate online to learn how our commercial floor coatings can transform your facility and extend the lifespan of your flooring.
Here Are Four Reasons Why You Should Choose Our Epoxy and Polyaspartic Flooring:
One-Day Installation

In many cases, our most popular epoxy and polyaspartic floor coating can be installed, and your garage returned to normal, in as little as one day. We can even transform your basement, pool deck, patio, or any other concrete floor.

Crack & Joint Repair

If your floor currently has cracks or other surface imperfections, our Garage FX® epoxy repair product is specially designed to treat cracks and joints. The key to a long-lasting epoxy and polyaspartic garage floor coating is proper preparation to ensure it lasts a lifetime.

Maintenance-Free

Garage floors need to be durable and withstand many hazards, from car wheels to lawn equipment to various chemicals. Our epoxy and polyaspartic flooring products are clear, abrasion-resistant, and easy to clean. They don't require waxing or other time-consuming upkeep and always remain aesthetically pleasing.

No Peeling Or Chipping

Our floor coating offers three times more adhesion than other epoxy and polyaspartic coatings, meaning you'll never have to worry about them peeling or chipping.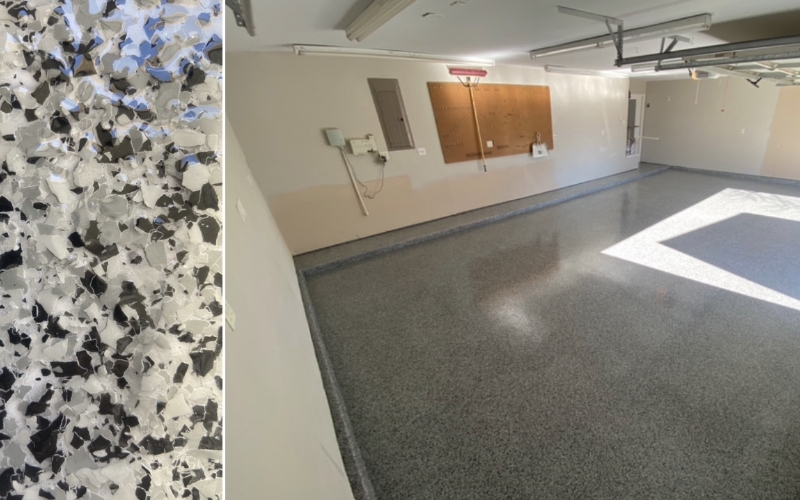 "Nate went above and beyond our expectations."

Tom H.

"They were very professional and did good work!"

Claude H.

"I was highly impressed with this company!"

Em M.
What Makes Garage FX® Epoxy & Polyaspartic
Technology Superior For Your Garage
American Made

Stronger Than
Concrete

No Peeling, Chipping, Or Staining

Resistant to Abrasions, Chemicals, and UV Rays

Over 140 Colors to Choose From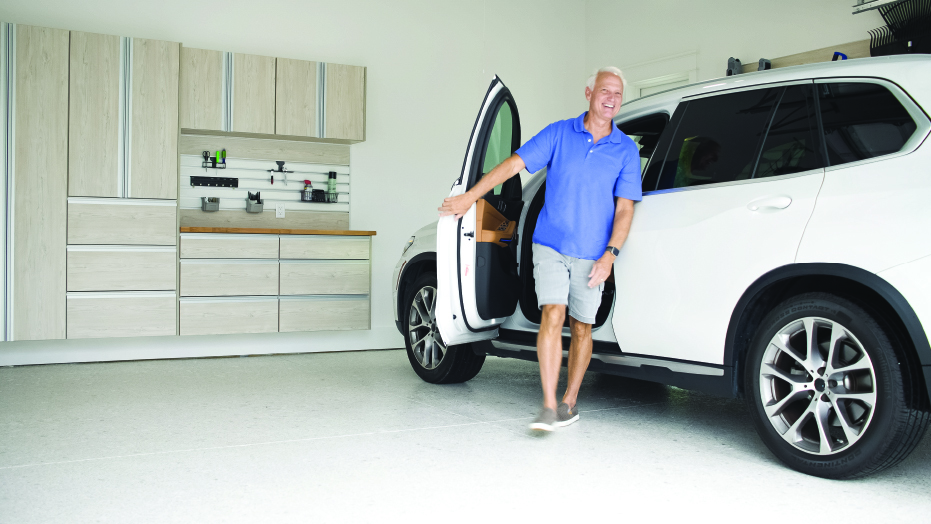 Committed To You
We believe in providing the highest
standard of service
In-Home Estimate Is Always Free

Time Is Valuable So We Arrive On Time

Always Get Upfront Pricing

Products Are Guaranteed For Life
Step 1

First, we prepare your concrete by grinding the surface and repairing any cracks, joints, or surface imperfections with our Garage FX® repair products.

Step 2

We roll out our Garage FX® epoxy primer that fuses directly into concrete to create an incredible bond that won't peel.

Step 3

We broadcast your choice of decorative flakes across the floor making sure to evenly cover the entire space for a seamless finish.

Step 4

Lastly, we apply our highly durable and abrasion-resistant polyaspartic topcoat to protect the floor from wear and tear, while maintaining an attractive, glossy finish for years to come.

Step 5

Now that GarageExperts® has extended the life of your floor and enhanced the look of your space, enjoy it!