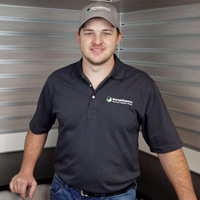 With one click, I will help you raise the doors on the ultimate garage makeover. Let me introduce myself, I'm Sam Hicks born and raised in Georgia. My passion and goal is to design the garage of a lifetime.
I worked in the construction industry for 15 years, using my skills to renovate residential and commercial properties. I am an experienced welder and electrician. For the past 5 years I have been traveling the country, putting together teams to rebuild and remodel commercial kitchens. I have to credit my attention to detail and discipline, to the time I spent in the Navy.
I am always looking for new challenges, I knew I wanted to be part of a fast growing, vibrant company that provides a fantastic product to the community; that's when I ran across Garage Experts. I was so impressed with their commitment to quality and exceptional service; I bought the Augusta franchise.
By working directly with me, you can rest assured your satisfaction with the Industrial Strength Epoxy Concrete Floor Coating and Garage Cabinet installation is my number one concern. After the consultation, I will design a 3D rendering creating the perfect custom solution for your lifestyle and budget. Your garage will be exactly the way you envisioned it and you don't have to worry if your neighbors uses our services, no two garages will look exactly the same.
Garage experts is so confident of its product it offers a lifetime warranty and best yet, all of our products are made in the USA.
I will and can take your garage to the next level, the transformation will be beautiful, functional and useable. Please give me a call for a free consultation. Financing is available. I promise great customer service from start to finish.