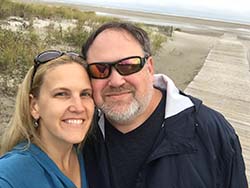 Thank you for visiting Garage Experts of Southern PA.
Chaz and Christy aren't just Garage Experts franchise owners, they started off as customers with another Garage Experts franchisee.
When Chaz built a large dual-purpose shed for a workshop and additional storage, he began researching floor coverings. He had three main criteria – Price, Durability, and Appearance. After an exhausting amount of time, he determined the various DIY epoxy floor systems and "click-together" flooring just wasn't up to the task of protecting and enhancing their concrete floor. Coincidentally during this research period, Christy's mother slipped and fell on the original slick concrete in their garage. Fortunately, she wasn't injured…this time. Fearing another slip and fall, they decided to have Garage Experts not only epoxy the shed floor, but also their garage floor. The upgrade to their floor added enough texture and to date has helped prevent an additional slippery floor accident.
They've been so happy with the epoxy flooring that when they heard their Garage Experts franchisee was retiring, they immediately contacted the corporate office to inquire about being part of the Garage Experts family. When asked why they wanted to join the Garage Experts team; they replied, "We've had a great experience as customers, we believe in the products and services, and we want to continue providing the same high quality products and services to others in our area."
Garage Experts of Southern PA is locally owned and operated and prides itself by using the finest materials made here in the USA. Free estimates will be provided on site, so please give Chaz and Christy a call to make an appointment and get started in transforming your space into something amazing and usable.