Garage Storage
Garage Storage Solutions in Northern Virginia
Storage that Maximizes the Potential of Your Garage
Likely, you're all too familiar with the struggle of finding what you need in your garage. The clutter can be frustrating and time-consuming to deal with. The good news is that there is a solution to this problem. GarageExperts® of Northern Virginia provides custom garage storage solutions to eliminate clutter and optimize your garage's space. We offer garage storage systems that are strong and durable, with options for cabinets and slatwall organization.
The perfect organizational system can be created with a variety of colors, styles, adjustable shelves, and drawer slides. Additionally, our garage storage solutions are backed by lifetime warranties. With GarageExperts® of Northern Virginia, you can put an end to the chaos and create a functional, efficient garage.
Ready to reclaim your garage space? Contact us online or call (703) 215-9694 for a free estimate and personalized garage storage solutions in Northern Virginia!
Storage Tailored to Your Specific Needs
We know that every client has unique needs, so we work with you to create a customized storage solution that fits seamlessly into your space. Our cabinets and slatwall are available in a variety of colors and configurations, so your garage storage solution is sure to fit your garage.
We are confident that our top-notch solutions and expertise will help you achieve your garage storage goals. Count on GarageExperts® of Northern Virginia for first-class service that exceeds your expectations.
Advantages of Vertical Integration
As a vertically integrated company, we have complete control over all aspects of the process. Because of this, we can provide our customers with high-quality storage solutions backed by lifetime warranties. Here are a few reasons why our vertical integration sets us apart:
Precise Craftsmanship: We take pride in the meticulous construction of our garage storage. Prioritizing sustainability, we source our wood from North American forests that adhere to environmentally responsible practices. By utilizing state-of-the-art CNC machinery, we guarantee precise cuts that result in flawless finishes and a perfect fit.
Efficient Inventory Management: GarageExperts® of Northern Virginia maintains a comprehensive inventory of materials to ensure efficient service delivery. Our well-stocked supplies enable us to swiftly produce custom cabinets, floors, and other garage storage solutions. We understand the value of your time and strive to minimize waiting times, ensuring prompt installation and satisfaction.
Tailored to Your Vision: With our exclusive design software, the GarageExperts® of Northern Virginia team brings your garage to life in a lifelike 3D image. This immersive experience allows you to visualize the outcome and make real-time adjustments to the design and color scheme. Our innovative software empowers you to see exactly how your garage will look even before it's built, ensuring complete satisfaction with the result.
It is our goal to design products that are strong and have ample storage capacity. We have a team of experts dedicated to making the installation process as smooth as possible for you. And because we are committed to quality, GarageExperts® of Northern Virginia storage solutions come with a lifetime warranty. Let us help you organize your garage with the perfect storage solution.
Don't settle for a messy garage! Experience the difference of our garage storage solutions in Northern Virginia. Get your free estimate online or call (703) 215-9694 today!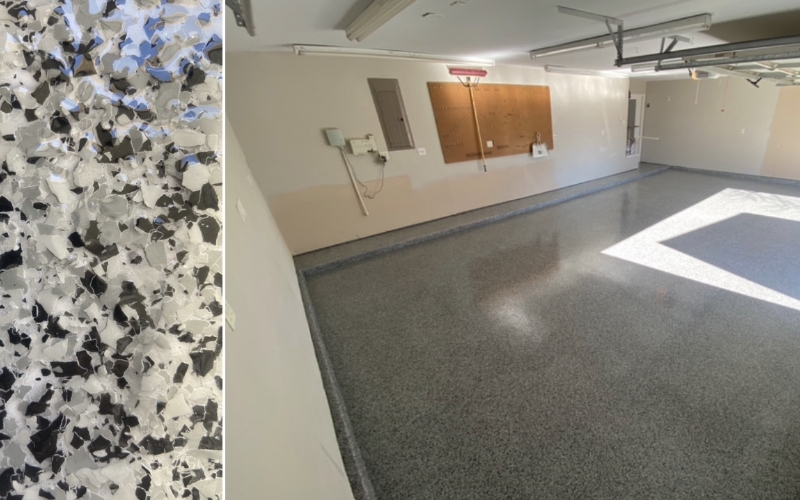 "We greatly appreciate your prompt service, quality workmanship and your professionalism."

GarageExperts® Customer

San Antonio, TX

"A Man-Cave Making Machine!"

GarageExperts® Customer

Denver, CO

"I noticed their "LIFETIME WARRANTY" and couldn't believe it!"

GarageExperts® Customer

Fort Worth, TX
What Makes Garage FX® Epoxy & Polyaspartic
Technology Superior For Your Garage
American Made

Stronger Than
Concrete

No Peeling, Chipping, Or Staining

Resistant to Abrasions, Chemicals, and UV Rays

Over 140 Colors to Choose From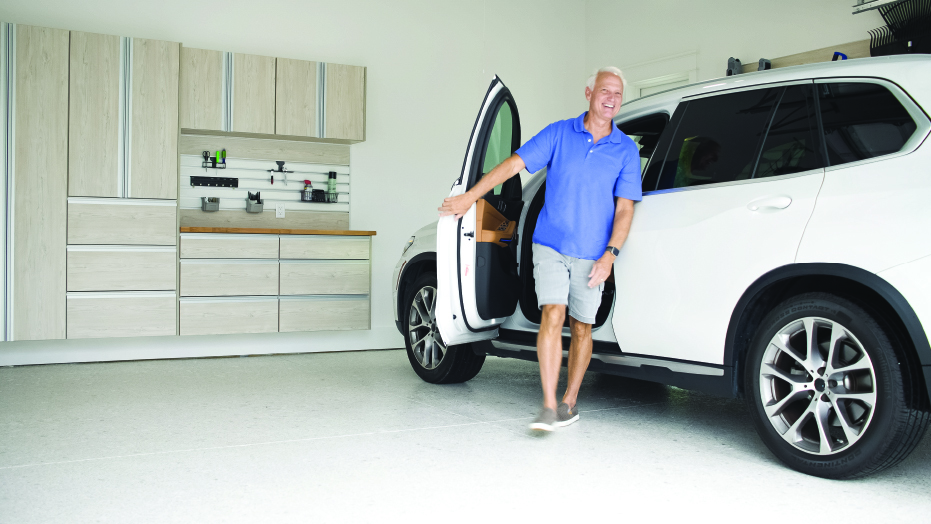 Committed To You
We believe in providing the highest
standard of service
In-Home Estimate Is Always Free

Time Is Valuable So We Arrive On Time

Always Get Upfront Pricing

Products Are Guaranteed For Life
Step 1

First, we prepare your concrete by grinding the surface and repairing any cracks, joints, or surface imperfections with our Garage FX® repair products.

Step 2

We roll out our Garage FX® epoxy primer that fuses directly into concrete to create an incredible bond that won't peel.

Step 3

We broadcast your choice of decorative flakes across the floor making sure to evenly cover the entire space for a seamless finish.

Step 4

Lastly, we apply our highly durable and abrasion-resistant polyaspartic topcoat to protect the floor from wear and tear, while maintaining an attractive, glossy finish for years to come.

Step 5

Now that GarageExperts® has extended the life of your floor and enhanced the look of your space, enjoy it!